We weren't consulted, say school heads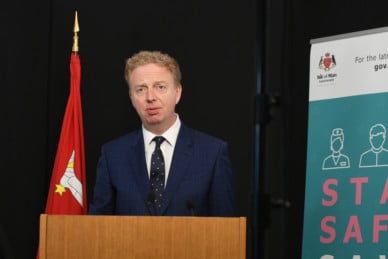 Education Minister Dr Alex Allinson
()
Subscribe newsletter
Subscribe to our email and get updates right in your inbox.
Teaching unions have called the government's plan to open schools 'flawed and unworkable', adding that teachers were never consulted.
Education professionals expressed their astonishment at the Department of Education, Sports and Culture (DESC), which at the weekend released a 'road map' for the return of pupils to schools.
Most of the island's schools were closed on March 23, with the exception of nine primary school hubs and the five secondary schools, which are 'hubs' to cater for vulnerable children and those of key workers.
The government has no dates for re-opening any school.
As a first step, school hubs across the island are preparing to open to children of construction, trade or horticulture workers.
Education Minister Dr Alex Allinson says the next phase will look at introducing pupils from year groups two and six in primary schools and years 10 and 12 at high schools.
These plans, Dr Allinson said, may alter if the health situation changes in the island.
But school leaders and unions say regular meetings with them in the lead-up to the road map being published did not take place and 'it is misleading of government to suggest otherwise'.
When questioned at the press briefing this week, Education Minister Dr Allinson said the plans had been sent through to all trade unions the weekend before.
He said: 'All head teachers received a copy of it last Monday, a week ago, to digest it and have a look at it in terms of a road map, a plan forward. We have tried to take on board all their suggestions.
'The department has been meeting with all of the various head teachers in terms of all the clusters - north, south, east and west - to come up with a viable plan that then went before the Council of Ministers and was discussed with Public Health and across government as a strategic way to gradually phase children back.'
He added: 'We need to make sure that the parents are involved in some of these decisions as well,' he said.
The teaching unions - the Association of School and College Leaders (ASCL), National Association of Head Teachers (NAHT), National Association of Schoolmasters, Union of Women Teachers (NASUWT), National Education Union (NEU), Prospect, University and College Union and Unite the Union - say the plans had not been endorsed by them.
They said they 'wish to see schools/University College Isle of Man return to normal working' but school leaders and parents must have 'full confidence that schools are safe before any consideration to re-open for more pupils is acted upon'.
This included measures on social distancing, personal protection equipment (PPE) and the protection of the most vulnerable staff and children.
'There have not been regular meetings with teachers and unions in the lead-up to the production of this document and it is misleading of government to suggest otherwise,' the statement says.
It adds that the plan is 'lacking in practical support and guidance and raises more questions than it answers'.
'The joint unions therefore consider this document to be flawed and unworkable,' it said.
They urge the government to not seek the expansion of numbers in hub schools or the further re-opening of educational institutions until they have agreed a set of guidelines with education professionals and trade unions.
Ramsey Grammar School head teacher Annette Baker is astounded at the lack of communication.
She said: 'The "road map" was issued to head teachers last Sunday (May 3) and to all teachers last Monday via email. There had been one set of meetings with hub head teachers previous to its publication, no mention was made of the existence of this document or of the intention to issue it.
'There had been a meeting of joint unions the Friday previous to its publication, no mention of a "road map".'
She said a number of concerns in relation to the document were raised at a meeting with hub teachers.
'Personally I am astounded that this has been presented, again at the weekend, as a plan that appears to have been fully discussed, agreed, endorsed and supported by head teachers. I feel that this is not the case, and I am sure many fellow head teachers will agree with me.'
The president of the NAHT, Max Kelly, also head teacher for Dhoon and Laxey schools, said: 'The "road map" presented by the DESC to head teachers had not been drawn up in consultation with them and had not been discussed or shared with education trade unions despite a clear opportunity to do so at a recent joint union meeting. The document appears to our members to raise more questions than it is able to answer.'
NAHT branch secretary Carol Walsh said the government's statement that head teachers have had guidance on PPE is 'simply untrue'.
She added: 'At no time have the unions had any input into this document, nor have we been consulted on it, despite the very obvious, squandered opportunity on May 1.'