Comedy is more essential than it ever was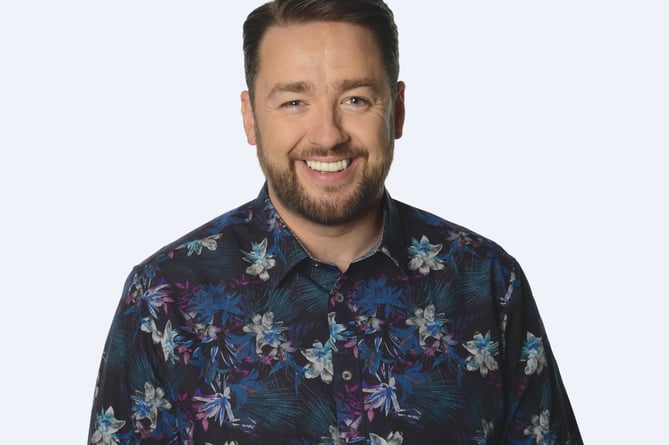 Jason Manford is performing at the Villa Marina next Friday
()
Subscribe newsletter
Subscribe to our email and get updates right in your inbox.
In his latest comic offering, Jason Manford will be taking to the stage at the Villa Marina once again to entertain and delight audiences.
His 'Like Me' tour will offer up new laughs, which Jason has said is more important now than ever after the 'trying times' the world has faced with the Covid pandemic.
'It's so rare for a comic to have lived through almost the exact same thing as your audience,' Jason told Island Life.
'Obviously, I'm talking about some of the things that we've been through over the last couple of years. I won't be dwelling too much on anything but just telling people my experiences.
'Sometimes you don't realise what you've got until it's taken away from you and I think we all feel like that whether you're a performer or an audience member. You actually are so happy to be back in that room together.'
Jason visited the Isle of Man last year for a warm-up show and ended up getting stranded at Ronaldsway Airport due to fog.
He said: 'I did get stuck, there was all sorts going on but we managed to make it in the end by the skin of our teeth!'
With a number of his family and friends living here, Jason tries to visit the island whenever he can.
'I come over quite a bit,' he added. 'I try and pop over to say hello, so it's not necessarily a cultural visit.'
When asked what influences his comedy, he said locations can play a big part.
Jason, who dubs his main comedic inspiration as Billy Connelly, said: 'You come to the Isle of Man for the first time and someone tells you to salute the fairies, you think "what on Earth are you on about?"
'You're looking at people who look like you in 2022 and yet there's still these mad local myths and legends.
'I enjoy that though, I think there's something very fun and magical about that.
'It's a mad place. It goes from one extreme to the other, and then you've got the TT and the craziness of that. It's such a topsy turvy island, I'm actually surprised there isn't a TV show about it – it feels like there really should be.'
The comic from Salford has been touring since September last year and took a break over summer.
During this, Jason said he has had time to perfect his routine, adding: 'It's always a constant organic process, you chop and change things around. But the show is solid and it's really fun.'
'I think it certainly feels like much more of an intimate show than I've done before. It's almost like old friends catching up who haven't seen each other for ages.
'Especially after Covid, you've got to just work hard, put the effort in and make sure that the show audiences coming to see is an unforgettable night, so the next time you're in town, they say "let's go again".'
Jason, who has been performing since 1999, explained that performing big shows on a tour is nothing like being on the circuit.
He said: 'I've obviously become a lot more confident in holding an audience's attention.
'You can really explore ideas rather than thinking quickly and moving on, it's a long form style of comedy, as opposed to doing it at a comedy club where you've got to really keep people's attention.
'They're a bit drunk, and it's a Friday night, you've only got 20 minutes, whereas now you're the theatre, people have chosen to see you.
'If I think to myself now I weirdly might not have the confidence to start if I'd never done it. I'd think "how does anyone start this job?"'
Jason will be performing on September 23 at the Villa Marina.
Tickets can be booked here.
Comments
To leave a comment you need to create an account. |
All comments 0