Future of Manx culture is safe in hands of our youth
Monday 19th September 2022 12:00 pm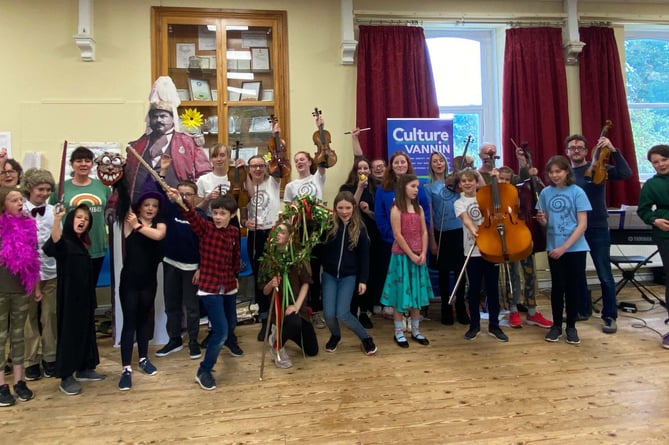 Bree weekends are packed full of creativity and fun Photo: Culture Vannin
Subscribe newsletter
Subscribe to our email and get updates right in your inbox.
Each month, Breesha Maddrell, Director of Culture Vannin, looks at the journey of manx culture and its importance to our sense of identity and belonging.
I was at school when the Manx Heritage Foundation was created in 1982, not that it would have registered with me at the time.
What I do remember at primary school, though, was longing to be in Mrs Hook's class next door, where great fun was to be had, and where Manx phrases were used every day in a way that seemed really special and yet totally natural.
But I wasn't, and for me, Manx culture only appeared in the form of songs like 'Ellan Vannin' played on the trusty plastic recorder, or the occasional class project with some Manx content.
Don't get me wrong, I had many wonderful teachers, but it was the luck of the draw each year as to whether we'd do anything Manx.
What a different opportunity faces students today.
This is not only down to the island's amazing teachers, but also because we have an approach that makes Manx culture and Manx Studies accessible to everyone, no matter which classroom or school they find themselves in.
The Education Act lists the Manx language, culture and history specifically, and the Department of Education, Sport and Culture has a wonderful team delivering peripatetic language lessons, and an advisory teacher, Jo Callister, who supports schools by producing resources, training and offering workshops.
Throughout 2022, Culture Vannin is celebrating its 40th anniversary and the ways that we work with others to celebrate Manx culture and cultural heritage.
One of the things I'm proudest about is how we have been able to help Manx schools over that time.
Dr Chloe Woolley, our Manx music development officer often teams up with Jo to deliver workshops in primary schools on Manx music, dance and folklore, with themes like Hop tu Naa, Manannan, or Hunt the Wren.
Workshops are a great way to encourage everyone to join in, to show that Manx culture is for everyone.
Chloe also leads the Bree youth music movement, which meets once a month for sessions, as well as workshop weekends which are packed tightly with creativity and fun.
You can find out more on www.manxmusic.com
Culture Vannin regularly produces school resources ranging from short films on coastal erosion or the Isle of Man during the Second World War, to worksheets and books on music, traditional industries, folklore and calendar customs.
The aim is always to support schools as much as possible, so that teachers have excellent resources to hand.
Working with a former head of history resulted in the free web-based app, manxhistory.com which is aimed at secondary school students, but which is great for adults, too!
You can find our short films on YouTube and Vimeo, and there are lots of educational resources on our main website, www.culturevannin.im
The important message is that Manx culture is for everyone, and working with schools is a great way of reaching a good cross-section of our island community, of giving everyone a way to 'be in Mrs Hook's class next door', to be involved, to enjoy it, and to share it with others.
Comments
To leave a comment you need to create an account. |
All comments 0