Freedom of Information sheds light on why cruise ship visits were cancelled
Friday 12th August 2022 3:00 pm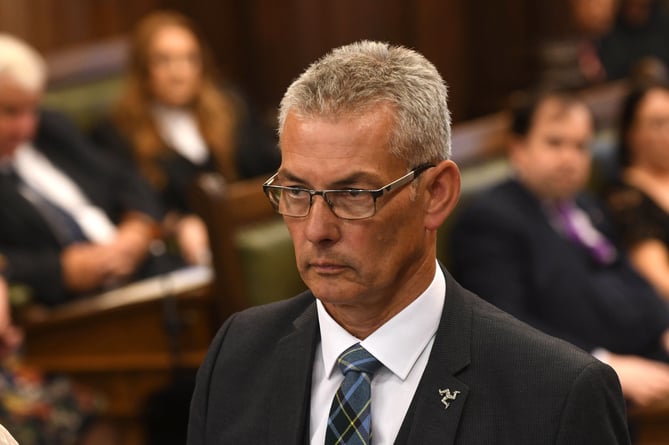 MHKs are sworn in during the first sitting of the new administration following the 2021 general election - Tim Crookall
(Isle of Man Newspapers )
Subscribe newsletter
Subscribe to our email and get updates right in your inbox.
Emails have revealed more information about why two cruise ship visits were cancelled last month.
A raft of emails has been released detailing the cancellations after a Freedom of Information request from the Guild of Manx Registered Tour Guides. They show conversations between Department for Enterprise chief executive Mark Lewin, Rob Callister MHK, interim Department of Infrastructure chief executive Emily Curphey, Ramsey Shipping Services and Tours Isle of Man relating to the cancellation of the cruises.
Planned visits from the Voyager Seven Seas and the Oceania Sirena were due to take place in early July.
However, on June 30 an agent from Ramsey Shipping Services emailed several partners to inform them that the cruises wouldn't be coming 'due to Covid testing requirements approved by the Isle of Man government today'.
The following day, Mr Lewin emailed minister Tim Crookall, Kate Lord-Brennan and Lawrie Hooper to say that the cruise companies decided to divert to Liverpool 'on the basis of the prevalence of Covid on the ship and on the island'.
Regarding the Covid outbreaks on the ships, the government was told by the cruise company that there had been enough cases of Covid confirmed onboard the Voyager Seven Seas for the ship's doctor to inform the relevant authorities.
He said: 'Some 37 guests/staff had been identified, were isolated and a number were on medication.
'Public Health called an incident meeting yesterday, concerned that this was more an outbreak than individual cases, and as a result, the ship was informed that they would still be able to arrive, BUT that all passengers planning on disembarking would be asked to have had a negative test within the last 24 hours.'
Mr Lewin said that the request for all disembarking passengers to take Covid tests was a 'specific ask in response to the outbreak on the ship – not our ordinary processes'. He added that following this request, the companies decided to cancel.
In a separate email chain, David Midghall, managing director of Tours Isle of Man, said that the cancellations meant the business would have coaches booked for excursions parked up. He said this was 'very damaging for us and the visitor economy sector' and that Tours Isle of Man had turned down other work because of the booking of these cruise visitors. Away from Tours Isle of Man, the emails reveal that due to the number of Covid or other staff absences, the DoI 'simply couldn't manage the volume predicted today/tomorrow as originally planned'.
This is further backed up by an email from Emily Curphey, interim chief executive of the DoI, who said on June 30: 'Unfortunately due to the staffing levels that we have currently at Banks Circus, there is no way that we can accommodate these additional services. I am also told that Tours are also experiencing similar staffing issues which is probably leading to them not being able to fulfil some of the trips.'
Further to this, an email from Nicola Wilkinson, acting deputy head of Visit Isle of Man, on June 29 showed that if those cruise ships had arrived in Manx waters five of the planned bus tours wouldn't have been able to go ahead.
These included a Viking and Volcanoes Walk, a visit to Tynwald Hill, a trip to the Heritage Trail and National Folk Museum, and a tour of historic Castletown and Lady Isabella and Tynwald.
This led to Visit Isle of Man (the government's tourism agency) considering asking cruise consultants to help move visitors onto tours that could have gone ahead or to run alternatives that didn't require transport.
There are more than 20 documents released under FoI as a result of this request, the rest can be found by searching for cruise ship visits on the Freedom of Information website.
Comments
To leave a comment you need to create an account. |
All comments 0