Hector honoured to receive OBE
Wednesday 1st January 2020 2:47 pm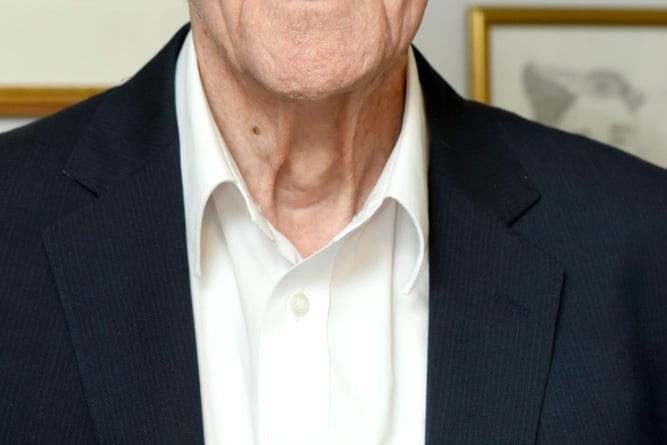 Hector Duff -
Subscribe newsletter
Subscribe to our email and get updates right in your inbox.
War hero Hector Duff says he is 'very honoured' to receive an OBE in the New Year's honours list.
Mr Duff has been awarded the Officer of the Order of the British Empire medal for his 'outstanding services to the community of the Isle of Man'.
The OBE is awarded to individuals who have been recognised as having a major local role in any activity, including people whose work has made them known nationally in their chosen area.
Mr Duff has previously been awarded the Military Medal for bravery, the British Empire Medal, the Tynwald Honour and the French Legion d'honneur, which he received from former president Francois Hollande in 2014.
A decorated war hero, Mr Duff has spent years talking to the island's school children about his experiences of war and respecting the sacrifice made by previous generations to enshrine their freedoms.
He told the Examiner: 'I'm very happy and very honoured [to receive the OBE], I never expected to get it.
'I'm very honoured to think so many people think I've done right. I've seen some of the internet comments thanking me and it's just wonderful.
'I appreciate all the congratulations I've received both on and off island. I didn't know so many people knew me.'
Mr Duff spends a lot of his time in classrooms talking to children.
'I only ever wanted to help people understand war,' he said. 'I just hope that in future years, that children will continue to be as keen as they are now to learn about the wars. No matter what age, they always seem so interested and it's good to see.'
Born in Sulby in 1919, Mr Duff was working on the Isle of Man Railways when, at the age of 19 he joined up to fight in the Second World War. Mr Duff served in the 7th Armoured Division (known as the Desert Rats) from 1940 to 1945.
Mr Duff's division was in Normandy on the afternoon of D-Day, and they continued through France and into Germany, taking part in the Victory Parade in Berlin. After the end of war, he was involved in the early work of the Nuremberg Trials.
â?¢The former director of the Isle of Man Ship Registry, Dick Welsh has been awarded an MBE.
The island's Ship Register is said to be recognised globally for high standards and quality of service.
In announcing the news, Government House said: 'Mr Welsh [pictured] has been an excellent ambassador for the Isle of Man, in roles ranging from conference speaker to inspector of ships under construction at foreign shipyards.
'His personal interest and dedication to the highest safety standards inspired confidence in his team and clients around the world.'
Comments
To leave a comment you need to create an account. |
All comments 0