Very much like Joey Tribbiani in the hit US sitcom F.R.I.E.N.D.S, 'Dion (me) doesn't share food'. 
It is an unspoken rule that I've lived by for around two decades, and quite strictly I might add.  
I once almost stabbed a former Scottish co-worker of mine in the hand with a fork during a work night out as he tried to dip his bread stick into my humus (not a euphemism).  
'It's what they do in Spain,' he shouted as I waved my cutlery about like a Home Bargains fencer.  
Needless to say, he didn't try and pull that stunt again (and for the record, we weren't in Madrid).    
Given my strange disposition, the thought of grabbing a bite to eat in a place where the whole premise is to order loads of small plates an indulge in a bit of a sharing frenzy should make me break out in a cold sweat.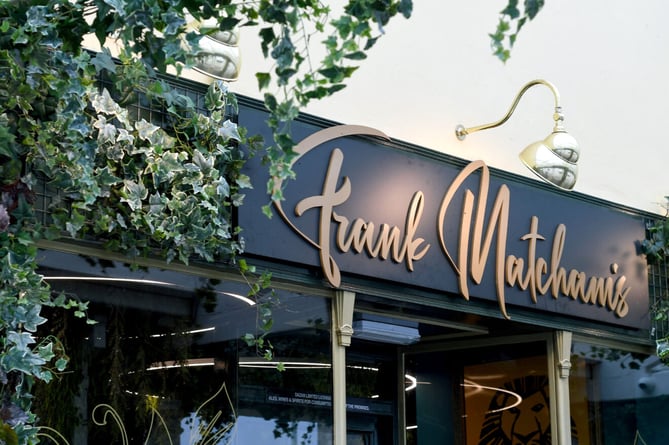 Frank Matcham's on Douglas prom
(Media Isle of Man)
I need to emphasize the word 'should' here because I've been to Frank Matcham's loads and I love it – so much so that I think it's actually helping me to get over my sharing phobia.   
I probably like it too much if my bank balance is anything to go by.  
Whether it's on my own (a bit more on this later), a work meeting or a meal out with friends and family (occasionally), I've eaten my way through almost all the menu since it opened in August.  
Here's a run-down of my favourite dishes...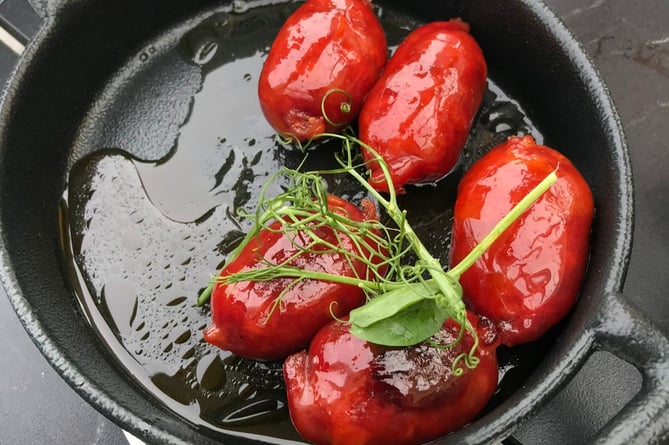 Chorizo drizzled in honey
(Media Isle of Man)
Sounds simple but an absolutely incredible dish. 
I got five little blobs of chorizo (imported direct from Spain apparently) which come served on a mini-skillet and drenched in warm honey *does a chef's kiss*.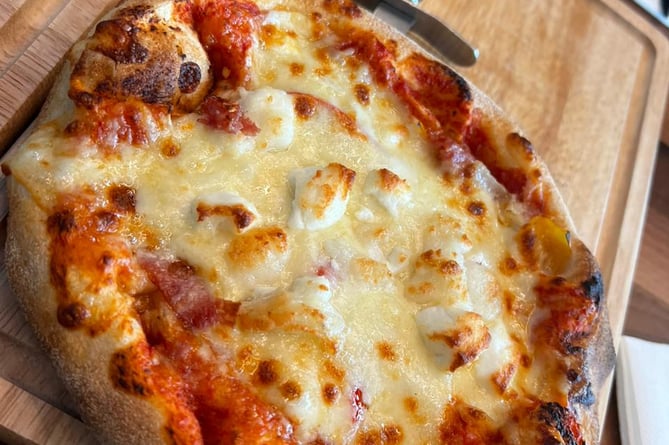 A Frank Matcham's 'pizzette'
(Media Isle of Man)
Basically, a pizza but smaller (you probably gathered that to be fair). 
Light fluffy dough and decent layer of cheese (but not too cheesy – more on this later).
Also, the 'tomato sauce' ratio is on point – I'm not going to say 'tomato puree' because I'm not even sure that's what the chefs use.
As for my favourite topping, it's a toss-up between the 'salami, fennel, peppers and goats cheese' and the 'meatball slices' pizzette.
The tartness of the goat cheese in the former really cuts through all the other toppings while the latter is deliciously rich and meaty (as you'd expect).
You might have to do what I did and eat through all of them to pick your best.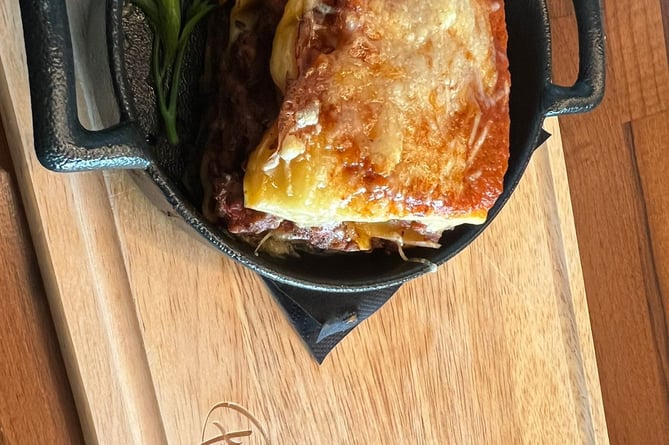 Matcham's lasagne
(Media Isle of Man)
Controversially, I think you can sometimes actually have too much cheese. 
Some people, like my sister, will never take their foot out of the 'cheese makes everything better' camp.
However, I think sometimes cheese can actually mask the flavour of other foods (don't hate me).
I was therefore super happy with the fact this mini-lasagne did not come covered by crust of molten cheddar thick enough to give you nightmares just looking at it.
That means you can taste (and see) the delicate pasta and the rich, saucy meat filling gives your taste buds a lovely little high-five.
Excellent (just don't tell my sister).  
Think of sandwich that went to school at Eaton (see photo above). 
A hunk of lovely grilled chicken resting between a layer of lettuce, tomatoes and bacon.
All of that is, well, sandwiched by two warm slices of herby focaccia.
The avocado just takes it to another level – so much so that I'll never look at a 'meal-deal' sarnie with anything other than utter contempt.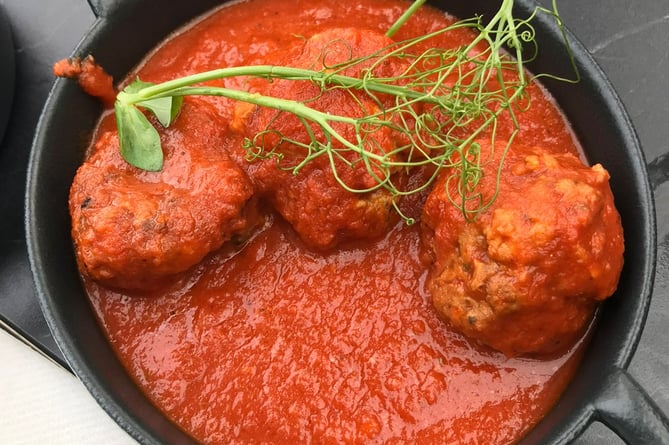 Meatballs at Frank Matcham's
(Media Isle of Man)
And this, here, is the problem with small plates – if you find something you really like then you just end up ordering more of it.
Think I went through three plates of this dish in one sitting and I have absolutely no regrets (don't judge me – I did have company).
You get about three meatballs with every serving but be sure to order some bread to mop up the sauce, thank me later.  
My absolute favourite – so much so that I just keep forgetting to take a picture of it despite ordering this several times. 
I've only ever eaten the goats cheese croquette and I refuse to order any of the other flavours because I'm worried I'll just be disappointed. 
I'm stubborn like that, see.   
Not if it comes with bloody Mary ketchup and aioli, like they do at Frank Matcham's - it's like the fries went to Turkey for a hair transplant and a set of new set of teeth.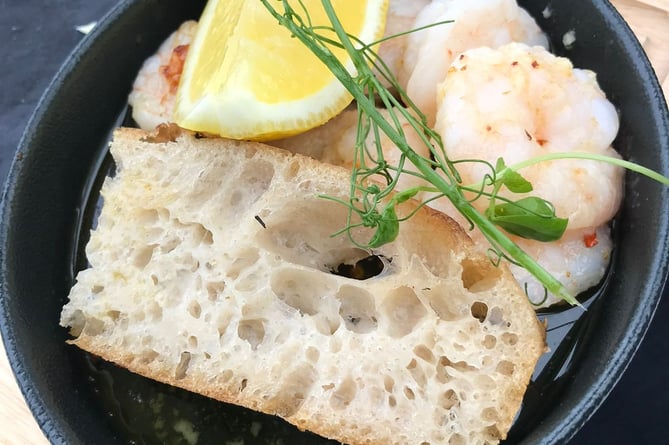 King prawns
(Media Isle of Man)
I last had this while lounging in the outdoor seating area during the late, great summer heatwave of September.
The prawns were juicy and the came with just the right amount of garlic butter.
'So, what's the problem?' I hear you ask.  
Well, I have to walk past here pretty much every day and a bit like the Sirens in the Odyssey, it's getting increasingly difficult to resist the call of Frank Matcham's. 
Sometimes, I'm pretty sure I black out.
Next thing I know, I'm sitting in the window seat with a pint in my hand, waiting for my meatballs to arrive.   
It's becoming a bit of an issue – and I don't have my food sharing phobia to act as a deterrent because I mostly just go there on my tod.    
Guess I'll just have to start closing my eyes when I walk past