In this week's Isle of Man Examiner: Black and white now red's all over
Tuesday 7th September 2021 5:00 am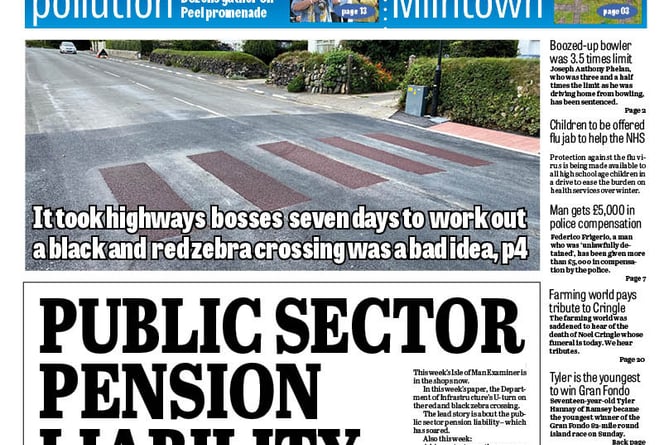 Isle of Man Examiner, September 7, 2021
()
Subscribe newsletter
Subscribe to our email and get updates right in your inbox.
In this week's Isle of Man Examiner, the Department of Infrastructure's U-turn on the red and black zebra crossing.
The lead story is about the public sector pension liability - which has soared.
A big protest over the raw sewage which is pumped into Peel bay.
A plan for a maze in Milntown near Ramsey.
Joseph Anthony Phelan, a 73-year-old who was three and a half times the legal drink-driving limit when he was driving home from bowling, has been sentenced.
Federico Frigerio, a man who was 'unlawfully detained', has been given more than £5,000 in compensation by the police.
Toby Craig, a teenage R plate driver who drove off a cliff at Marine Drive, has been punished for careless driving.
James Bassett, a personal trainer from Peel, will take on a 253-mile ultramarathon in Wales next month to raise money for the Children's Centre.
Blayne Mason Niall Brian Quinn, who brought a stun gun back from a holiday in Ibiza, has been sentenced.
The farming world was saddened to hear of the death of Noel Cringle, whose funeral is today. We hear tributes.
Protection against the flu virus is being made available to all high school age children.
Members of the public are invited to have their say on proposals to update and improve the way complaints about health and social care services are handled.
How giving a friend a lift home from hospital landed two men in court.
More than 260 cars have already been booked to come over for the island's inaugural Festival of Motoring.
Voters in Onchan are to have two official pre-election meetings.
Self-styled paedophile hunter Andrew Fenton has been in court again - this time for breaching a restraining order. His advocate's comments are well worth reading.
The sister of a cancer patient from the island receiving treatment at the Clatterbridge Cancer Centre in Liverpool is raising money to say thank you to the charity.
Photos and coverage of the Ramsey Horticultural Show.
The Isle of Man's inspiration for Thomas the Tank Engine.
David Cretney revels in the Isle of Man's natural beauty in his column.
More than 70 local producers will exhibit their mouth-watering creations at the Isle of Man Food & Drink Festival.
In our page from the past, we see what was on the cover of the Examiner this week in 1934.
Emma Lings tells our Working Week section about her furniture business.
When Clara Isaacs put out a message on Facebook, floating the idea of a kerbside collection scheme for recyclable materials, the response was immediate. We find out what happened next.
Seventeen-year-old Tyler Hannay of Ramsey became the youngest winner of the Gran Fondo 82-mile round island race on Sunday. Read more about his achievement in our sports pages.
There are 10 sports pages in total.
There is also our letters page, the crossword, a television guide and community news.
The Isle of Man Examiner is in shops now.
You don't have to go to a shop to buy a copy.
You can also read it online if you buy the digital edition.
To find out how to buy it, go to the 'Digital Editions' section of the website on the grey line near the top of this site and watch the video below.
http://www.iomtoday.co.im/subscribe.cfm