The Isle of Man has been featured in an illustrated map of the 58 United Nations Educational, Scientific and Cultural Organisation (UNESCO) sites in the British Isles.
The purpose of the map is to encourage visitors to discover new sites and destinations on their doorstep.
It was designed by creative cartographer Tom Woolley, who is based in Birmingham.
The map brings together all of the Biosphere Reserves, Creative Cities, Global Geoparks and World Heritage Sites across the British Isles. 
UNESCO describes Biosphere Isle of Man as: 'Fantastic wildlife and nature-spotting opportunities on land and at sea. Biosphere Isle of Man has a national nature reserve, internationally important wetlands and a bird observatory, 10 marine nature reserves and 25 areas of special scientific interest.
'Experience rich heritage and vibrant culture and enjoy tasty local produce.'
In total, the map includes 29 world heritage sites, 13 creative cities, nine global geoparks and seven Biosphere Reserves (one of which is the Isle of Man) that cover 13% of the UK and Crown Dependencies' landmass. 
Most of the sites are free to enter and conveniently accessible by public transport offering the public new experiences to discover UNESCO sites in the UK and mark this summer with a visit to one of the world's most special places.
James Bridge, chief executive and secretary-general of the UK national commission for UNESCO said: 'This new UNESCO in the UK map will inspire people for places to visit.
'It shows at a glance the breadth of amazing natural, cultural and built heritage designated by UNESCO as internationally significant in the UK. This great map highlights places to explore, on your doorstep and further afield, both the famous and those to discover for the first time.'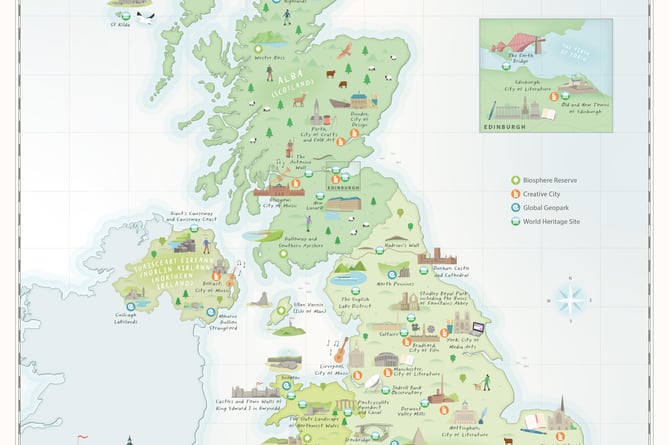 Clare Barber MHK, Minister for Environment, Food and Agriculture and vice-chair of UNESCO Biosphere Isle of Man, said: 'It is great to have, for the first time, a map that illustrates and connects all the UNESCO designations across the UK and crown dependencies.
'Congratulations to all who have produced and supported it. I hope people will visit our Biosphere when exploring our fascinating UNESCO sites, and we hope to commission an Isle of Man specific map to complement this exciting project."
The map was produced by the UK National Commission for UNESCO as part of its 'Local to Global project', made possible with the GREAT Campaign and The National Lottery Heritage Fund,. Local to Global aims to develop a resilient network for UNESCO Designated Sites in the UK.