Karl completes kayak around the coastline
Wednesday 21st April 2021 5:00 pm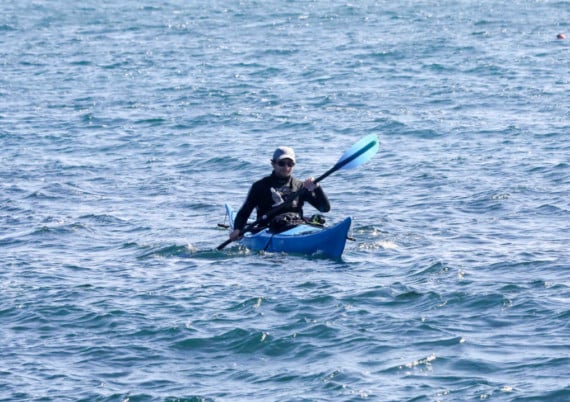 Karl Staniford during the kayaking challenge - credit: Aerial Mann Multimedia
Subscribe newsletter
Subscribe to our email and get updates right in your inbox.
A man who set himself a challenge to kayak around the island in memory of his late brother has completed it.
Karl Staniford, 33, had been training since July last year to row from Peel clockwise around the island in a kayak.
He did the challenge in memory of his brother Cameron Staniford, who passed away at the age of 20 when he took his own life in 2019.
Money raised from the challenge will go towards mental health charities Quing, Isle Listen and Cruse Bereavement Care - a total of £10,950 has been donated via his JustGiving page (as the Examiner went to press.)
Karl set off, along with three members of Sea Kayaking Isle of Man, last Wednesday at 7am and arrived at 5.30pm on Thursday.
Crowds of people gathered on Peel Beach that evening to welcome Karl and his friends on-land.
He said: 'The reaction and the donations and the support along the way was incredible.
'There's some fantastic, funny stories I've been hearing from people [while I was out there] - people were trying to keep-up with the kayaks [from land] and some people crashed into hedges.
'People were holding up banners on the rocks, waving their arms hysterically, shouting and screaming, and as we were quite far out, we couldn't hear them and saw them as specs in the distance but we got texts from people saying they were shouting for us.
'We started in Peel, we headed north and got to Jurby and hit a bit of wind with headland there (it always seems to be windy in Jurby).
'We then headed to the Point of Ayre where conditions were good, and then went to Maughold Head against the tide, which was a tough stretch, although we saw dolphins there.'
Karl said that one of the Sea Kayaking IoM team left in Laxey and then the remaining three headed to Douglas.
At 7pm on Wednesday they rested on rocks and seaweed in Douglas Bay and then the following morning headed at 9am up around Douglas Head and down towards the Sound.
He continued: 'We didn't realise that a seal was following us, which a drone took some photos of, and conditions there were perfect. The tide was with us, we had a little bit of tail wind, so we were really quick going back up to Peel and as we got into Peel there were more dolphins.
'It was absolutely epic. What a journey.'
Karl said that on seeing people cheering him on in Peel Bay on arrival Thursday evening, he was grateful for everyone's support.
'It's been incredible, we've raised well over £10,000 and there's still cash being collected. We're flying,' he said.
'This is just the beginning really. I want to start a campaign for positive change for mental health in the Isle of Man. Ultimately, I want to get a petition going to ask the Manx government to consider implementing ways to cope with stress and emotional awareness in education.'
Karl's fundraising page is on www.justgiving.com
Comments
To leave a comment you need to create an account. |
All comments 0