Kerbside recycling service collects from over 500 households
Wednesday 2nd March 2022 5:05 pm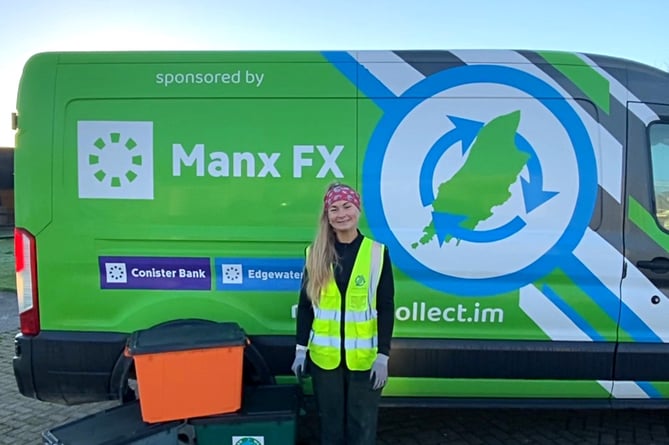 Clara Isaac, founder of Recycle Collect
()
Subscribe newsletter
Subscribe to our email and get updates right in your inbox.
Our Green Life Hero this month is Clara Isaac, who set up her own kerbside recycling collection service.
Recyclecollect offers fornightly kerbside recycling to more than 16 locations around the island.
Mrs Isaac started the business because she felt it 'wasn't fair' that not every town and village had a service.
'I was taking all the stuff down to the tip every week, which is annoying when you're working all the time,' said the 30-year-old. 'The last thing I really want to do is go down and queue up for the tip.
'That's what I would do every week, I'd go down there and do my recycling, and I just came back one day and thought, "there's got to be another way someone could do this".
'There's people out there with disabilities, maybe a busy family life, working lives, and if they don't find it easy, they're probably not going to do it.
The woman from Santon, with the help of her husband Andrew, set up the website and business last year.
She continued: 'It's been crazy.
'We put a register of interest out on social media and said, "we're thinking of doing a kerbside collection service, who would be interested" and we had this massive influx of people, so many people wanted it. It took off from there and we started collecting in September.
'We're now doing more than 16 areas out of 26 that we have planned and are out collecting three days a week.
'Every month we collected more and more material. We got more signups as well.
'There are some areas that we're not quite collecting from yet because they haven't got the registered interest, but the places that we are collecting from, there's so much room for growth.'
When asked about the reception to her setting up the service, Mrs Isaac described it as 'really good'.
'I think people were sceptical at first,' she said. 'But the affordability was not something to be concerned about. We've had some incredible sponsors behind us helping along the way to get it set up which I'm super grateful for, and it's skyrocketed from there.
'We've collected for more than 500 households over six months, which honestly was beyond my wildest dreams.
'Each vehicle can collect from 1,000 houses, so for every 1,000, I would need to buy a new vehicle.'
January was Recyclecollect's busiest month so far, having collected 6,540kg of recyclable materials, an 8% increase on December.
'January was mad,' she said. 'I think it was because of Christmas. We give people the option to add up to five boxes on their account, so you know what Christmas is like, you get all this cardboard from all your Amazon packages. We had so many people sign up and then our current customers add additional boxes.'
She is currently operating with one van but will be adding another this June, with three staff currently on her team.
Mrs Isaac added: 'If we get the whole island, we could be giving out up to 36 job opportunities.'
Residents can access the website, recyclecollect.im, where they can register their interest or create an account and view collection dates.
Comments
To leave a comment you need to create an account. |
All comments 0