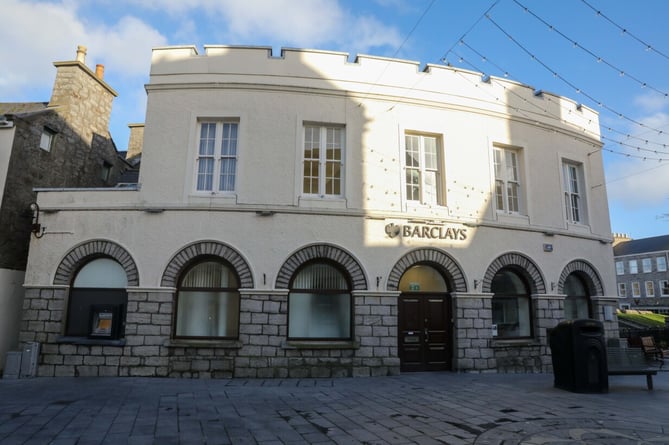 Barclays, Castletown. Photo by Callum Staley (CJS Photography)
(CJS Photography)
Reacting to the news the Mr Glover said that he and colleague Jason Moorhouse, as well as the town's Commissioners, have been in contact with Barclays and it seems that the number of people with accounts at the branch is 'very low'.
The bank has announced that it has successfully received planning permission for a new ATM machine to be installed at the Castletown Commissioners building which will be available to use from before the closure date.
Mr Glover said: 'A cash machine is about to be placed at the Civic Centre before the branch closes.
'Concerns include just one permanent bank left in the south of the island, the number of business closures and the lack of a traders association in the town to provide a joined up voice.
'Very disappointing if some customers heard this via the media first rather than a communication from the bank, which appears to have happened to a few.'
Barclays told customers in a statement yesterday: 'We realise this might not be welcome news and we are sorry for any inconvenience it may cause.
'However, we would also like to take this opportunity to reassure you that we're still here for you in our branches in Douglas and Ramsey and continue to be ready to support you face-to-face in Castletown, up to the date we close.
'We'll be closing our Castletown branch on 9th February 2024 but we'll make sure you and your local community continue to have access to our banking services when you need them, whether at another one of our branches in the Isle of Man, or in a different way via our digital services.'
'Until we leave Castletown, we have placed additional support in the branch who can help you. We look forward to continuing our relationship with you from our other branches in the Isle of Man and would like to take this opportunity to thank you for banking with us.
'We'll be working with the local community to understand the impact of closing this branch. Once we've gathered feedback, we'll publish the results in a booklet called 'Branch closure feedback', which you can get from your branch or online, in the meantime you will find a reasons for closure booklet on our site. 'If you have any questions or would like to discuss anything related to your account(s), please don't hesitate to get in touch with your usual Barclays contact or call the Service Centre on +44 (0) 1624 684 444** and a member of the team will be happy to help.'