Let's talk about mental health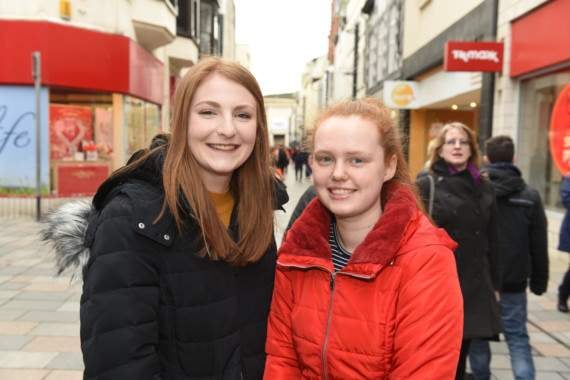 Subscribe newsletter
Subscribe to our email and get updates right in your inbox.
Mental health should be treated as seriously as physical health, a Tynwald report has urged.
The issue of people's psychological well-being has been hitting the news more recently with the royal family championing mental health charity Heads Together and campaigns like Project 84 starting to help prevent male suicide.
We asked residents whether they think more needs to be done to help those suffering with mental health illnesses.
Verity Almond, 20, from Douglas, thinks generally the discussion and treatment of mental health is a lot better nowadays but there is room for improvement when it comes to the workplace.
She said: 'Inside the workplace there is a struggle with stress-related issues and not enough is done in the workplace to spot it.'
She added: 'I think sometimes boys kind of pass mental health issues off. It's not a joke to them but more like a "pick yourself up again and get on with it". With girls, we're a little more emotional.'
Her friend, Charlotte Dougherty, 19, Douglas, agrees that for those working in male-dominated industries it must be 'difficult for them to speak up about it'.
Paul Corrin, 62, from Douglas, had a relative that used the island's mental health support system.
'The system is good to a degree, but when they got to a certain age they cut adrift on the person asking for help. It was like "that's it we've seen you. We've finished with you. It's up to you if you want to continue".
'I think the system needs more money and facilities, especially for adolescent health. They need centres where the adolescents can meet and communicate. There certainly wasn't a centre like that when we needed it.'
Willow Cowin, 17, from Onchan, said she has received support from Child Adolescent Mental Health Service (CAMHS).
'I've been able to get the help I need,' she said. 'It took me a few times to get the right person, but once I did it really helped. The therapist quickly understands within a couple of sessions and I was able to talk about it them. Quite a lot of my friends understand me and they can tell if I'm not okay.'
Fenna Dillon, 19, from Peel, said he knows that he can talk to either Willow or his mum if he was ever feeling low.
'Coming from a male perspective I feel I cannot talk to my friends about it because it's like "I'm a man I need to sort this out for myself".'
He added that if people don't have anyone to talk to, they could 'end up bottling it up and then finding something to take it out on'.
Paul Bray, 33, from Douglas, said: 'Where I work it's very heavily involved in mental health. It's a big thing in the banking industry this year, which we're trying to implement.'
He explained that the industry is working to help those with PTSD, grief and other mental health struggles that can be burdened by financial difficulty.
'You get people that don't want to deal with it.
'At the moment I have a client who is agoraphobic, which means they don't want to leave the house.
'We've got to be patient and be very thorough when showing them how the bank runs.'
Comments
To leave a comment you need to create an account. |
All comments 0