Well done to High Bailiff Jayne Hughes and Media Isle of Man for highlighting the shameful lack of accommodation and associated assistance for those on probation (Manx Independent, March 9) and here.
The Isle of Man is effectively condoning and causing homelessness by omission.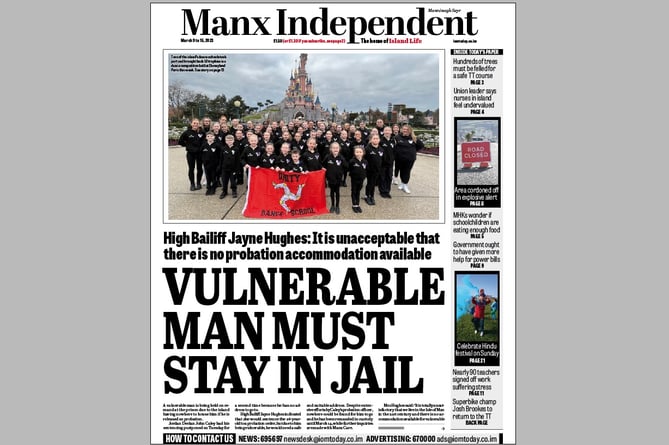 Manx Independent, March 9, 2023
()
But then that is another societal issue they already fail miserably at. I am embarrassed that my homeland allows this.
They had the ideal opportunity to plug these health and social problem gaps with the conception of Manx Care. What happened?
Name and address supplied
Editor's note: Since this letter was written and published, a place in probation has now been found for Mr Caley and he is no longer in prison. To read the story, see the Manx Independent, which is in the shops now.
Share your views with our readers.
Write to: Opinions, Isle of Man Examiner and Manx Independent, 18 Finch Road, Douglas, IM1 2PT or email:
Don't forget to include your name, FULL home address and a daytime phone number even if you want to be anonymous in print.
Obviously, we need to be able to verify the identity of everyone whose letter we publish.
We don't print phone numbers or full addresses and respect anonymity if the author requests it.
This letter was first published in the Isle of Man Examiner of March 14.