ManxSPCA column: We should follow UK's lead on puppy sales and banning electric shock collars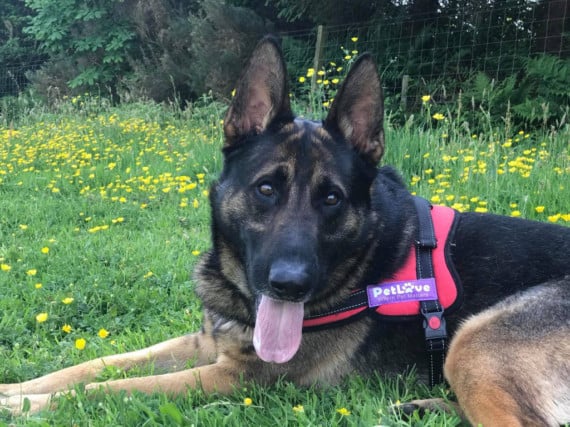 Toby, ManxSPCA
Subscribe newsletter
Subscribe to our email and get updates right in your inbox.
The UK's Environment Secretary, Michael Gove, has been hitting the headlines in the last week with two separate announcements relating to animal welfare - the first regarding the sale of puppies, and the second regarding electric shock collars, writes Juana Warburton of the ManxSPCA.
Once the Isle of Man passes its own Animal Welfare Act, which is timetabled for the current parliamentary year, we should be able to follow the UK's lead and introduce secondary legislation that will improve the present situation whereby the sale of puppies is relatively unrestricted, and the use of electric shock collars is legal.
The UK Government is seeking to ban third party sales of puppies, which would mean that anyone looking to buy a puppy will have to deal directly with the breeder or a rehoming centre such as the ManxSPCA.
The proposed legislation will prohibit the sale of puppies under the age of eight weeks; ensure that licensed dog breeders show puppies alongside their mother before a sale is made; and require sales to be made in the presence of the new owner (preventing online sales where a prospective buyer has not seen the animal first).
These safeguards are all best practice and are the minimum standards upheld by reputable breeders, and yet we hear more and more stories of 'designer' puppies being bred on puppy 'farms' (i.e. a large shed in a back yard) with little or no regard for animal welfare.
Prospective owners are so desperate to take home a puppy that they fall for sales tactics such as the 'mother' dog not actually being the real mother (who probably looks stressed and undernourished), and a third-party address (usually a nice house in pleasant surroundings) used as a collection point.
Some unscrupulous puppy sellers even suggest that they meet prospective buyers in motorway service stations 'because they're in the area that day'. We haven't heard of anyone on the island being met 'off the boat' by a puppy seller, but we know that puppies have exchanged hands in Liverpool and then been brought back to the Isle of Man on the next crossing.
This black market in puppies is a lucrative, multi-million pound business, with some puppies selling for more than £2,000 each.Genetic disorders are multiplying because they are not being 'bred out' by the unscrupulous breeders, leaving owners with a lifetime of vets' bills to pay.
The Kennel Club states that 'good breeders, such as Kennel Club Assured Breeders, always insist on speaking at length to potential puppy buyers to ensure that their pups will be given good homes' and it is supportive of the proposed legislation.
The Kennel Club also welcomed the UK Government's announcement that it is to ban electric shock collars which, according to an RSPCA survey, are used by 5% of dog owners. The collars are promoted as training devices to stop dogs barking, roaming or generally misbehaving and they can emit up to 6,000 volts of energy.
Like most animal welfare charities, the ManxSPCA believes that dogs should be trained using positive reinforcement methods, and it does not condone the use of electric collars.
And positive reinforcement training is exactly what Toby, the two-year-old German shepherd, needs.
He responds well to training and praise because he is intelligent and he enjoys engaging with his human companions, but he is quite wilful and so he will need new owners who are experienced and able to cope with such a large dog.
He can't be rehomed with young children or small animals but he is quite friendly with most other dogs and so he need not be the only dog in the family.
He is magnificent, and is what some people would call an 'old fashioned' German shepherd in that he has a good, straight back and long legs.
Why not come and see him for yourself?
Comments
To leave a comment you need to create an account. |
All comments 0