Memory game app designed on the island can help with dementia
Monday 6th December 2021 11:00 am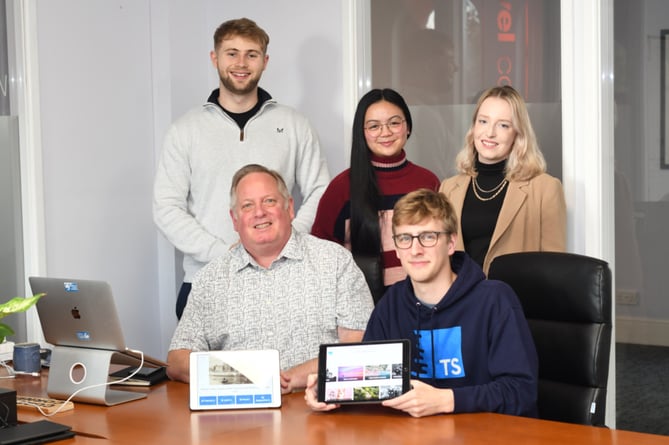 Memory Lane Games - pictured left to right: Max Morley Green, Bruce Elliott (CEO and founder), Kate Wasawas, Tom Coldwell and Clare Pickering
Subscribe newsletter
Subscribe to our email and get updates right in your inbox.
A chat in their local pub led to good friends Bruce Elliott and Peter Quayle designing a memory game app which is now attracting interest from around the world.
Bruce says: 'It was a few years ago in the Crosby and we were sitting at a table, talking about our mums. Peter's mum is 90 with vascular dementia living here in the Isle of Man, my mum is 86 and back in Canada.
'We were talking about what they have in common and of course it was a love of old family photos.
'I have a gaming background and I thought: "I wonder if we can turn those photos into games?" and Peter said: "Actually we're turning memories into games", and that was the birth of Memory Lane Games.'
The app they have created, which is available free, uses old photos to trigger positive memories. It's designed to be played by dementia patients together with a relative, friend or carer.
For example, there are games featuring questions on photos of 120 cities, towns and villages across the UK. Wherever you grew up, the chances are there will be questions around photos of familiar sights, events and landmarks that you will know.
I tried out my knowledge on questions about the Isle of Man and it is quite addictive to play. Then Bruce and I had a go at a game about cats, at which both of us got every answer wrong, and we found ourselves quite naturally talking and laughing about it. This, as Bruce explains, is exactly the point of the game.
He says: 'The real secret is that it also starts wonderful conversations.
'You think: "Ah, I know that", and you feel so positive because you have the answer, and what that does is start you talking, so it reduces social isolation.
'So it's not about scoring and it's not really about the games. What the games do is give us a chance to start a conversation. For people living with dementia sometimes there's a loop: "I want to go home, where's my husband, why am I here, I want to go home, where's my husbandâ¦" This kind of distraction tool can break that loop because you find a memory,'
'And one of the things that we do that's unique is that we aim to benefit both those living with dementia and their carers, equally.'
Each question has a choice of four answers. If you get it wrong first time, that wrong answer simply disappears, leaving three answers to choose from, so you can continue choosing an answer until you get it right.
'It's frustration-free: in the end it says: "Well done that's the correct answer", so it just keeps people going without any stress,' Bruce explains.
He credits Tom Coldwell, the firm's chief technology officer and a shareholder, with making the app so user-friendly.
He says: 'Tom designed the app, and the simplicity of it, and has made it one of the most incredibly efficient technology platforms out there.'
Tom explains that he had his gran in mind when he was working on it. He says: 'My gran's across in Yorkshire, she's 92 now and this really spoke to me as I would love to be able to send her family photos and photos of her and my granddad going ballroom dancing together. I thought it was a really nice thing to be part of.'
They are now starting to add games based on photos from other parts of the world. In April, they launched their app in the Philippines.
Bruce says: 'We partnered with the Alzheimer's Disease Association of the Philippines and localised the content with a Filipino team that created games on Filipino street food and beaches and 80 different Filipino cities and towns.
'We've had 10,000 downloads there and they're now prescribing our app - the exact same free app that's in the app stores here - for cognitive exercises for stroke and dementia patients by their neurologists and GPs and it's wonderful.
'We're launching in Germany soon, and we're launching in India.
'What's amazing is, it's the same app, the same concept, everywhere. We just add more games in that simple format but what we're starting to see is healthcare companies are asking us: "Can that work in telemedicine?" and now we're looking at how can we roll out reminiscence activities over videoconferencing.
'We're starting to make really good progress with that and that means it can be delivered all over the world really cheaply.
'We had some wonderful recognition recently: KPMG named us their top tech innovator in northwest UK 2021 and they're starting to work with us on helping us make games for our app, so having some of their staff build games in some of the towns and cities they grew up in.'
At the moment, the app is still free but Bruce and the team have plans to start earning income with a new, personalised version.
Bruce says: 'That's our passion, to be able to deliver free reminiscence activities, localised, for every country in the world.
'But we're a business and we know that sustainable businesses can make the most impact. So next month we're going to launch personalisation: families will be able to upgrade to include their own family photos in their quiz games, with questions like: "Is that mum who's standing next to Uncle Jim?", "Whose dog was this?", all those simple things that trigger positive, wonderful memories.
'We'll be offering that on a monthly subscription at £2.99 per month so, whilst all of our thousands of games are still always available for free, if you want to, you can personalise them.'
In order to give themselves the initial period of grace while they were developing the games, they raised almost £1million from investors and they are receiving a grant from the DfE.
Bruce says: 'Our investors have been mostly family offices who love our purpose and love our business so they know that, as we scale, this business will be profitable.
'Right now we're still developing all the infrastructure and the platforms but those can run at almost no cost once they're built.
'Our investors are patient: they see what we're doing and they're excited as we move into personalisation revenues and then our business to business revenues with care homes and in-home care.'
The first move into this area is being made in partnership with Hospice Isle of Man.
Hospice CEO, Anne Mills, explains: 'I am extremely delighted that here at Hospice, through our Scholl Academic Centre, we are leading a new pilot research study which will investigate the use of a memory games app.
'The study hopes to determine if the use of a new, personalised game application, using content personalised to the individual with dementia, compared with a standard application could help improve the wellbeing of the person with dementia and their carer.
'We are seeking 30 volunteers who are 65 or over and have a diagnosis of mild or moderate dementia. We will ask participants to use the Memory Lane Games app that provides simple, dementia-friendly memory activities. We are pleased to say that we have had the study approved by the Isle of Man Research Ethics Committee (IOMREC) and very kindly funded by Memory Lane Games.
'Our strategy at Hospice is to reach more people earlier who need our support, so our Scholl Academic Research team is using this opportunity to review if digital health technology can make an impact. We are very proud that Memory Lane Games has been developed right here on the island. The Scholl Academic Research team are now able to recruit volunteers who can provide feedback on the app and bring us one step closer to hopefully improving the quality of life of people living with dementia.'
l If you are interested in participating, then please contact Rachel Convery clinical research nurse, Scholl Academic Centre on 647424 or [email protected]
Comments
To leave a comment you need to create an account. |
All comments 0