Daphne Caine (pictured) says the households that have been forced to be evacuated as a result of the danger from the landslide feel 'very let down'.
She had asked Environment Minister Clare Barber in the House of Keys whether planning enforcement powers are adequate to protect householders adjoining development sites with unstable land.
In response, Mrs Barber explained the planning process, noting it's valuable in this instance to describe how land instability can be a material consideration in a planning application.
She said that it's the responsibility of the developer and their specialist to assess and demonstrate that the development will not be adversely affected by instability.
'If the developer's specialist shows that there will be no instability or it can be overcome, it's open to the department to impose conditions relating to precautionary measures where they are expedient on planning grounds,' Mrs Barber said. 'However, it is the responsibility of developers to ensure that their developments will not initiate instability or be affected by instability originating outside the site.
'Planning enforcement is the process of investigating and resolving possible breaches of planning law.
'If there is not a breach of planning then there are no powers to intercede.
'It is not the role of planning or planning enforcement to protect the private interests of one person against the activities of another.'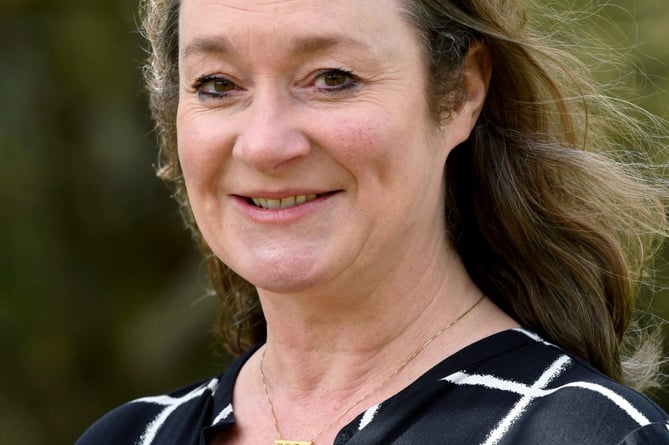 Daphne Caine MHK -
(Dave Kneale/Isle of Man Newspapers)
Mrs Caine described the government as having a 'total lack of agency' in stepping forward following the evacuation of two properties and significant landfall after development works that were taking place below.
She added that all the conditions and the planning enforcement 'seem to protect a development site' but there's nothing in planning to consider the adjoining properties.
Asked if she feels the planning system is adequate, the minister replied 'yes'.
Mrs Barber said: 'Planning enforcement can only act on conditions and planning application consents provided by planning and building control. I can't speculate on cases that have already been determined through the formal process, so I'm not able to comment.'
The MHK pushed further, asking if Mrs Barber is happy those households are responsible for their own legal advice, engaging their own surveyors and lawyers, to 'take action against the development that her department is satisfied is meeting all of its planning conditions'.
She asked if there is a flaw in the system, adding that the government's view on it seems to be 'it's nothing to do with us, it's a private or civil matter between property owners'.
The minister said: 'The situation at Laxey is very distressing and I feel very sorry for those involved. It is however extremely complex and it is vital I don't seek to mislead anyone involved.
'The government have a clear position in this regard and I can confirm that a letter has been issued to some of those landowners and some of them will be receiving that very shortly.
'I recognise the minister is the decision-maker for appeals made under the town and country planning act but it would not be for me to speculate the conditions that were applied in any given case, except in to say that the process was followed appropriately.'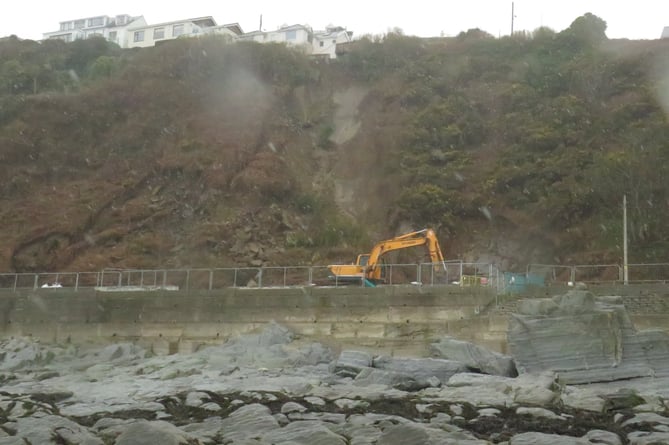 Patricia Newton's photograph of the landslip at the end of Laxey Promenade
Later in the sitting, Mrs Caine turned her attention to the Department of Infrastructure, asking what actions it's taking to prevent further damage the area.
Minister Chris Thomas said his department is keeping a 'watchful brief' and his officers will continue to monitor the safety of the roads involved.
He added that currently there is 'no danger to the highways'.
Andrew Smith, also an MHK for Garff, asked what consideration has been given to implementing a weight restriction on Old Laxey Hill, to which Mr Thomas said there is a possibility for weight restrictions to be reintroduced.
He said it could be done in six to eight weeks, however he didn't feel it was necessary because there's no concern for that road. Mrs Caine pointed out that the 3.5 tonne weight limit was removed from that particular highway in 2015 and asked if there's potential for greater damage as a result of heavier vehicles using the route.
'What would make me reconsider is professional advice that there is risk to the highways,' Mr Thomas said. 'Weight limits are used when there's potential for heavier vehicles to damage the highway.'
He added that the situation is under review.