Developers have held a public consultation to talk to the public about a big project in the centre of Douglas.
The Westmoreland Village project – to build 170 homes, including 37 at the old nurses' home – will be privately funded, with the Manx Development Corporation borrowing money from a bank to fund it.
However, the company, which is state-owned, said it has not got a concrete total figure yet for the project.
The consultation took place at Douglas Lawn Tennis Club on Friday and Saturday was attended by 111 people.
Carron Meyer, the project manager, said: 'We are going to be taking members of the public's thoughts into consideration before we put in for planning.
'I think if we can get on-site by the end of the year we've done quite well.
'We will keep doing the best we can to get things moving but that is our target date.'
Concerns have been raised that there are already difficulties with parking in that area, especially due to the proximity of the Henry Bloom Noble Primary School.
Curtins, a building consultancy firm, has been helping the MDC with the traffic and parking aspects of the development.
A consultant for Curtins, Danny Jones, said: 'The people I have spoken to so far are generally quite supportive of what we are trying to achieve, in terms of active travel promotion and a sustainability approach.
'I think that this site has a good opportunity.
'All of those who are coming into the site are new and will know the situation in regards to parking beforehand.
'It's also really ideally placed.
'It's a really quick and easy walk into the centre of Douglas and if we're not going to promote low car parking and try to get people to rely less on the car, where else are we going to do that?'
Mr Jones said that there were 103 parking spaces in the plans for the new village, including parking in the centre of the development as well as underground car parking.
The new development will include 133 properties and the decision to have fewer parking spaces than properties is deliberate.
Mr Jones said: 'In terms of split, at the moment it's not been finalised but, we're looking at around one space for every two dwellings.
'It's one of the best ways to encourage people to take up active travel modes (walking or bike-riding) or public transport.'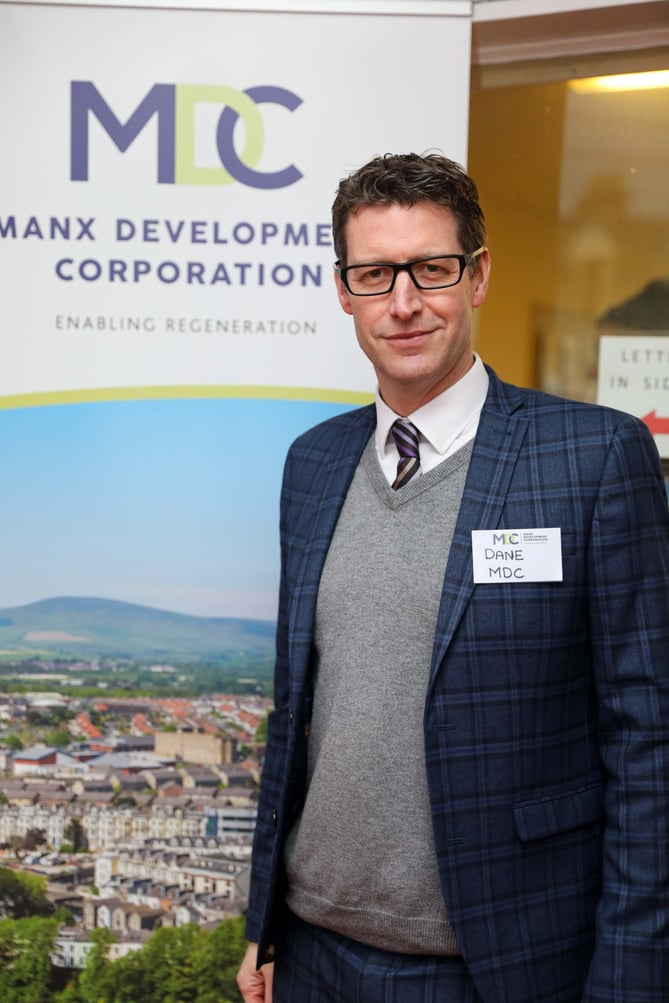 Dan Harrop, Managing Director. Manx Development Corporation. Photo by Callum Staley (CJS Photography)
(Cjs Photography )
MDC managing director Dan Harrop said: 'We are a number of weeks away from putting the planning application in and we're hopeful that the feedback we get here will help shape and change the proposals that we've got.
'We have got a professional team here that will be able to answer the public's questions and put a little more meat on the bone.'
Mr Harrop says he wants to give people an option to get away from use of a car.
He said: 'I think that a lot of people with a car think that everybody needs a car.
'I think that the location of this project means that people can make a choice, you don't have to have a car.
'Cars are expensive to buy and expensive to run. We're giving people an option and I think 103 spaces across an area where we have 133 dwellings is pretty good in an urban setting.'
Another issue that has come to light is the acquisition of the land and the future of the businesses on there, with QuickFit garage owner Andrew Malone saying he may have to close down if he cannot find another property to move to.
Mr Harrop said: 'We've been looking at this now for a number of months and we've been to see the businesses.
'We are working with them and, where there are tenants, we are trying to make this transition as smooth as possible between the landlord and ourselves, so we're here to chat and hopefully make that work.'
The consultation showed a breakdown of what is to be included in the 'village', including a community centre, which would house the Douglas 1st Scout troop, plenty of outdoor play areas with apparatus built with natural materials and a senior living area for those over 65 to live in.
"
I am particularly proud to present a project that has a lot of open space
Mike O'Connell
Mike O'Connell is part of the landscaping architecture team, BCA landscape, hired to consult on the plans and the overall use of the whole area and how to best use the land that the MDC wants to develop.
He said: 'Quite a lot of people have said that they have been reassured and pleasantly surprised. As a landscaping architect, I am particularly proud to present a project that has a lot of open space.
'It's got play opportunities, growing space and communal space where people can come together but not just for people in the new houses, for the local community as well, as the site is being opened up.'
The inclusion of open space was 'essential' to Mr O'Connell's plans for the site.
He said: 'We could quite easily have filled all that space with car parking, but you lose so much by doing that.'
The development is adopting the idea of a '20-minute neighbourhood' which means all of the essentials someone would need to live would be a 20-minute return journey.
Mr O'Connell said: 'The thrust of all the communal spaces is to bring people together and allow them to do things collectively and build that sense of neighbourhood.
'That's the aspiration, somewhere people want to live so you get the sense of community.'
MDC aims to apply for planning by the end of February.