Daphne Caine will ask Infrastructure Minister Chris Thomas what actions his officers are currently taking to deal with the landslip on Old Laxey Hill in the House of Keys tomorrow.
She will also question Environment Minister Clare Barber about planning enforcement powers and whether they are adequate to protect householders adjoining development sites with unstable land.
The landslip started on the cliff above Laxey promenade last week and has since seen two households above the area evacuated.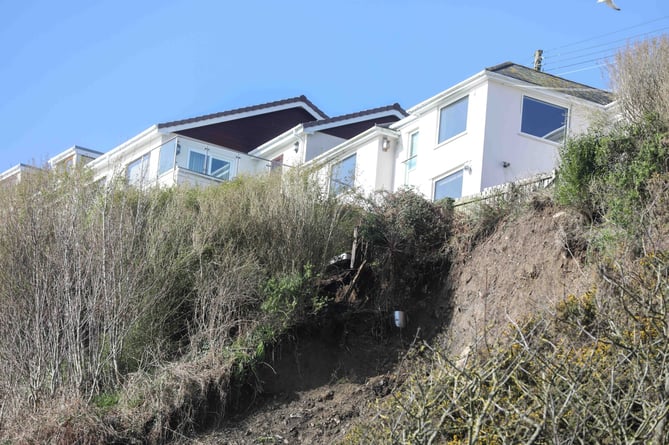 Laxey Landslide. Photo by Callum Staley (CJS Photography)
(Cjs Photography )
On a similar note, Justice and Home Affairs Minister Jane Poole-Wilson will be tackling a question on emergency warnings.
She will be asked how many people have signed up to receive emergency warnings via the central notification service, when the last test was, and when the service was last promoted.
This service is often used to provide weather warnings.
Education Minister Julie Edge is to face a number of questions, including one on the sex education investigation.
She will be asked whether it will be completed in accordance with the published timetable.
This follows an update given in Tynwald this week in which Ms Edge said part one of the investigation had been completed.
Douglas North MHK David Ashford will ask her what support is provided to low income families with children studying food technology at school.
Figures will be sought on how many children have been home educated in the last five years, including this year.
Glenfaba and Peel MHK Tim Crookall wants an update on the proposed science, technology, engineering and mathematics block at Queen Elizabeth II High School.
Meanwhile, Chief Minister Alfred Cannan will be dealing with queries about additional provision for homeless people, and whether the Council of Ministers has received and discussed any data relating to the cost of childcare and its impact on the number of economically active people and on the birth rate.
Arbory, Castletown and Malew MHK Jason Moorhouse wants to know what issues were caused by airport closures between March 10 and 13, 2023.
He will also ask how many people were on affected flights and whether any compensation will be paid to people whose flights were cancelled.
There have been a number of flights delayed or cancelled since these dates.
Airport director Gary Cobb has explained some flights were disrupted as a vital piece of runway landing equipment has had to be replaced.
Lawrie Hooper, Minister for Health and Social Care, will be detailing what progress has been made with ensuring patients have access to all drugs authorised by the UK's National Institute for Health and Care Excellence.
Mr Ashford particularly wishes to know how the money allocated in last year's budget has been spent on this.
Mr Crookall is the new Manx Utilities chair and will answer questions on when the full Isle of Man electrical system stability report will be shared with the Climate Change Board, what its policy is on achieving energy self-sufficiency for our island, and why the sustainable generation unit charge has been lowered.