MHKs give backing to proposal to make helmets compulsory for cyclists
Wednesday 10th June 2020 11:00 am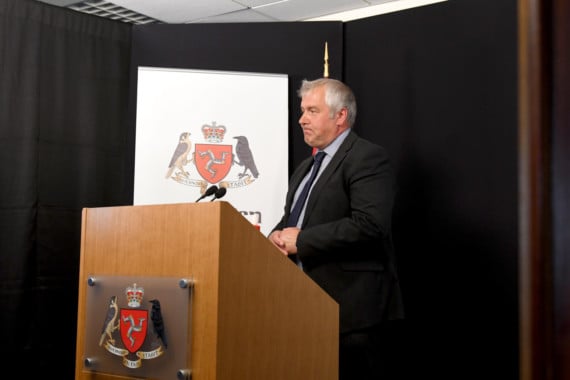 Infrastructure Minister Ray Harmer
Subscribe newsletter
Subscribe to our email and get updates right in your inbox.
The Isle of Man could become the first country in Europe to make cycling helmets compulsory, after MHKs gave their backing.
The House of Keys week progressed the Road Traffic Legislation (Amendment) Bill 2020 through its clauses stage and third reading.
Members voted to support a clause requiring all cyclists, motorbike sidecars passengers, quad bikers and those riding animals or animal-propelled vehicles to wear headgear.
However, the clause was opposed by several backbenchers, including Bill Shimmins (Middle), himself a keen cyclist, who said that he always wears a helmet and would encourage others to do so, but didn't see why it needed legislating for.
Mr Shimmins said: 'No other European country has enacted compulsory cycling helmet legislation for all users and many of those countries have a far higher number of cyclists.'
He gave the example of Denmark where 25% of all commuters ride to work.
Of those, 27% wear helmets as standard.
Mr Shimmins also noted Holland where, he said, 'very few' people actually wear cycling helmets in their everyday lives, despite it being seen as one of the safest cyclist countries in the world.
The Middle MHK said that it is believed nine out of 10 resident cyclists already wear helmets while cycling on Manx roads and that he couldn't see 'what problem this clause is trying to fix'.
Mr Shimmins noted the number of high-profile deaths of cyclists on Manx roads in recent years, but said that a helmet will provide little protection to those hit by a car or a lorry.
Clare Barber (Douglas East) said that she had concerns over children not wearing their helmet and questioned how it would be possible to police.
Mrs Barber said that the person most at risk from not wearing a helmet was the cyclist themselves.
She added: ' I think it's far more about education, rather than a very blunt instrument. I'm not totally against an enabling clause because I also recognise this could include things like horse riders and so on.
'But I do think we need to be very cautious about the route we may be going down with this because I don't think it is so cut and dry as the intention would seem to indicate.'
Ray Harmer, who was still the Infrastructure Minister when the debate took place and is the mover of the Bill, said that the clause is 'not really for cycling'.
Mr Harmer said: 'It is more of a general provision and more appropriate for riders of quads and those that propel by horse riding and so forth and a number of different vehicles that come into play from time to time.
'I think it's important to have that provision so that we can meet the challenges head on.
'Obviously any provision will have to be set up fully in regulations, it would have to have a detail and be approved by Tynwald.'
Members voted to back the clause with only Mr Shimmins, Chris Robertshaw, Ralph Peake, Daphne Caine and Rob Callister voting against.
The Bill completed its clauses stage and third reading through the Keys and will now head to the Legislative Council.
Comments
To leave a comment you need to create an account. |
All comments 0