Why the Steam Packet may have to divulge more information to the public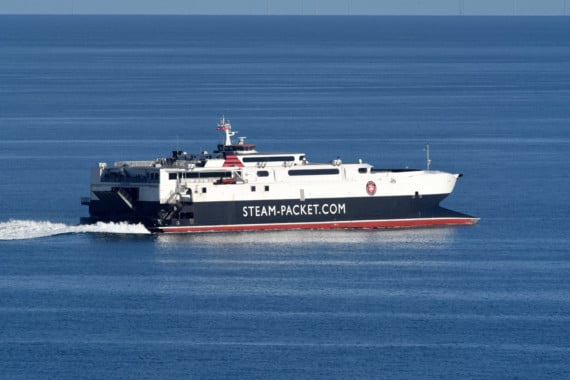 Isle of Man Steam Packet Company fast craft Manannan, known as the Seacat
Subscribe newsletter
Subscribe to our email and get updates right in your inbox.
Arm's-length government-owned operations such as the Steam Packet could become subject to Freedom of Information laws.
Minister for Policy and Reform Chris Thomas says that transparency when public money is involved is important, but must be balanced against commercial confidentiality.
The issue of arm's-length companies and FoI requests was highlighted when the Positive Action Group submitted a request in relation to the Steam Packet which was rejected.
The PAG asked the government's Department of Infrastructure for 'figures for the carbon emissions of the Steam Packet fleet (for both the Manannan and the Ben-my-Chree individually) per kilometre, per mile or per journey'.
However, this was rejected as the Department of Infrastructure does not hold that information.
The DoI said in its response: 'You may already be aware that the Isle of Man Steam Packet Company is not subject to Freedom of Information, although they may be open to a dialogue on the subject if you approach them direct.'
In response to this, Mr Thomas told the Isle of Man Examiner that he personally thinks that FoI might need to be 'tailored for arm's-length operations, in several variants for each of the types of public bodies that currently exist or might come to exist'.
The government bought the Steam Packet last year for £124 million.
As a private company, the Steam Packet was under no obligation to respond to requests for information about its operations.
If it is to be subject to requests for more information, it could come under closer scrutiny from the public and politicians.
Arguably, that could undermine its management's ability to act as it did as a company in the private sector.
Mr Thomas said: 'It could be argued that this is really part of the point of establishing arm's-length bodies - to separate policy and policy delivery oversight (clearly in scope of FoI) from day-to-day operations (perhaps not in scope of FoI).
'Of course information about public policy and the use of public funds in these bodies needs to be public, as well as available in Tynwald, but some information will be commercial and/or is routine operational and is different, and public-owned entities need to be treated fairly relative to private-sector bodies which operate similarly.'
Mr Thomas added that, in the Freedom of Information Act 2015, a public authority to which the Act applies is defined as a person, body, publicly-owned company or holder of any office which is listed in schedule 1 of the Act. But the schedule may also specify that this Act applies only to information of a specified description held by a public authority.
For instance, the Act applies only in respect of information held by Radio Manx Ltd for purposes other than those of journalism, art or literature.
The Council of Ministers may by order amend this schedule to include the Steam Packet, Manx Care (proposed under the Sir Jonathan Michael report into the Department of Health and Social Care) or a body developed for arm's-length operations at the airport.
Liberal Vannin MHK Lawrie Hooper (Ramsey), said that the result of the PAG's FoI request to the DoI about the Steam Packet raised questions about oversight and he had been concerned what it could mean for questioning of ministers in Tynwald.
Mr Hooper also said that the issue highlighted the need for an independent auditor's office such as the recurring issue of the island's failure to appoint an auditor general.
He used the example of the promenade works, which are behind schedule and said that questions about who is responsible for that go unanswered.
He added: 'I'm not saying that corporate operations are bad, but are they accountable? Some things will need to be confidential but others have to be open to oversight and public scrutiny.
'It is about striking a balance between allowing them to get on with the job and being accountable to the public and Tynwald.'
Mr Thomas also suggested that the DoI may have been the wrong government department to ask, suggesting that the Department of Environment, Food and Agriculture 'might be more likely to hold the information given it is responsible for reporting emissions data'.
In August, the government launched an 'open data policy'. Open data is defined as 'data that can be freely used, re-used, redistributed and built upon by anyone, with the condition that it be attributed and shared alike'.
Much information is already published on the open data pages of gov.im in the form of open datasets to aid research and to generate new knowledge and insight into the processes, procedures and work undertaken by the government.
Mr Thomas said he hopes that information such as emissions data and other climate information will be added to this following the declaration of a climate emergency by Tynwald earlier this year.
Comments
To leave a comment you need to create an account. |
All comments 0