Red panda returns - again!
Sunday 12th January 2020 3:02 pm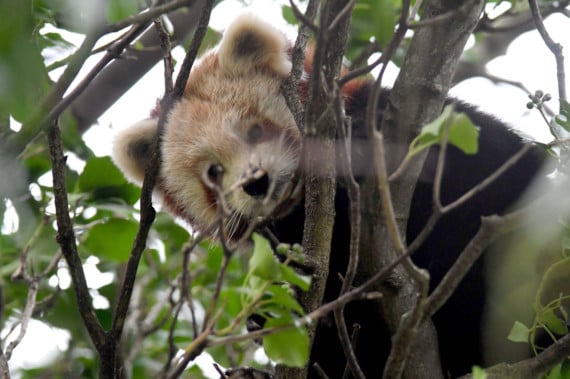 Kush the red panda is recaptured outside Curraghs Wildlife Park, having escaped for the second time since October -
Subscribe newsletter
Subscribe to our email and get updates right in your inbox.
A red panda, which escaped from his enclosure at Curraghs Wildlife Park for a second time on Wednesday, has been recaptured.
Kush, who has gained a bit of a celebrity status in the island, was found among trees opposite the park in Ballaugh after he went missing.
Police were called in to slow traffic as part of the rescue operation on Saturday, with a tractor being used to shake Kush out of a tree and into a net held by staff members below.
The team had been 'extensively searching' the area in Sulby, where he was last recaptured since his first escape in October, as there had been sightings of him in the area.
However, on Saturday morning he was found at the top of a tree across the road from his home.
Kathleen Graham, general manager of the park, said: 'All available cherry pickers were not able to assist due to the high winds. They would not be safe. 'We monitored him for a while and slowed the traffic. He was not going to come down while being watched and we could not let him come down without us being there to halt traffic.
'With darkness due just after 4pm we knew if we did not retrieve him he would have moved again in the dark.
'Our main concern was that he would cross the road, endangering himself and road users.'
She added that darting him with an anaesthetic was not a good option as an animal becomes drowsy due to a lack of coordination and could fall.'
Instead they sawed the branch to weaken it.
'We were ready with the staff on the net and were able to tense the net to give him a good soft landing,' she said.
'He did twist round and land on the net feet first and we were able to then move him to a sky kennel from the net. He was taken down to our hospital unit where he tucked into food. He did seem to be quite hungry.'
An investigation is still continuing to find out how the red panda - an endangered species native to the eastern Himalaya and China - managed to escape this time.
In his first escape, Kush climbed out of his enclosure after a snapped branch formed a bridge over the wall. He was found almost three weeks later up a tree in someone's back garden in Sulby Glen.
The park manager said another statement is to be made about the future-proofing of his enclosure.
In the wild, red pandas are mainly threatened by poaching and deforestation. Estimates put numbers at below 16,000, with it being possible that numbers are as low as 2,500 in the wild.
In recent years, numbers have seen a decline of about 50%, Ms Graham said.
Last year the park gave £1,200 from its conservation fund to the Red Panda Network for the 'plant a home' project that is reforesting a corridor to join red panda habitats and increase chances of the population thriving.
Kush lives at the park with Frisco and Sara. Frisco is an old red panda and it's not expected that she and Kush will breed.
Sara is younger and coming to breeding age now. They are part of the red panda studbook and international breeding programme, which is co-ordinated at Rotterdam zoo.
Comments
To leave a comment you need to create an account. |
All comments 0