Team travel 17 countries in 21 days in fur cars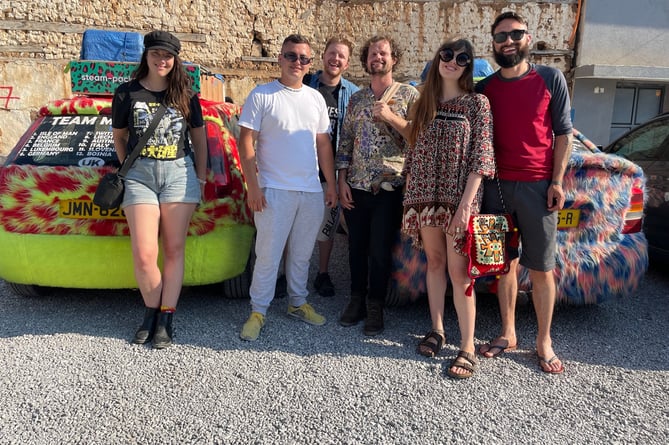 Subscribe newsletter
Subscribe to our email and get updates right in your inbox.
A team of people from the Isle of Man and Australia have successfully driven through 17 countries in 21 days – all in fur cars.
Team Mad Manx travelled from Andreas to Athens to raise money for The Childrens Centre, which supports young people and families when they are faced with challenges in their lives, and Manx Children's Art Therapy, who provide art therapy for young people with chronic illness and mental health needs at The Children's Centre.
Fern Callister, who took part, said: 'It was amazing. We finished on Wednesday last week and celebrated with drinks in our hotel.
'The wine was given to us by a gentleman at a service station we'd stopped at that day. The kindness of people was astonishing.
'A couple of people gave us wine in different countries, and one morning we even woke up to a pack of German ham and a map of the local area on the windshield.'
She said the fur covered cars proved to be a fun addition, with many people waving to them as they passed.
'I think the fur cars definitely boosted morale, especially during the really tiring, long days – we were overwhelmed by the reaction,' the woman from Sulby said. 'There was lots of laughter and there were lots of children who were really excited about them because they were so sensory.
'They were just a real attention grabber. Who doesn't love a fluffy car?'
Despite the cars becoming a hit with many, the group didn't think about how much insulation the fur would add.
Mrs Callister added: 'I think the main issue was the heat. We underestimated, being on the Isle of Man, how many degrees hotter the inside of the car would be with the fur insulating it. We didn't have any air conditioning either.
'We planned to camp a lot as well but we had to rethink and start staying in places where we could actually have decent showers and feel refreshed because it was actually quite hard-going.
'We changed our game plan a little bit there because the heat was just so wearing, especially if you spend all day in a hot car and then have to put up and take down a tent.'
She explained her favourite highlight of the trip was the culture, saying: 'I think when you fly to a place, you're instantly immersed in all the culture there but if you drive through it you see all the cultures blend together, you see the houses change and evolve and the landscape changes gradually too.
'That was something you'd never experience if you just flew into those countries.'
This is the third challenge the team has taken on and Mrs Callister says it won't be the last.
She said: 'We'll probably recover for a few weeks and then try and figure out what next challenge we can do. Let's keep it going!
'We've also managed to raise about £1,400, plus donations from the road, which I'm really happy with.'
The team's JustGiving is still open for donations, you can find it by searching for Team Mad Manx.
Comments
To leave a comment you need to create an account. |
All comments 0