Terry Cringle's funeral to take place on Thursday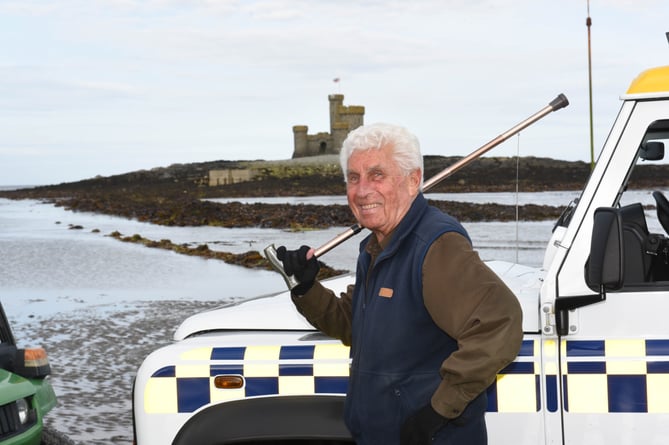 Terry Cringle is given a lift to the Tower of Refuge by the Coastguard and Douglas Town Centre Management in their six-wheeled all-terrain 'Gator' vehicle -
Subscribe newsletter
Subscribe to our email and get updates right in your inbox.
The funeral of a respected Manx journalist will take place on Thursday.
Terry Cringle died on February 12 at the age of 91.
His service will take place at St Ninian's Church at noon, followed by a private cremation..
A Manxman through and through, Terry Cringle was brought up in his parents' boarding house on Queen's Promenade, Douglas, and went on to work in journalism for more than 70 years.
He achieved his 'diamond jubilee' - 60 years - in journalism in 2008, but continued to write his weekly columns and features for us here at Isle of Man Newspapers and other publications as well as broadcasting on Manx Radio.
During his long career, he endeavoured to remind people of the island's rich history through his entertaining and informative Times Past section in the Isle of Man Examiner, his The History Man programme on Manx Radio and his editorial leadership for the book trilogy, Here is the News and A Chronicle of the 20th Century'(Volumes I and II).
In 1948, at the age of 17, he was taken on as a junior reporter for the Examiner.
Soon after, he was called up for National Service and served two years in the Far East.
After the war, he spent another short spell at the Examiner, before finding work on newspapers in England, in Southport, Nottingham and Newcastle, and finally on the Manchester Evening Chronicle.
He returned to the island in 1962, and rejoined the Examiner, where he reported on Tynwald matters - as part of the shorthand team who delivered verbatim reports of the sittings - alongside his long-time colleague and friend, Alan Bell, who said: 'He was head and shoulders above everyone else, Terry.
'He was the professional's professional, a very consummate journalist.'
In 1969, Mr Cringle was working as a freelance journalist, under the name 'Terry Cringle News Services' when he convinced Mr Bell to follow him into the world of freelancing, and together they were business partners for the next 15 or so years.
They often freelanced for UK newspapers, and they worked together at Manx Radio, who had approached Mr Cringle to set up its first newsroom.
Mr Bell said: 'We had some great times, covered some really funny stories, odd stories, for the likes of The Sun - we called them the "comics".
'I remember we got a phone call one day from a newsdesk - I think it was one of the Manchester papers - saying a holidaymaker had rung up disgusted because there was a novelty shop in Strand Street selling baby chickens.
'Day-old chickens! Which apparently had been injected with formaldehyde or something like that, to preserve them.
'And so Terry went off down to investigate this, and he came back with a chicken which he'd bought - and they were! They were actually little day-old chickens, the real thing, just preserved in some way.
'I remember that made a page lead in one of the nationals.'
Across his journalistic ventures, Mr Cringle covered every aspect of Manx life, including the Summerland tragedy in 1973, which left a lasting impression on him.
Mr Bell recalled covering the disaster with Mr Cringle, saying: 'That was the only world story we ever covered. That really did go all around the world.
'We got phone calls from literally all around the world, NBC in America, Canadian stations, Australian stations, and newspapers, and I remember we were just doing stuff constantly.
'I will always have vivid memories of it. I had gone home for the night when Terry rang to say Summerland was on fire.
'As I drove towards Douglas, I could see this huge column of smoke rising straight up in the air. When I looked across the bay from Douglas Head, Summerland looked, for all the world like a rectangular zeppelin on fire, the huge girders were clearly outlined against the flames.
'It was a dreadful, dreadful thing.'
Terry was an outspoken commentator, too, on such controversial topics as the birch and the number of fatalities in the TT, which were matters that concerned him greatly.
In the 1990s, he embarked on a new project in association with Gordon Kniveton's publishing venture, The Manx Experience.
Titled Here is the News - An Illustrated Manx History, it was published in 1992 and was the first of a series of hardback books charting the historic progress of the Isle of Man from the Viking invasion of 798 right up to Dumbell's Bank Crash in 1900. It was a huge undertaking for Terry, whose editorial team included Robert Kelly, Peter Hulme, Bob Forster, Gordon Kniveton, Frank Cowin and Fred Radcliffe.
The novel method of presenting items of news and feature articles as if they were being broadcast on Manx Radio made it easily accessible to the general reader, while at the same time satisfying the academic criteria of being a genuine factual record.
Here is the News was followed in 1999 by A Chronicle of the 20th Century, Volume I (1901 - 1950) which covered such landmark events as the loss of the Ellan Vannin, the opening of Noble's Hospital, the impact of the First and Second World Wars, the great fire at Laxey Glen Mills, the closure of Laxey Mines, the tourist boom, the 1930s floods and various Royal visits.
Volume II (1951 - 2000) covered the island's recovery from the Second World War, the decline of the visiting industry and the subsequent emergence of the finance industry, triumphs and tragedies of the period, right up to how the islanders celebrated the new millennium.
In 2020, Mr Cringle retired at 89 years of age, having enjoyed 72 years in journalism.
Following the news of his passing, there was an outpouring of tributes from all those who knew him.
Former general manager of Manx Radio Stewart Watterson said: 'Terry was a wordsmith par excellence and the island's leading personality journalist of modern times.d
'We think of some of the stand-out personalities of Manx journalism who forged the path to the free speech we take for granted today, but they were different times.
'In the context of successful journalism in the post-war years, Terry was a one-off.'
Recalling their working relationship, Mr Watterson said: 'When I first became involved with Manx Radio in the mid-70s Terry and colleague Alan Bell had just been commissioned to provide the station with its first internally generated news service.
'Prior to that the station's news content had been provided through a deal with the papers who would provide a few stories (after they had first appeared in print, of course!).
'We worked together in one form or another from that time until I retired and left Terry churning out his regular feed of modern and historical quirks of Manx life until he finally threw in the towel a few years ago.
'Thinking back, I suppose the programme series I enjoyed getting under way most was the semi-dramatised reporting on Manx history: Here Was The News.
'The title was pinched a year or two later by the BBC around the time of the 400th anniversary of the Armada. But we had it first!'
Mr Bell perhaps summed it up best, saying of his colleague and friend: 'He'll be sorely missed will Terry. He was really a national treasure, he was very well liked, very well respected by everyone.'