The Courthouse venue reopens thanks to Ben
Friday 20th May 2022 4:00 pm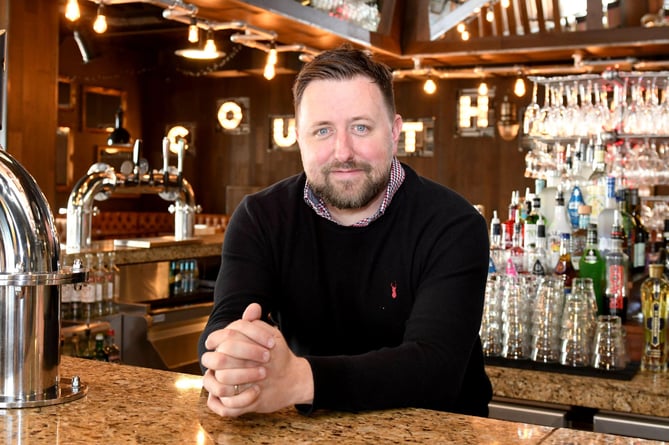 Ben Sowrey has just reopened The Courthouse(DK220512-11)
Subscribe newsletter
Subscribe to our email and get updates right in your inbox.
Hands up anyone who has ever dreamed of running a pub. When former radio journalist Ben Sowrey was given a once in a lifetime chance to take over as landlord of the Trafalgar in Ramsey and later the Ginger Hall he found himself on a major learning curve.
'It was quite tough, learning on the job. Pub goers are not always the most forgiving when you're figuring stuff out,' he says.
He goes on: 'It was quite a tough first two years: I couldn't quite get the measure of the place and it was very much living from TT to TT which I never really wanted to be the case because that's stressful, but coming out of Covid and lockdown we just sort of found the formula and it's been great ever since.
'I've been at the Ginger Hall for four years now and the last two years it's literally taken off.'
One of the first lessons he learned is that pubgoers like the landlord to be visible.
Ben says: 'I did struggle a little winning everyone over in those first two years but that was possibly as much down to me. I was trying to run it from a distance and put people in: that doesn't work in a pub, people come to chat with the landlord.
'But once I cottoned onto that, the overall feeling from the locals, since we turned it up a notch there, is that they were really appreciative. They loved having a vibrant pub and everyone's really nice - all the locals are lovely.'
Ben was working in the newsroom at 3FM when he was offered the chance to run a pub.
He recalls: 'I just wanted a complete change from what I was doing but I wasn't sure what it was going to be. Then my sister's partner mentioned that he wanted to buy a pub and he thought I had the attributes needed to be a good landlord, in terms of my personality, being friendly with everybody and I thought: "I could give that a go" - literally it was like that.'
He was really starting to get into his stride at the Ginger Hall when Covid arrived and they had to shut the doors, but Ben was quick off the mark and made the best of the situation:
He says: 'I think I was one of the first people to start doing deliveries over lockdown: we were delivering cocktails and I had the chef making roast dinners and delivering them cold, with all the instructions of what to do, so that really helped. It kept me going and I got a lot of interviews out of it.
'It definitely boosted the profile of the Ginger a hundred per cent, you couldn't put a price on how effective that was in making people aware of the Ginger again.
'For the obvious reasons Covid was a nightmare in terms of losing out on the TTs which is a huge deal for the Ginger but it definitely has led to the pub thriving because of the time that it gave me to think about it properly. When all is said and done I would say, one hundred per cent, that it was good for me.'
Although the Ginger Hall remains very much his base, the lessons he has learned there have given him the confidence to take on a new project: last weekend he reopened the doors at the much-missed Douglas venue, The Courthouse and Roxy's nightclub. Meating Steakhouse, formerly on Broadway, now occupies the restaurant space there and its owner, Omer Vahaplar is Ben's partner in the new venture.
Omer is best known for his charcoal grilled steaks, including his Manx T-bones and Manx lamb chops. All the meat comes from local butchers, Harrison & Garrett, the burger buns are from Ross Bakery and the salads from Staarvey Farm.
Ben believes that the three elements of the venue all work together: a drink in the Courthouse to start the evening naturally leads on to something to eat and a visit to the nightclub afterwards.
'I think there's definitely a good sized group out there that will appreciate this place being back open,' he says.
He has changed the bar offering in The Courthouse, putting in a mix of local drinks, Oddfellows cider and Seven Kingdoms and Fynoderee gin but he has looked further afield for an imaginative array of beers.
He says: 'I've gone off in search in different lagers for the Courthouse: we've got a German lager, a house Pilsner from Belgium, and we have an array of different craft beers from around the world: the house craft beer comes from Norway and we have guest craft taps which come from all over the world that I wouldn't expect to get anywhere else on the island, and we've also got a really good cocktail offering.
When you ask Ben what is the biggest lesson he has learned from running a pub and being involved with hospitality generally he says: 'It's hard to say because I'm still learning.'
Then he goes on: 'But I think the big one is that you've just got to go with what the customers want.'
And at the end of the day he adds that one of the biggest rewards is watching people enjoy themselves in a venue you have established: 'It's addictive it really is,' he says.
Comments
To leave a comment you need to create an account. |
All comments 0