TT 2017: Hutchy and Dunlop set early pace
Wednesday 31st May 2017 6:39 am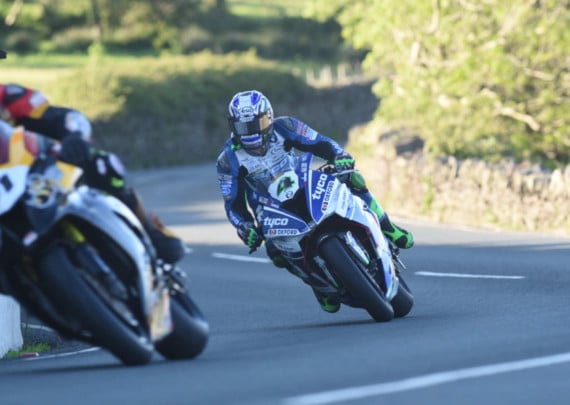 Ian Hutchinson during Tuesday evening's practice session (Photo: Dave Kneale)
()
Subscribe newsletter
Subscribe to our email and get updates right in your inbox.
After a frustrating start to the week, TT qualifying finally got under way on Tuesday evening and last year's headline makers - Ian Hutchinson and Michael Dunlop - immediately setg the pace with 125mph-plus laps.
Intermittent afternoon rain resulted in a number of damp patches around the 37.73-mile course, most notably at Greeba, on the approach to Glen Helen and in Governor's Dip, but conditions were otherwise good with bright sunshine and blue skies at the start and finish of the session.
It was a prompt start too as the three newcomers - Adam McLean, Paul Jordan and Joey Thompson - headed off down Glencrutchery Road slightly before the 6.20pm start.
After the sidecar newcomers left the line for their speed controlled lap, there was a slight gap before the session proper fired into life with Bruce Anstey on the Padgett's Honda first away just before 6.35pm with James Hillier, Ian Hutchinson, Josh Brookes and Lee Johnston on their Supersport mounts following the Kiwi rider down Glencrutchery Road.
Ivan Lintin, Peter Hickman and Michael Rutter were also among the early starters on their Lightweight machines while the returning Guy Martin set off slightly later on his Supersport Honda as he got his first taste of the Mountain Course on closed roads since the 2015 PokerStars Senior TT.
Hutchinson, on the McAMS Yamaha, was first to complete a lap at 118.845mph with Michael Dunlop second across the line and quickest on the opening lap of TT 2017 at 120.371mph.
Gary Johnson was also above the 120mph mark at 120.311mph, just over half a second slower than Dunlop.
Hutchinson's lap made him third quickest ahead of Dean Harrison and Jamie Coward (both 118.160), Hillier (117.884) and Conor Cummins (117.673). Martin's first lap was a solid 115.808mph with Brookes back on 108.171mph. Meanwhile, Dan Kneen was reported as having stopped at Cronk y Voddy although he was able to proceed.
Second time out and Hutchinson and Dunlop both lapped in excess of 121mph, at 121.147 and 121.020 respectively. Anstey and Hillier were next with 119.794 and 119.776 respectively while Johnson was slightly slower on his second lap at 119.341. Martin improved to 117.092mph. McLean was the fastest newcomer with a fastest lap of 112.89mph.
Rutter was quickest in the Lightweight class with a speed of 113.946 on the Paton from Lintin (113.856) with Dan Cooper, Hickman and Stefano Bonetti all inside the 111mph-lap barrier.
At 7.10pm it was the turn of the 1,000cc machines with David Johnson first away on the Norton.
The Aussie hasn't got a Supersport bike at his disposal so waited slightly longer than other riders for his first laps of 2017.
Steve Mercer lapped at 120.906mph with Hillier (120.986) and Rutter (120.986) slightly quicker but it was that man Dunlop who was laying an early marker down on the Bennetts Suzuki and a speed of 125.680mph sent him comfortably to the top of the leaderboard.
Hutchinson cruised across the line with a lap of 122.704mph but this was only good enough for fourth as Dan Kneen slotted into second on the Penz13.com BMW with a fine lap of 124.642mph. Dean Harrison (122.853) moved up to third with Peter Hickman (121.472) and Lee Johnston (121.322) completing the top six while Guy Martin's opening lap on the Superbike saw him post a speed of 118.739mph.
There were changes later in the session though and although Dunlop broke the 125mph barrier once more, Hutchinson took the first night honours with the fastest lap on the night with a speed of 125.839mph. Hickman (124.093) jumped up to fourth although Rutter's lap of 124.117mph made him quickest in the Superstock class from Anstey (123.722).
Harrison looked like he would make a significant impression but he retired at the Mountain Box while Martin broke the 120mph barrier with a speed of (120.018).
Just after 8pm it was the turn of the F2 Sidecars and it was local heroes Dave Molyneux/Dan Sayle who set the pace with a lap of 110.913mph, which was just quicker than Pete Founds/Jevan Walmsley (110.427). An impressive lap came from Tim Reeves with newcomer passenger Mark Wilkes, the duo lapping at 109.719mph to go third quickest.
John Holden/Lee Cain retired at Westwood with Alan Founds/Jake Lowther out at Ballacraine but Molyneux/Sayle were having no such problems and on their second lap they upped their pace considerably to lap at 113.641mph. Conrad Harrison, with new passenger Andy Winkle, also improved on their first lap speed with 107.458mph second time around.
That placed them sixth quickest behind Steve and Matty Ramsden (107.991) and ahead of Gary Knight/Dan Evanson (106.563) but the Birchall brothers overhauled both Founds and Reeves to go second quickest with a lap of 110.917mph.
To complete a dominant night, Molyneux/Sayle then went quicker still on their third and final lap with a speed of 114.090mph.
Wednesday's qualify session is scheduled to get away at 6.20pm (Superbikes, Superstock, Supersport, Newcomers (ex Lightweight) with Supersport, Lightweight and Newcomers all classes away at 7.20pm and Sidecars at 7.55.
Comments
To leave a comment you need to create an account. |
All comments 0