Des Collins - a man for all seasons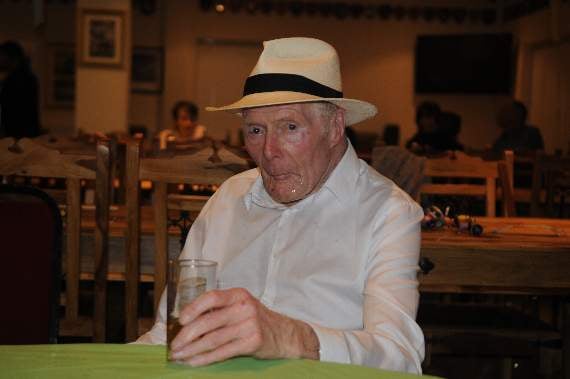 Des Collins at his 80th birthday in February 2015
()
Subscribe newsletter
Subscribe to our email and get updates right in your inbox.
Des Collins was a man for all seasons with a huge interest in many facets of island sport and life in general.
A successful businessman, it is 52 years since he and Percy Wilson established Wilson and Collins steel construction company.
Having served in the Merchant Navy in the mid-1950s, he had a close association with offshore sailing that began with a GP14 dinghy in the early 1970s and progressed rapidly to a former Admirals Cup yacht.
This was followed by a succession of vessels under the name of Billy Whizz that he raced in numerous round-island and other major sailing events throughout the British Isles crewed by friends and serious yachtsman.
We will cover that aspect of Des's sporting life and his rugby involvement in a Nostalgia special in next Tuesday's edition of the Isle of Man Examiner.
Des's motorcycle racing interest started with 1970 Senior Manx Grand Prix winner Roger Sutcliffe on a Suzuki 500cc twin and 350cc Yamsel between 1972 and 1977, during which time Sutty gained Isle of Man Centre road race championships in 1973 and 1975.
Young gun Ronnie Russell was welcomed into the Wilson & Collins camp in 1975 and he won back-to-back IoM titles at Jurby in 1976 and 1977. He was third in the 1978 Junior MGP on the same 350cc Yamaha before suffering serious leg injuries during practice for the 1979 Manx on a Suzuki RG500.
The close friendship between Ronnie and Des lasted for the remainder of the latter man's life, with Russell becoming 'crew chief' for the team in a 40-year period that brought success after success.
The list of riders is long and impressive. Early names such as Steve Moynihan, Mike Kneen, Dick Cassidy, Ralph Sutcliffe and Roger Luckman, led to Des's first Senior Manx Grand Prix win with Buddy Yeardsley in 1985.
Manx-Canadian Kevin Wilson also rode for the team, as did leading New Zealander Andrew Stroud in the 1994 TT.
After that, the Wilson & Collins bikes (later Team Collins & Russell) became exclusively Kawasaki.
Gary Carswell rode for Des for several years, winning the 1997 Senior Manx. Island-based Kiwi Blair Degerholm won the 2000 Southern 100 championship in a thrilling battle with Ian Lougher, while Midhurst's Mark Parrett added to the tally of MGP wins in the 2002 Senior.
Conor Cummins had a few outings on a ZX6 for the team at Jurby and in UK short circuits, while Paul Duckett became the fourth W&C rider to chalk up a Senior MGP victory in 2003.
Alan Jackson scored a brace of third places in the race over the next two years, setting an outright MGP record of 122.208mph in 2005 that stood for 11 years.
Des, who was a regular visitor to New Zealand, sponsored Shaun Harris on his ZX10 in the 2004 TT and even lined up Guy Martin with a test ride in September 2003. It was the year before his TT debut and the pair simply didn't gel with one another, especially after Guy binned the bike!
Des (and Ronnie) ran bikes for many a star name in parade laps, both at the TT/MGP/S100 and in the UK, not least former WSB champion Scott Russell, Kork Ballington, Shane Byrne, Chris Walker & Stuart Easton.
This time last year Des was preparing to sponsor rising star Billy Redmayne in the TT on Jack Valentine's MV Agusta. It would have been a fascinating sight, but tragically Billy died one month before the event in an accident on his own bike at Oliver's Mount.
'I knew Billy was a talented rider, but I had no idea just how highly he was respected as a marine,' said a visibly moved Des at the young rider's wake in the Villa Marina. Billy had raced for him in his Southern 100 debut and at the 2015 Classic TT.
New Zealander Mike Moulai was Des's last sponsored rider, gaining a brace of fifth places in last year's Senior and Junior MGP.
In total, Des Collins provided no fewer than 54 riders with machines at every level from novice to international, gaining four Senior MGP wins, umpteen podiums at the MGP and S100, plus dozens of wins at smaller circuits.
Off-road, Des supported his two sons, Nigel and Stephen, in motocross throughout the early years of the Isle of Man Schoolboy MCC, later assisting Stephen at the International Six Days Enduro in 1983 (Wales), 1992 (Australia) and 1994 (USA), all attended by Des, and later Andy Walton in the same event at Portugal in 1999. He also assisted Nigel's son Jack when he made his ISDE debut in Spain last October.
Southern Motor Cycle Club also benefitted from Dessie's generosity when purchasing several parcels of land at Carnagrie.
Des Collins's health deteriorated significantly in the past decade, but he remained positive, always entertaining and generous.
He will be sadly missed by all who knew him across the globe. Sincere condolences go to his wife of 12 years and long-time partner Dot, his sons, Nigel and Stephen, daughter Julie and families.
There will be a private family service next Wednesday, February 1, followed by a cremation service at Douglas Borough Crematorium at 2pm.
Comments
To leave a comment you need to create an account. |
All comments 0