Defending champions remain on course
Tuesday 28th July 2020 1:00 pm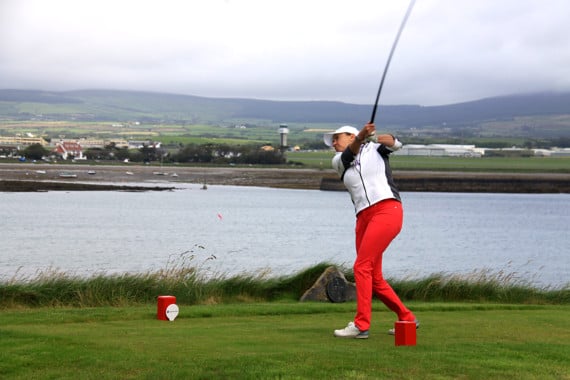 With Ronaldsway Airport in the background, Shirley Price tees off and sends her ball skywards during the Isle of Man Womenâ??s Golf Championships at Castletown on Sunday. Price won by the narrowest of margins - via a 21st hole play-off - against Joy Morris to book her place in this eveningâ??s (Tuesdayâ??s) last-16 against Barbara Monk (Photo: Niall Keenan)
Subscribe newsletter
Subscribe to our email and get updates right in your inbox.
The Grant Thornton-sponsored Isle of Man Women's Golf Championships got underway at Castletown Golf Club on Sunday.
One week after the men's competition began at the southern links course, the women's matches took centre stage to decide the line-up for the last-16 games which take place later today (Tuesday).
Reigning champion Lynda Simpson began the defence of her title by seeing off the challenge of Lindsey Tickell 4 and 3, while arguably the standout result saw Catherine Cassidy thrash Karen Peters 10 and 8.
Women's results: Shirley Price edged past Joy Morris on a 21st hole play-off; Barbara Monk won 2 and 1 against Karen Faragher; Joy Platt defeated Jenna Crawford 7 and 6; Gail Corrin triumphed 3 and 2 over Tilly Davies; Emma Noon got the better of Jo Hicks 6 and 5; Cath Cassidy won 10 and 8 versus Karen Peters; Heather Skinner edged past Irene Waterhouse 1 up; Lynda Simpson defeated Lindsey Tickell 4 and 3. Received byes to the last-16: Kayleigh Dawson, Lea Dawson, Jasmine Heginbotham, Jackie Murley, Dee Lewis, Wendy Hogan, Loni Evans and Gaynor Lees.
In the last-32 of the men's championships, reigning champion Jamie Arneil continued his quest for back-to-back titles with a 6 and 5 success over Mike Rae.
Former island title winners Kevin Moore, Daryl Callister, Paul Lowey and Jon Corke also all safely negotiated their way through to this evening's last-16 knockout contests.
Men's last-32 results: Tom Doyle beat Simon Murray 2 up; Kevin Moore defeated Liam Cowin 1 up; Daryl Callister got the better of Joe Raeside 4 and 2; Daniel Bell won 2 and 1 against Paul McMullan; Lee Morgan defeated Jeff Ward 6 and 5; Andrew Challenor won 6 and 5 versus Sam Skelton; Jamie Arneil triumphed 6 and 5 against Mike Rae; Lee Hunt edged past Robert Braide 1 up; Gerald Bradley got the better of Chad Wilby 2 and 1; Jon Corke beat Peter Glover 3 and 2; Paul Lowey won 5 and 4 over Marcus Avery; Tommy Fenlon won 5 and 3 versus Marc Harrison; Robert Noon triumphed 6 and 4 against David W. Kinrade; PJ Vermeulen defeated Jack Gilbert 5 and 4; Mark Pugh beat Richard Hulme 5 and 4; Richard Skillicorn won 5 and 4 over Stuart Wallace.
Men's last-16 draw (to be played Tuesday, July 28): 3.15pm Jon Corke v Paul Lowey; 3.25pm Daryl Callister v Andrew Challenor ; 3.35pm PJ Vermeulen v Richard Skillicorn; 3.45pm Gerald Bradley v Robert Noon; 3.55pm Tom Doyle v Lee Morgan; 4.05pm Jamie Arneil v Kevin Moore; 4.15pm Mark Pugh v Tommy Fenlon; 4.25pm Lee Hunt v Daniel Bell.
Women's last-16 draw (to be played Tuesday, July 28): 4.35pm Jackie Murley v Wendy Hogan; 4.45pm Lynda Simpson v Gail Corrin; 4.55pm Barbara Monk v Shirley Price; 5.05pm Kayleigh Dawson v Jasmine Heginbotham; 5.15pm Heather Skinner v Joy Platt; 5.25pm Lea Dawson v Cath Cassidy; 5.35pm Emma Noon v Dee Lewis; 5.45pm Gaynor Lees v Loni Evans.
Comments
To leave a comment you need to create an account. |
All comments 0