Isle of Man champs start this Sunday at Castletown
Friday 17th July 2020 8:00 am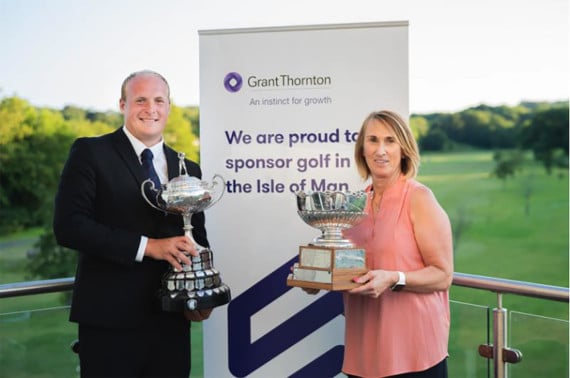 2019 Isle of Man Golf Champions Jamie Arneil and Lynda Simpson
Subscribe newsletter
Subscribe to our email and get updates right in your inbox.
The Grant Thornton-sponsored men's Isle of Man golf championships get underway at the finely-manicured Castletown Golf Links this weekend.
We are all familiar with this year's turn of events and must not forget the seriousness of coronavirus and the precautions and disruptions it has caused.
As such, this year's men's and women's championships will not involve qualifying days and will instead be straight matchplay, with the women's event starting one week later.
Ironically, with only the top 64 lowest handicap men qualifying to matchplay, organisers have seen more than 115 entries with a record average handicap low. The cut for this year's event for all men came at 4.8, leaving the 4.9 guys disappointed.
The live draw - involving Castletown men's and women's captains Graham Harris and Maryann Dunn plus Isle of Man Golf president Gordon Pairman - took place last week and was live streamed via GolfPirate TV which was a first for Manx golf.
The last occasion the men's showpiece event was held at the links was in 2014 when the winner as a first-time champion in the shape of Peter Glover from Douglas. Uniquely, he won every round of the matchplay with a 2 and 1 win - has this been achieved by any other past winners?
Matches will get underway at 8.30am this Sunday at 10-minute intervals. The honour of striking the first tee shot goes to probably one of the quickest players around, Charles Garside of Mount Murray, truly setting the pace in every meaning.
There are some exciting first-round encounters and, with nothing guaranteed in matchplay, there will be some shock results. Avoiding clubmates in any round is hard and several matches will feature both from the same club. Port St Mary will definitely have one of their players through to the last 32, with Chad Wilby drawing team-mate Patrick Gandy in their game at 8.50am.
The weather will play an important role over the fortnight, with the straighter hitters possibly having a slight advantage, or maybe the long-hitting youngsters that don't have bad backs yet might have an edge! Most importantly, you need a little bit of good fortune on your side and I'm sure there will be tales of some getting away with it on holes, but that's matchplay.
The consistent qualifiers will have a year off this year, while maybe those that don't usually seem to cross the qualifying line will now shine in matchplay. There will be no Bob Cowin, Graham Cairns or Sandison Cup trophies awarded this year and the important first-time qualifier badges will be missing from the prize table also for the first time in a while.
There are some cutting their teeth in their first championship and what a treat to be straight in at the deep end in matchplay. There is nothing more dangerous than golfers with nothing to lose and some of the matches may have predetermined results already given the strength of opponents, but nothing is a given. We will surely see some new challengers coming to the fore and big scalps taken.
A number of players have already had great success before lockdown as well as after the reboot of island golf.
Tales of hundreds of balls being hit in back garden home-fixed driving nets, indoor putting and chipping during the lockdown period may well have brought some players up a level.
It seems that the reduced competitions this year and the fact that the championships are at Castletown has whet many an appetite.
Jamie Arneil enters the matchplay stages as defending island champion and will be extremely keen for back-to-back wins, adding to the Mount Murray Cup he won last month.
Serial island champion Paul Lowey, the highly-talented Rob Noon and Mr Consistent himself, Daryl Callister, will complete the quartet of golfers tipped for victory in this year's prolonged two-week event.
There are still a number of golfers out there yet to add the island championships to their golfing CVs though, from the younger element of precocious talent to the 'slightly older' more experienced players who on paper should or could have won before but for one reason or another haven't quite managed it yet.
As voiced by 'Mr Isle of Man Golf' himself, Roy Moore, I will caveat my apologies if you are not mentioned in despatches and look forward to you telling me I should have mentioned you after you've won your match. I will also add that past performance is no guarantee of future results!
The winners from Sunday will have to wait a week for the final 32, so for the older contenders a chance to recharge and regroup.
Special thanks must go to Denis McGurgan of Grant Thornton, not just for the continued sponsorship of this flagship event but for the consideration given in sponsoring what is a different format to the norm during these challenging few months.
Thanks also must go to Steve Keegan - chairman of the Castletown championship committee who is no stranger to island golf as a regular qualifier into the matchplay stages - for overseeing the organisation of the championship along with Isle of Man Golf.
We must not forget the Castletown members and the team at the links for agreeing to host the championships, plus the commitments made by various team members in putting on such an event.
The ground staff team will have been working tirelessly all year, not just for the championship but for other planned events, so a big thanks must be awarded there also.
With the shortened year of golf, there will be small compensation for Castletown Golf Club captains Graham Harris and Maryann Dunn to be on official duty for the fortnight and we wish them both all the very best. Also best wishes to IoM Golf president Gordon Pairman all the very best for his first island championships in presidency also, something that in March this year we didn't think was going to take place.
To all competitors, enjoy the format put before you within these testing times and play your best.
l A preview of the island women's championship - which begins on Sunday, July 26 - will be in next week's Manx Independent.
A full startlist for Sunday's opening round of the men's champs appears in this week's Manx Independent, available now.
Comments
To leave a comment you need to create an account. |
All comments 0