Manx Harness Club host carriage driving challenge
Thursday 29th September 2022 2:30 pm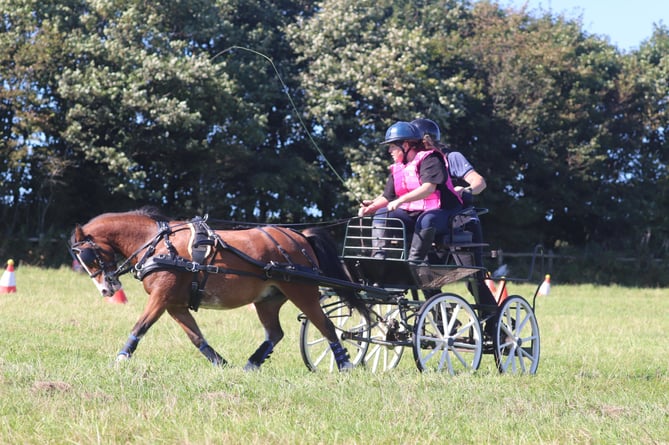 Jody Quayle (accompanied by Libby as a back step) finished first in the individual and teams (Harness Club) at the recent Manx Horse Council Carriage Driving Challenge (Photo credit IOM Equine)
()
Subscribe newsletter
Subscribe to our email and get updates right in your inbox.
Manx Harness Club recently hosted the Manx Horse Council Carriage Driving Challenge under glorious sunshine at Ballacallin Mooar by kind permission of Mr and Mrs Gilbey.
The successful event provided an opportunity for MHC members to try a new equine discipline.
A field of eight teams competed: Isle of Man Pony Club, Kennaa Riding Club, West Coast Riding Club, TREC (two teams), Conrhenny Equestrian Centre (also two) and Manx Harness Club.
The event saw the individuals navigate their way through cones under the guidance of drivers Jean McKaig, Suzanne Colquitt, Sharon Maternaghan and Libby Priest.
Afterwards, Manx Harness Club chairwoman Priest thanked those who contributed and supported the event; Barbara and Kendra for time keeping, Suzanne, Jean and Sharon for the use of their ponies AND caterers Jean, Margot and Linda.
Thanks also go to Milan Veterinary Practice for sponsoring the event, Manx Horse Council for letting Manx Harness Club run the event and also the various club scorers.
Rosettes and prizes were awarded to the top five individuals and teams.
Individuals: 1, Jody Quayle (Harness Club); 2, Carole Cringle (Pony Club); 3, Susie Saunders (TREC); 4, Vicki Kaighin (Conrhenny); 5, Claire Jackson (West Coast).
Teams: 1, Jody Quayle & Hilary Cleverly (Harness Club); 2, Jess Collister & Claire Cope (Kennaa); 3, Claire Jackson & Kenzie Steele (West Coast); 4, Carole Cringle & Evie Cringle (Pony Club); 5, Andrea Needham & Susie Saunders (TREC).
Comments
To leave a comment you need to create an account. |
All comments 0