TT 2017: Perfect conditions at last for qualifying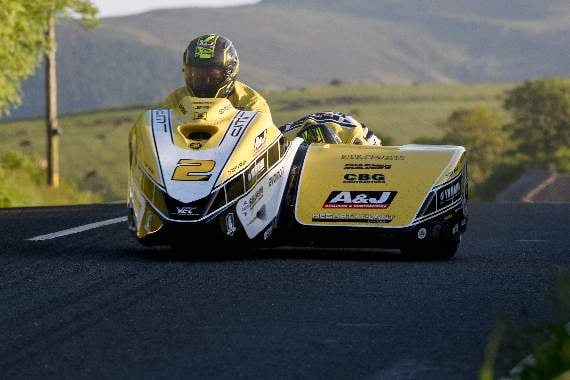 Dave Molyneux and Dan Sayle clocked a lap of 114.74mph on Friday evening, the fastest sidecar lap of the week so far (Photo: Dave Kneale)
()
Subscribe newsletter
Subscribe to our email and get updates right in your inbox.
Conditions were finally perfect for this week's TT qualifying on Friday and Ian Hutchinson and Bruce Anstey set the pace with both averaging laps of over 129mph.
Hutchinson's lap of 129.535mph came on his Superstock BMW after stopping at Governor's Bridge on his opening lap on the Superbike with Anstey posting a time of 129.212mph on the RC213-VS padgettsmotorcycles.com Honda.
Hutchinson was first to leave the line at 6.23pm alongside Peter Hickman on the Smiths Racing Superstock BMW. Gary Johnson and James Hillier, Steve Mercer and Lee Johnston and Dan Kneen and Michael Dunlop quickly followed the opening pair down Glencrutchery Road.
Kneen was reported to have stopped at Quarter Bridge but he was soon back out on his Superstock mount while the Norton pairing of David Johnson and Josh Brookes were out of luck, retiring at the Bottom of Barregarrow and Ballaugh respectively.
Hickman was first to complete a lap with 128.028mph but Hutchinson had stopped at Governor's. Johnson and Hillier had no such problems, and both were above the 127mph mark. Dunlop was quickest on the lap though with an opening lap of 128.576mph with Hillier, Conor Cummins, Michael Rutter, Dean Harrison and Bruce Anstey also over 127mph.
On the second lap Hickman was slightly slower at 127.63mph but Anstey had upped the pace considerably to 129.212mph, which made him the evening's quickest Superbike. Mercer and Rutter were over 125mph but further back on the road, Hutchinson was getting back in the groove and sure enough a lap of 129.535mph not only made him the fastest Superstock machine but also the fastest on the night.
Kneen's good week in the Superstock class continued with a lap of 127.23mph but this was upstaged on the third lap by Rutter and Harrison who lapped at 128.588mph and 128.477mph respectively to go second and third in the Superstock class behind Hutchinson.
Meanwhile, the newcomers were also making good progress with Adam McLean putting in a superb lap at 119.06mph. Paul Jordan jumped up to 114.88mph with Joey Thompson on 112.91mph.
Just after 7.10pm, the 1000cc machines were short lapped and the course became the sole domain of the Supersport and Lightweight machines. Hutchinson set the initial pace on the McAMS Yamaha at 123.19mph but this was bettered by Harrison on the Silicone Engineering Kawasaki with a speed of 123.323mph.
However, towards the end of the session, Michael Dunlop just edged out Harrison with a speed of 123.325mph but the Bradford rider wasn't to be outdone and a 124.35mph lap sent him to the top of the leaderboard. Hillier slotted into fourth at 122.93 with Hickman, Cummins, Jamie Coward, William Dunlop, Anstey and Kneen also above 121mph.
In the Lightweight class, Italian Stefano Bonetti set the fastest lap of the week to date with a speed of 115.69mph on the Paton with Rutter, also on a Paton, on 114.28mph. Hickman on the KMR/IEG Kawasaki, was second with a lap of 114.86mph from Dan Cooper (114.79) and Lee Johnston (114.73).
Steve Mercer was reported to have had an accident at the 11th milestone and was taken by airmed to Noble's with what were initially described as minor injuries while Frank Gallagher suffered broken teeth at the Gooseneck and was taken back to the paddock in a course car.
After a short delay due to the incidents in the solo's session, the Formula Two Sidecars were back out on the Mountain Course at 8.10pm with Ben and Tom Birchall leading the field away only to retire at Crosby.
That gave Dave Molyneux/Dan Sayle a clear road and their opening lap of 113.001mph was just over 1mph quicker than Tim Reeves/Mark Wilkes on 111.999mph. Karl Bennett/Maxime Vasseur (109.51), Alan Founds/Jake Lowther (109.04), Lewis Blackstock/Patrick Rosney (107.95) and Estelle Leblond/Melanie Farnier (106.59).
Second time around and the leading duo both upped their pace but Molyneux/Sayle held onto the top spot with the fastest lap of the week at 114.74mph. Reeves/Wilkes weren't too far behind though and improved to 114.35mph, the fastest ever lap by a newcomer passenger albeit unofficially. John Holden/Lee Cain got a clear run on their second lap with a speed of 112.085mph putting them third quickest.
Some of the TT Zero machines opted for an early look at the track at the end of the evening and the Mugen pair of Anstey (109.520) and Martin (108.413) were predictably quickest although there was a notable performance by Adam Child in completing the first production electric bike lap (74.786) on the Energica machine
Saturday's qualifying session:
9.15am Road closed Barrule Park, Ramsey to Bungalow
9.30am Road closed Bungalow to Creg Ny Baa
10am Roads closed rest of the course
10.40am to 12pm Superbike/Superstock/Supersport/Newcomers (all Classes except Lightweight)
12.05pm to 1.05pm Sidecar Qualifying
2.10pm to 3.30pm Supersport/Lightweight/Newcomers (all classes) Qualifying
3.40pm to 4.30pm Sidecar Qualifying
4.35pm Superbike/Superstock/Supersport Qualifying (1 lap)
5pm TT Zero Qualifying (1 lap)
5.40pm Roads scheduled to be open except mountain section
6.40pm Roads scheduled to be open around the course
Comments
To leave a comment you need to create an account. |
All comments 0