TT 2019 live: Busy day ahead with five races planned - Hickman wins Superstock race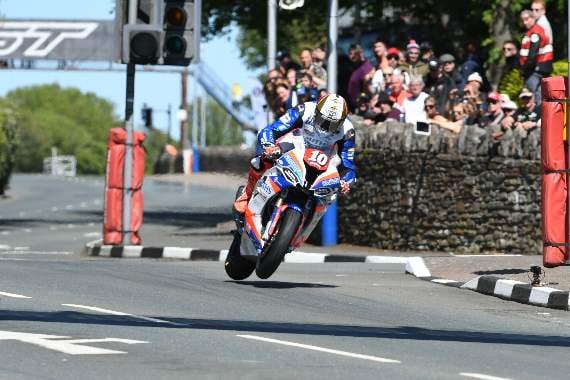 Peter Hickman on his way to a fifth TT victory (Photo: Dave Kneale)
()
Subscribe newsletter
Subscribe to our email and get updates right in your inbox.
There's a busy TT schedule on Thursday with five shortened races planned.
Peter Hickman won the first race of the day - the Supersport TT Two - his fourth TT victory. Full report on link at bottom of page.This was followed by the Birchalls landing a 10th TT crown in the week's second sidecar TT (link below).
A three-lap Superstock TT will conclude the afternoon's action at 3.10pm.
Roads will re-open between 5 and 6pm before two further races on Thursday evening.
The two-lap Lightweight TT is scheduled to start at 6.30pm, with TT Zero at 7.30pm.
The Senior TT had been moved forward to Friday morning at 10.30am with the weather forecast to close in later that day.
10.45am: Mountain Road closed
11.30am: Rest of the course closed
12pm: Superstock/Senior qualifying lap
12.50pm: Supersport TT Two (two laps)
1.55pm: Sidecar TT Two (two laps)
2.55pm: Superstock TT (three laps)
5pm to 6pm: Roads open, except on Mountain
6.30pm: Lightweight TT (two laps)
8.10pm: Senior qualifying
9.30pm: Roads open--------------11.50am Five-minute delay to the start of qualifying.11.57am: Further slight delay. 12.03pm start time for one-lap Superstock/Senior qualifying.12.55pm THE TWO LAP MONSTER ENERGY SUPERSPORT TT TWO IS UNDER WAY- Peter Hickman leads after opening lap, holding a lead of 2.304s over rival Dean Harrison. James Hillier completes the top three as they head into final lap.- Hickman wins his fourth TT after another great battle with Dean Harrison. James Hillier third.Conor Cummins fourth, Jamie Coward fifth and Michael Dunlop sixth.2pm TWO LAP SIDECAR TT TWO UNDER WAY- Jurby brothers Ryan and Callum Crowe, who shone as newcomers in the first sidecar race, are non-starters after an electrical problem with their outfit.- Blistering Birchall boys again the boys to beat in Sidecar TT two. They lead by 10.602s from John Holden and Lee Cain at end of lap one.- Brilliant Birchalls win a 10th TT (seventh in a row) by 20.511 seconds from John Holden and Lee Cain.3.10pm THREE LAP SUPERSTOCK TT UNDER WAY- Peter Hickman off to a flying start in Superstock race and leads by 9.026 seconds from Dean Harrison heading into compulsory pit stops at end of opening lap.- Michael Dunlop in third.- Hickman continues to pile on the coals. Leads by 16.576 seconds from Harrison going into third and final lap.- Michael Dunlop remains third 3.258 seconds up on Davo Johnson.- Peter Hickman wins a second TT in a day, his third of the week!Dean Harrison second, Davo Johnson pipping Michael Dunlop to third for a first TT podium!4.39pm: The roads are now open between St Ninian's and Lheany Road Ramsey. The mountain section will remain closed.We will open Cronk Ny Mona to St Ninian's shortly.The rest of the TT course will close again at 6pm.