Evening all! You're on video: Manx police to wear cameras on their uniforms
Friday 19th May 2017 1:36 pm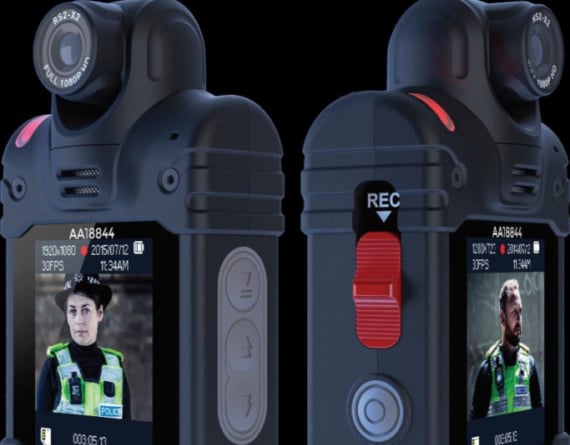 Body-worn cameras like those the Manx police will be wearing
Subscribe newsletter
Subscribe to our email and get updates right in your inbox.
Manx police officers are to wear video cameras on their uniforms in a six-month trial.
The pilot scheme will begin at this year's TT Festival.
Initially 12 cameras will be used in the trial, with potential to include other agencies such as the fire service and the prison service as the pilot scheme progresses.
The government says that similar trials across the UK, and also with the police in Jersey, have shown that the use of body-worn video cameras has a positive effect, with an increase in earlier guilty pleas from offenders who know their actions have been recorded.
A Department of Home Affairs spokesman said: 'This has contributed towards both speedier justice for victims and reducing associated criminal justice costs.
'The cameras have also been shown to create a calming effect in many public order disturbances and to reduce substantially the number of malicious complaints and assaults made against the police.
'Alongside these advantages the cameras can help provide useful additional evidence, supplementing that from eye-witnesses and police notebooks.'
The pilot programme will allow the police, and the other participating agencies, to 'further develop fully compliant and robust operating procedures', covering the use of the cameras and their video evidence, and to ensure that the storage and retrieval of the video data is managed correctly.
The cameras are worn on individual police officer's uniforms. They have a forward-facing screen so those being recorded can see what the camera is documenting.
Cameras are turned on and off manually and will not be permanently running while the officer is on duty.
Chief Constable Gary Roberts said: 'Body-worn cameras have proved their effectiveness in many real-life situations.
'That is why they have been received so positively with forces in the UK and elsewhere, and that's why I am pleased to see this important trial period start on the island.
'I am convinced they will make a real contribution to the way we police alongside our determination to continue to use technology to increase our efficiency and effectiveness.'
Richard Wild, executive director of Government Technology Services, which is assisting the police in the acquisition and deployment of body-worn cameras, added: 'The implementation of new technology across the criminal justice system is a key priority for us. It forms part of our overall Digital Strategy which is transforming so many areas of life across the Isle of Man. We will continue to work closely with the police and others as the strategy grows and delivers.'
Comments
To leave a comment you need to create an account. |
All comments 0