There is another chance to join an organised walk to the Tower of Refuge next month.
It will take place on Friday, September 1.
Since first being held in 2012, thousands of people have taken part in the guided walk to the landmark tower in aid of the Royal National Lifeboat Institution (RNLI).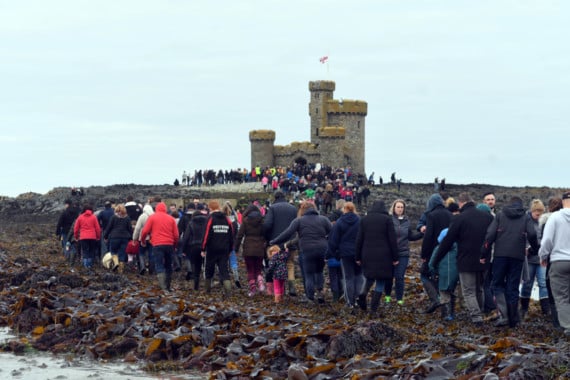 The Tower of Refuge walk, raising funds for the RNLI
Built on Conister Rock in Douglas in 1832, the construction of the tower was the idea of Sir William Hillary, founder of the RNLI and a one-time member of the Douglas lifeboat crew.
Designed as a shelter for the crews of vessels which were wrecked on the nearby reef, the tower in Douglas Bay can only be reached on foot during certain tidal conditions.
Douglas city centre manager Oliver Cheshire said: 'We are delighted to announce the return of the Tower of Refuge walk. It is such a popular community event with both locals and holidaymakers and has attracted many thousands over the last decade.
'A lack of large spring tides during the lighter nights prevented it from happening in 2022 so it's great to be back, in partnership with Isle of Man Coastguard and, once more, the sponsorship of Tower Insurance for which we are extremely grateful.
The event will start at around 6.15pm on September 1 and children must be accompanied by an adult.
Suitable clothing and footwear must be worn and instructions from the coastguards and stewards followed at all times.
Access to the beach will be via either the steps at the Bottleneck car park or any steps north of Broadway.