Biologist wins award for her work on insects
Saturday 2nd June 2018 4:02 am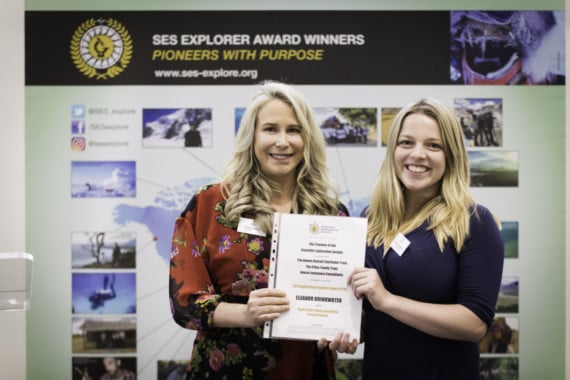 Subscribe newsletter
Subscribe to our email and get updates right in your inbox.
A scientist who grew up in the island has received a significant award for her insect expeditions.
Eleanor Drinkwater, a 25-year-old biologist who has lived in Douglas for more than 15 years, has been presented with the Scientific Exploration Society 'Inspirational' Explorer Award 2018.
She was one of the few winners of the Explorer Awards, now in its fifth year, who received the award at the Imperial College in London.
'It's just amazing,' she said when asked about receiving the award.
'I found out that I was to get an award a couple of months ago and it was the best news to get ever!
'Standing by absolutely brilliant people at the presentation was a really humbling and amazing experience.
'Athlete Mark Beaumont, who has cycled 18,000 miles around the world, was speaking and Vanessa O'Brien, mountain climber and explorer, presented my award.
'It was mind-blowing and very inspirational.'
Since leading her first expedition in 2013, which studied the impact of farming on butterfly diversity in the Amazon,Eleanor has conducted a number of projects including looking at the behaviour of katydids (bush crickets) in Australia and dung beetle biodiversity in Honduras.
She has completed her Master of Research degree from University College London and is currently undertaking a PhD at the University of York which looks at the individual and collective personality in ants.
Eleanor's curiosity about the world of insects developed at a young age, but it was the book 'Alien Empire' that encouraged her to pursue a career in this field,' she said.
'I wanted to understand what was going on with these creatures.
'I've always been interested and adored insects, as they are so different in the way that they sense the world,' she explained.
Her next expedition is to investigate the 'elusive' titan beetle in the French Guiana, where she will be teaming up with drone pilot and filmmaker Chris Guggiari-Peel and ecologist Laura Kor.
Not a lot is known about the species, but it is highly valued by collectors.
'We're planning on making a short documentary to focus on the Titan beetle, which is the largest bodied beetle in the world,' she said.
'We will be collecting data on these insects and will be raising awareness about the benefits and drawbacks of ecotourism. It's a much bigger issue, as ecotourism can be a very brilliant thing.
'For instance, people selling butterflies can be good source of sustainable income, but it could also damage the local environment.
'We thought it would be very interesting for people to learn about and get them interested in this issue.'
The biologist claims that teamwork had played a key part in helping her to achieve the 'Inspirational' Award, sponsored by SES, Leatherman and Tex-Energy, which recognises an expedition having 'that special "something" be it in terms of the nature of research, the legacy it offers, or any other aspects of the expedition'.
She said: 'I cannot understate how brilliant my team mates are. I wouldn't have been able to do it without them.'
Comments
To leave a comment you need to create an account. |
All comments 0