eGaming roundtable: Taking steps to raise standards
Thursday 1st November 2018 12:49 am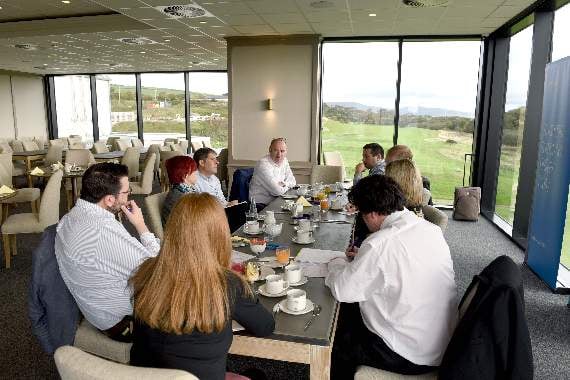 The new Comis Hotel was the location for the eGaming breakfast time roundtable in which raising standards in the industry was a major issue
Subscribe newsletter
Subscribe to our email and get updates right in your inbox.
Raising standards was the theme for a roundtable discussion with a group of high-powered figures involved in the eGaming industry.
Nathan Beaver from KPMG in London chaired the event, which took place at the new Comis Hotel.
KPMG sponsored the breakfast time meeting the morning after the KPMG eGaming summit.
Mr Beaver said the conversation should revolve around what they mean by raising standards.
His first question was: 'What does raising standards mean to you?
Lawrence Hanlin from the Isle of Man-registered gaming giant GVC got the ball rolling with a detailed reply.
And he vowed that the group is committed to raising standards from the very top of the organisation. He hoped other gaming companies would be inspired by the lead being set by GVC.
He said: 'Raising standards is, for me, about going back to basics.
'The GVC Group is continually raising standards so we actually interact and support our customers more than we may have in the past. Learning lessons from regulatory failures in the sector allows us to see what we can learn and do better.'
Earlier this month the group's chief executive announced he supported the idea of a pre-watershed advertising ban, again showing what GVC is doing to raise standards in the industry.
One of the other key elements is the training of employees, said Mr Hanlin. This was also brought up during the summit the previous day.
'It's about training across all aspects of the business,' he said.
'Not just including RG [Responsible Gambling], but also AML [Anti Money Laundering].
'How do we raise standards on the retail side of things? How do we do that physically for roughly 3,000 shops in the UK?
'How do we deal with that in Spain where we also have about 5,000 shops/outlets? And then there's the Italy and Belgium estates.
'So we are looking at raising standards not just in the UK but internationally as well.
'It's a massive job. It is really about bringing in the right people with skill sets to support this work.
'So, if it is seen as a medical condition, do we look to bringing in people that might have worked in the National Health Service to support what we are doing?
'How do you actually talk to somebody, or improve listening skills? How do you develop those standards?
'Because I still think we have a long way to go on that as an industry.
'If we can do that and lead by example then hopefully other companies will probably try and do the same.
'It is something we need to get right.'
Mr Hanlin stressed: 'We have a commitment from the chief executive officer [Kenny Alexander] to deliver that across the board.
'That's why he wants to get as many people on this as possible [from] outside the industry. For a long time we have just used too many people from within, and churned it all about, and it does not always work.
'It is going to take a long time and will take a lot of money to do that but the commitment is there.
'We can't hide because we are a FTSE 100 company. We have got visibility out there.
'We are in regular contact with the UK Gambling Commission. It is good that we have those interactions and we need to keep that going.
'And with the commitment Kenny's got, he understands what those responsibilities are about raising standards.
'If we can be seen as doing the right thing then hopefully other companies will do the same thing, especially the smaller operators as well.
'We should also be doing more to support them.
'It's about understanding mythology, contacts and not being afraid of the Gambling Commission [GC]. They are doing a job, and they are doing a good job.
'I worked in banking for 16 years and, as I said yesterday [at the summit], I don't want to see the gaming sector being dragged into a bad reputation like banking had for so long.
'As soon as you get a bad reputation, it takes so long to get your good reputation back.
'I think we need to be very careful in the gaming sector.
'We have to understand that we cannot get away with poor standards.'
Chris Rogers from the Gambling Commission [GC] said good outcomes for consumers are part of the strategy.
'It's about taking consumer protection issues throughout all parts of the business,' he said, not just bolting something on the end of the process in terms of compliance, but actually when designing products.
'The industry has been looking for different answers but with the same people in the same way. Looking at the same methodology is not going to give you a substantially different answer. And I think the sector has not yet got the substantially different answers that it needs.
'We are encouraging innovation, to try and evaluate, to learn and share.'
Anna Hemmings from the charity GamCare said the organisation tends to see problem gamblers when they are in crisis – when they have lost a lot of money and are in debt, their well-being and family life is negatively impacted.
She said: 'What we are trying to do is intervene earlier and get to people at an earlier stage.
'Working with people before the harm becomes as great as we are seeing it at the moment.'
She had this message for the gaming industry: 'If you can identify people earlier then it will be an easier conversation to have. If you leave it too late then people can be in all sorts of difficulties.'
GVC's Lawrence Hanlin confirmed there are 'triggers that you can see through the analytics and via conversations.' He said that, from a regulatory assurance point of view, he was happy with the way they were currently handling things.
He said: 'We now sample regularly the calls with customers for quality and interactions and I personally have listened to some of them.
'In some cases you could hear that someone was potentially in distress and you could tell that from the tone and content of the call.
'It is difficult being a customer service agent dealing with these types of calls and that is why training is important to identify behavioural triggers.'
Anna Hemmings said that, with good training, effective intervention could be made.
'It's being confident in how you are doing it and having some theory to underpin interventions and that's what we offer when we train people.'
Mr Hanlin said GVC wanted more dedicated, specialised teams to deal with problems. This meant the customer service teams could deal with the day to day matters.
He said it was a real skill to deal with phone calls with individuals and this was a skill that companies had to understand.
Chairman Nathan Beaver said there was a need for standards in the way in which companies handled the whole responsible gambling issue.
Dan Waugh from Regulus said that in the last 10 years gambling has been perceived 'not as a creative industry but as an extractive industry.
'The perception has been that we are not doing anything particularly productive here; that we have been sucking as much money out of people as quickly as possible.
'I think that has been the perception, particularly when you look at the fact that some of the people who should have been the industry's biggest advocates have in fact been the biggest critics.
'You just get the feeling that we have not been customer focused, and that we have been profit-focused.
'How much money can we make as quickly as possible rather than what is the consumer need here and how do we excite and give consumers valuable experiences?'
He pointed to the Hippodrome Casino in London as an example - where what they do is 'markedly different to what any casino offers in the British Isles.'
They had a completely different mind-set around how we give the consumer fun and make it enjoyable, he said.
'Gambling is a part of it but it is not the whole thing' of what was offered at the Hippodrome.
Dan said: 'The reputation we have got is, to a certain extent, deserved because we have not focused on giving the consumer the best experience possible.' He added: 'Defining ourselves by gambling alone may paint us in to a very dark corner.'
Referring to what Lawrence Hanlin said earlier in the discussion, he said it was 'fantastic' that the industry was catching up. When I worked in casinos, compliance and responsible gambling were known as revenue prevention.'
Lawrence Hanlin said communication with customers is key in providing them with the support and tools to enjoy their gambling experience.
He said that at the end of the day it 'is our licence'.
'The GC could take a licence away tomorrow that is how serious it can be if we don't do this properly.'
Dan Waugh claimed alcohol is 'way more damaging than gambling.
'The thing that worries me is that, with the negative side of regulation, the lack of consumer advocacy is worrying.'
John Hagan said that raising standards means integrating responsible gambling fully and positively within all areas of the business, from advertising to customer interaction to fair terms and conditions and customer complaints processes to product design.
'It will be achieved through strong leadership promoting a responsible gambling culture within their businesses and being mindful of the long-term sustainability and success of the industry, as we are already seeing from many chief executives of gambling companies. It will involve better responsible gambling training and messaging, better use of technology and better evaluation of responsible gambling initiatives so that we may understand what works and what does not.
'All I am really saying is that gambling companies should take the same approach to responsible gambling as they do to all the other aspects of their business. This means terms and conditions which are easy to understand and fair, responsible gambling thinking being incorporated into product design from the outset rather than at the end, gambling companies communicating more effectively with their customers when raising awareness of what it means to gamble responsibly, what responsible gambling tools are available and where to find help if needed.
'Nobody knows gambling customers better than gambling companies and, through training and leadership, staff will feel empowered to interact with customers in the right way and at the right time.
'Marketing teams will understand what is acceptable when it comes to responsible advertising, not just the legal and compliance departments.
are already happening in all sectors of the gambling industry from a responsible gambling perspective, momentum is gathering and there is greater cohesion and common sense of purpose.
'But unfortunately, the industry seems to be forever reacting to criticism from the Gambling Commission, the Competition and Markets Authority and advertising bodies, rather than getting ahead of debate, which is where it needs to be.
'It will get there though, as increasingly it has the knowledge and confidence to approach responsible gambling in the same way as it does the other parts of its business and get things done, well.'
Dan Waugh said the Canadians were about 20 years ahead of Britain on these issues.
He said: 'The conversations we are having now, they were having in British Columbia 10 years ago.'
He referred to the use of the GameSense programme from BCLC (British Columbia Lottery Corporation) by MGM in Massachusetts.
He said there was a 'missed opportunity' of not looking at what had gone before in places such as Canada.
Lawyer Anna Soilleux-Mills said she completely agreed about what had been said about changing the approach from just bolting on compliance.
'But in addition to that (and it is clearly not the case with GVC) it is the status of the compliance team within organisations and operators. I think that needs to grow.
'They need to grow the influence they have.
'And the Gambling Commission is starting to make greater efforts to encourage the industry to collaborate with each other. I think they have a great position to facilitate that kind of thing.
'But in order for that to be effective, operators need to be able to speak freely without the fear of repercussions.
'If Chris (Rogers) and his team are facilitating these sessions there need to be some rules in place.
'So that it won't be a case of ''If you come along and speak up, we are not standing there with our stick behind our back ready to batter you with it.'' '
She said, in relation to the Gibraltar regulator and of course the Isle of Man regulator, 'I think that because of the political environment and the size of the markets in those places, there is a closer relationship with the regulator, more open to discussion and there is not that climate of fear.'
Chris Rogers from the Gambling Commission said: 'The focus for us is putting consumers in the room at these events. I accept that getting a better conversation may require the commission to act as a participant. The numbers are quite important, as both operators and consumers will outnumber participants from the regulator by a large number. The level of expertise of people in the room is quite important in the setting of expectations.
'There will have to be an establishment of trust on both sides, with ground rules.
'Given the level of participation we seem to see from a board and chief executive level, they seem genuinely engaged with the process.
'So it will be a trust-building exercise. We say to the industry all the time - trial, evaluate and share.'
Dan Waugh said the industry had to recognise that there was sometimes friction between the notions of making money and being good.
'We love this sunny upland where everybody is spending sustainable amounts but that is not necessarily where all companies are.
'There are competing pressures in business.'
Lawrence Hanlin said the commercial pressure was a massive challenge because 'we, like all businesses are here to make money, that's what it is about at the end of the day however, ensuring we do this responsibly and in line with regulations creating a sustainable model.'
Mr Hagan said the 'important thing is that there is joined-up thinking within the business, from a responsible gambling and commercial perspective, which will mean that the decisions that are made are better decisions.
'It's all integrated in the approach.'
Regarding the messages put across to people about gambling, Mr Hagan said: 'It may be that you will get the responsible gambling message across to customers more effectively if it is put more creatively and positively than perhaps it is at present. Industry has been trialling and evaluating new messaging on the basis that responsible gambling messaging is for all gamblers, not just problem gamblers and needs to be more proactive, inclusive and impact focused.'
Anna Hemmings said messaging may have different impacts on different socio-economic groups and demographics.
Mr Rogers from the Gambling Commission said many parts of the industry still use a single, safer gambling message via email 'when an algorithm pings'.
'There are exceptions to that but I suppose it's seeing how it works with the different segmentation groups.'
Dan Waugh referred to research that had been done and added: 'Problem gamblers are a very small group of people.
'So in my opinion doing mainstream mass communications that focus on problem gambling behaviours is not very efficient. We should have a strategy that says for the majority of consumers we will focus on promoting healthy consumption, it's not going to be finger wagging and not going to be ''when the fun stops'' and all that. It's going to be about promoting a positive message about how to gamble enjoyably.
'And then targeted messages for those in trouble which are non-judgmental. ''This is where you get help and these are things you can do to keep control in the meantime.''
'But we have this thing where we are trying to wrap it all up in one.
'We have a message that tried to reach to everyone and it does not work.'
He recalled how about three years ago he went round about 40 betting shops and bingo halls, arcades and casinos picking up gambling leaflets.
'It was really intimidating, you feel as if you are some sort of pariah doing it,' he said.
He found there was a lack of empathy in the wording to what was needed by the person picking up the leaflet.
Anna Soilleux-Mills referred to the standard message on alcohol about drinking 14 units being the recommended level across the board.
'How do you message to consumers what a healthy level of gambling looks like? That's what the operators struggle with. A healthy level to one person will look quite different to someone else.
'The GC has mentioned in its consultation about mandatory account limits. How on earth do you determine what the base level of an account limit is when you have got a huge spectrum of what a healthy gambling limit is to somebody?'
Lawrence Hanlin from GVC told of an event last year in the Lake District put together by Isle of Man registered Playtech.
'I sent a junior manager to it; he was new to the industry. I told him to go there because he would be meeting people who were addicts, and to learn from the experiences. He came back and he was shocked at the conversations he had listened to. It was a very open conversation but that was a great thing to do. I think as an industry we should be doing more of that kind of thing to really understand the issues.
'More importantly for this experience to be shared with
the senior executives to understand what learnings we can take away and build into our customer journey.
'And then hopefully at some point I would love to see the senior executives attend a similar event. It's a powerful experience doing something like that.'
Anna Hemmings said a key difference for her is how hidden the issue can be.
'I don't think that generally there is that much discussion about people's gambling in communities, or if there is, it is about wins and not losses,' she said.
Mr Hagan said that Chris Rogers presented a great statistic at the summit that for anyone engaging in seven-plus gambling activities, there is a 13 per cent chance that they were problem gamblers.
He suggested that although perhaps it was common sense if someone was engaging in seven or more different types of gambling activities then maybe friends or family might wish to consider having a conversation with them.
Dan Waugh said: 'I think public health is obsessed with these guidelines.'
He said encouraging people to take breaks from gambling was a good thing, 'not because you are degenerate, but because that should be part of what you are doing when you gamble.'
He compared it to the issues that once surrounded seat belts in cars.
'It used to be that the only people who wore a seat belt were Nigel Mansell or your granny. Now everybody puts their seat belt on. It is part of what you do.'
Mr Hagan said: 'It is encouraging people to see that setting limits is part of the normal experience.'
Lawrence Hanlin said there was a duty of care for staff as to whether they ever have to lock somebody's account.
Chairman Nathan Beaver posed the question: 'How can you help smaller companies?'
There was a sentiment for doing things together and he asked what the barriers can be of collectively coming together around raising standards.
Lawrence Hanlin of GVC admitted: 'We are committed to attend and share our experiences with the industry going forward. One of my senior colleagues has signed up to attend the KPMG summit in Malta later this year which has the full support of our chief executive.'
Mr Hagan said: 'Anecdotally I'm seeing a lot of people in the business reach out from one company to another and from one gambling sector to another, to collaborate and share on raising standards.
'The culture is definitely changing and that is backed up by what Lawrence is saying. And that is just great.'
Dan Waugh said the old view was that bosses felt they did not need to do anything more. 'I found that if you were trying to do the right thing people were horrified.
'There was this feeling that if you were taking this seriously then ''the world will end.''
'It was that type of pressure. Now people are saying they want to be the leaders.'
And Mr Hagan said: 'A little bit of competition does no harm.'
Mr Waugh agreed on this point saying: 'Yes a little bit but then they say they will not share information because ''we think we have found something that will put us in the GC's good books''.
'The general attitude is overwhelmingly positive but you still get bits of ''we want to be the best'' and ''we want to be the teacher's pet on this subject.'' '
Nathan Beaver asked Anna Hemmings: 'From a GamCare perspective, if the action matches the sentiment then what do you feel is the outcome for GamCare in that type of world when everybody has come together and is taking action that will raise standards?'
Anna Hemmings replied: 'It's a positive thing. But we have to be realistic and we are nowhere near eradicating problem gambling.
'I would be keen if we get to the stage where the conversation is more open and people feel more knowledgeable and able, where they are intervening earlier and preventatively.
'We should also be talking to young people so they are aware of what gambling is all about.
'Sometimes young people think it is a way to raise money or they have misconceptions.
'I'm quite new to this, I've been at GamCare since January, and I have a feeling, a sense of a period of change and hopefully it's an exciting place to be.'
Asked by Nathan Beaver about resourcing, Anna said GamCare was 'very under-resourced' compared to other healthcare issue organisations. In reality, treatment provision is patchier than we would like it to be. It is there and it is available but we would like there to be more.
'From the Isle of Man perspective, we have a partner that delivers treatment here that uses our model [Motiv8].
'We will need more resources. Prevention is important but we are a long way off getting to the stage where numbers reduce so they do not need the [GamCare] service.'
Nathan Beaver said they had been talking about cultural changes the gaming operators need to go through. But was there a cultural change the regulator needs to go through as well?
Chris Rogers replied that 'you might say we had a cultural change a few years ago when Sarah Harrison joined the Gambling Commission and that there was a culture change again when we published our most recent strategy. We are always looking for the best ways we can find to make gambling as safe as possible.' Mr Hagan said with the on-going developments, he expected to see more collaboration between the industry and the regulator.
'The commission is always looking for good news stories to inspire others and ultimately we are all on the same side.'
Here's a who's who of those on the panel
Anna Hemmings, GamCare chief executive.
Anna has extensive experience in addictions recovery, as well as senior management and board experience across the private and third sector. Anna has led large and complex service portfolios and has previously worked with a range of commissioners, grant givers and external partner organisations to deliver influential and insightful third sector services.
Anna Soilleux-Mills, lawyer, CMS
Anna is a senior commercial and regulatory lawyer at CMS, specialising in gambling, data protection, consumer law and advertising.
She is a trusted adviser to the gambling sector and beyond. She advises a wide range of clients, from large US technology and FTSE 100 companies to gambling operators, software providers and online retailers.
In the gambling sector, Anna advises on the full range of operational and regulatory matters, including compliance and regulatory issues, advertising, software licensing, white label agreements, sponsorship and affiliate arrangements. She also has significant experience of Gambling Commission investigations and licence reviews.
Chris Rogers, UK Gambling Commission (GC), senior manager
Chris has been at the commission for five years and manages a multi-disciplinary team with responsibility for market, consumer and regulatory insights to help deliver a gambling market that is fairer and safer for consumers.
Dan Waugh, partner, Regulus Partners
Dan advises a number of clients on the development of responsible gambling programmes and has also written extensively on regulatory matters. Prior to joining Regulus, Dan worked for nine years at The Rank Group, where as group strategy director he had responsibility for strategic planning, consumer research, regulatory risk analysis, capital investment and purchasing. He has a broad background in the leisure industry, having worked at Whitbread for five years (as director of investor relations).
John Hagan, partner, Harris Hagan
John is recognised by the independent legal guides as a leading international gambling lawyer.
Qualified in 1993, he practised as a commercial litigator before specialising in gambling law from 1998. He has advised many of the world's largest gambling operators and is frequently instructed by other law firms, private equity firms and banks to provide specialist licensing and regulatory expertise in respect of corporate investments and transactions. An experienced advocate, a respected conference speaker and a contributor of articles to national and international gaming publications, John is vice president of the International Association of Gaming Advisors, a member of the International Masters of Gaming Law, deputy chairman of GamCare, the leading problem gambling charity in the UK and chairman of the Industry Group for Responsible Gambling.
John read law at University College Dublin.
Lawrence Hanlin, director, Regulatory Assurance, GVC Holdings Plc
As director of Regulatory Assurance, Lawrence has responsibility for all assurance activities for both the online and retail businesses. This covers 24 individual brands globally.
With over 20 years' experiences in various sectors including gambling, financial and professional services, Lawrence is well placed to comment on the current regulatory pressures on the gambling sector.
Nathan Beaver, partner, customer and digital, KPMG
Nathan is a partner in KPMG's Customer & Digital practice and specialises in working in regulated consumer markets. With a background of working both in industry and consulting across pharmaceuticals, tobacco, alcohol and gaming Nathan specifically works with clients to help them take advantage of the disruption being driven by the age of the customer, digital and data.
Comments
To leave a comment you need to create an account. |
All comments 0