A variety of activities and fundraising took place last week across the island for Children In Need 2023 - take a look at our photo gallery below to see all the pictures
Dhoon primary school raised £127.44 for Children In Need, with two designated students carrying a collection bucket all day.
The school's penny whistle group performed a song for Pudsey the bear, while there was also a 'bearpee' challenge in which pupils had to complete burpee exercises in the school's gym while wearing Pudsey ears.
Arbory held a cake sale to raise money, while Laxey held a special school assembly and a wide range of arts and crafts activities throughout the day.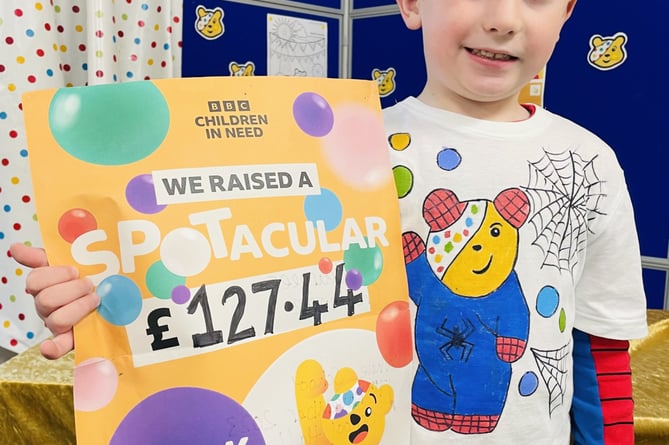 Arlo Cowin from Dhoon primary school with a poster saying that the school raised £127.44
Two employees from Sandcastles Nursery in Douglas also decided to raise money by completing their own 'five miles a night for five days' challenge.
Millie Orton and Ellen Shuttleworth have raised £793 for Children In Need after their final walk on Friday.
Millie said: 'We both have a huge passion for caring for children from all different walks of life and of course, caring for children with different needs.
'Anything we can do to support children less fortunate than others is so important and something we will always have a natural drive to do.'