Offender who blocked the toilet in his police cell is sentenced
Monday 27th June 2022 5:13 am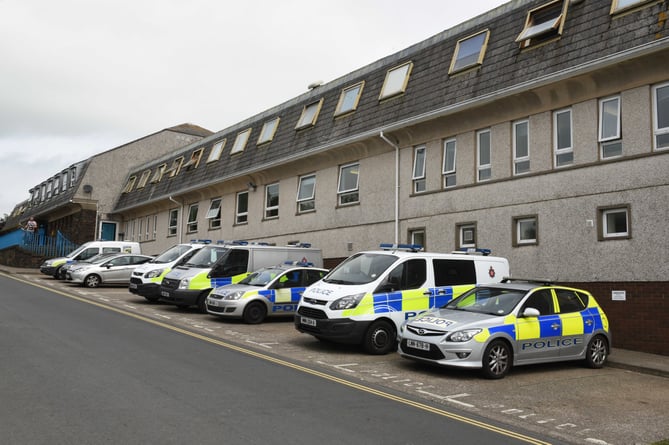 Isle of Man Police Headquarters off Glencrutchery Road in Douglas
(Isle of Man Newspapers )
Subscribe newsletter
Subscribe to our email and get updates right in your inbox.
A man who blocked a toilet which flooded a police cell has been fined £450.
The 23-year-old pleaded guilty to that offence as well as property damage and was also ordered to pay £150 compensation for the cleaning of the cell.
Prosecuting advocate Hazel Carroon told the court that, on June 7 at 1am, Finn was ejected from Jaks bar by door staff due to his level of intoxication.
He was spoken to by police in Granville Street and told to leave the area and go home.
Finn, who lives at Prince's Road in Douglas, agreed to do so, but police then saw him 15 minutes later outside Sam Webb's pub.
Officers asked him why he had not gone home and he said he was staying out and tried to push past them.
He was subsequently arrested and struggled as police tried to handcuff him.
At police headquarters he continued to act belligerently and aggressively so he was given a risk suit and put in a cell.
Finn then put the risk suit in the toilet and flushed it, causing the toilet to overflow and a flood of water in the cell.
He then shouted at officers: 'Come on, let's do this, I'll fight yas all.'
He was also said to be spitting in the cell.
Finn was interviewed once he had sobered up and told police he had no recollection of what happened, but was apologetic.
The court heard that he has no previous convictions.
Defence advocate Jim Travers handed in a letter of apology from Finn and asked for credit to be given for his guilty pleas.
Mr Travers said that Finn had arrived on the island during TT to stay with his Aunt, with the intention of making a new life here and finding work.
'Naturally this incident has been somewhat of a setback but he intends to get work here,' said the advocate.
'His letter sets out his shame at what's occurred. As a result of the incident he has self-referred to Motiv8 and has an appointment shortly.
'This was a TT night out that has gone very badly. Mr Finn met a group of new friends and drank too much.
'He does intend to make a new life on the island. These two offences will not help him in his quest to find employment.'
High Bailiff Jayne Hughes told Finn that she had taken into account that he had spent two nights in the cells as a result of the incident.
Mrs Hughes said: 'You said in your letter it was never going to end well. It never does end well when people fail to heed advice given by police or door staff.
'It seems you understood that when you woke up in a police cell.'
Finn must also pay prosecution costs of £125 which he will pay, along with the fine and compensation, by July 22.