A former government minister is being lined up to become the next chairman of Manx Utilities.
Tynwald will be asked to approve the appointment of Tim Crookall MHK this month.
Such a move is usually a formality.
 Mr Crookall, who has been appointed by the Council of Ministers, would take over from Tim Johnston MHK who is now Minister for Enterprise.
 The Glenfaba and Peel MHK was appointed the Minister for Enterprise from June 2022 but stepped down the next month. Before that he had been Minister for Infrastructure.
He returned to the Keys in 2021's general election after a stint as a Member of the Legislative Council.
Chief Minister Alfred Cannan MHK said: 'I am pleased that Tim has agreed to take up the role of chair of Manx Utilities, subject to the approval of Tynwald.  He brings a wealth of experience as former Chair of the Isle of Man Water and Sewerage Authority from 2009 to 2011 and vice-chair of Manx Utilities between 2016 and 2020.'
Mr Crookall said: 'This is a challenging time for Manx Utilities given the turbulence in energy markets over the past 18 months and the impact on consumers. But it is also a time of opportunity. Manx Utilities is progressing with its regional sewerage schemes in the north and west of the island. 
Mr Crookall will have a full in-tray.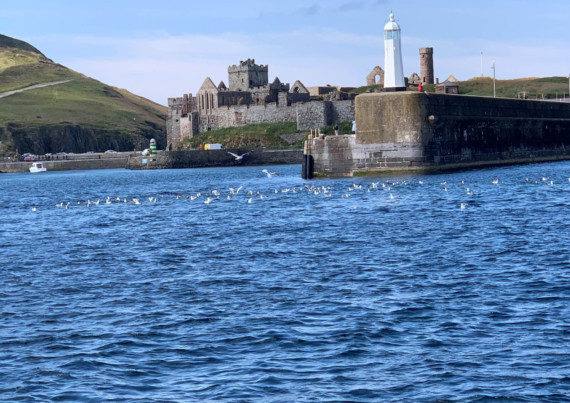 Trevor Cowin took this photo of seagulls near the sewage outfall in Peel
The question of what will happen to sewage in Laxey and Peel - part of Mr Crookall's constituency - is a running sore with which the authority is pledged to deal.