Dean Morgan and Lorna Gleave were the respective first-time winners of the Parish Walk.
Morgan finished the 85 miles in a time of 15 hours 27 minutes and three seconds, crossing the finish line on Douglas promenade shortly before 11.30pm on Saturday.
Runner-up was last defending champion Paul Atherton, 16 minutes behind, with early leader Simon Gawne third a further five minutes behind Atherton.
Next home was Adam Killip in 16:25.35, followed by Josh Knights, Callum Gawne, Stuart Osborne and Connor Gilbert.
Joint 10th were Tristan Shields and women's winner Gleave in 17:27.31.
Gleave, in turn was 49m 28s clear of women's class runner-up Sophie Watterson-Jones in 13th, who had been second female for most of the race. She was 13 minutes ahead of experienced Centurion and 21-time finisher Andrew Titley.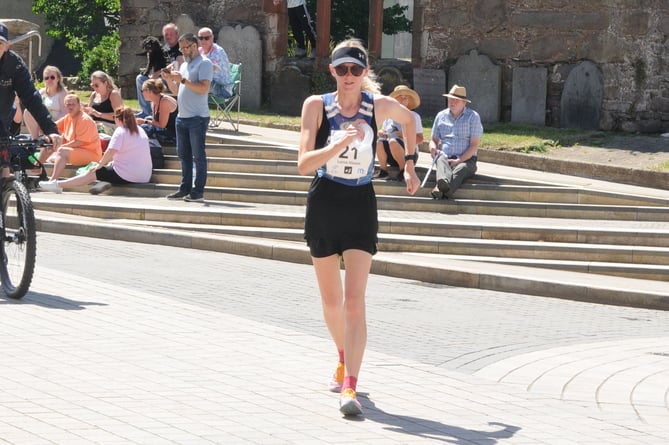 Lorna Gleave in Peel
(John Watterson)
Amy Sykes and Alex Jones, third and fourth women, were also inside the top-20 overall. The first first-time finisher was  Charlotte Barham in 26th place.
His Excellency, the Lieutenant Governor, Sir John Lorimer, walked a very strong race to finish shortly before 6am Sunday morning in a fine 63rd place with a time of 21.54.58. 134 finished.
A total of 1,029 started the event, which began at the NSC track at 8am this morning. Of these, 786 made it to the traditional 'halfway' finishing point at Peel, 32.5 miles in.