A convicted rapist who was jailed for life twice for attacks on women has died after being released on compassionate parole.
He was released on compassionate parole last month but died a short time later.
His last victim, who was 19 when she was attacked in 2003, had expressed her concerns before Christmas that he could soon be released on parole.
'I don't understand the point of a life sentence if life doesn't mean life,' she told Manx Radio. 'Why are you giving people life sentences and then letting them out?'
Jewell had attacked women twice before and had been released on licence from an earlier life sentence when he carried out the brutal rape on Victoria Road, Douglas.
His victim had been walking home in the early hours of October 12, 2003 when he attacked her from behind.
He forced her to the ground and subjected her to a sustained sexual assault following which he attempted to strangle her. He stopped only when she played dead, fearing that he would have killed her otherwise.
Jewell carried out his first attack when he was just 15.
In February 1977 he entered St Thomas' church in Douglas in broad daylight where a 44-year-old housewife was arranging flowers. He beat her around the head with a brass vase fracturing her skull, before stealing her money. She was unconscious in hospital for five days.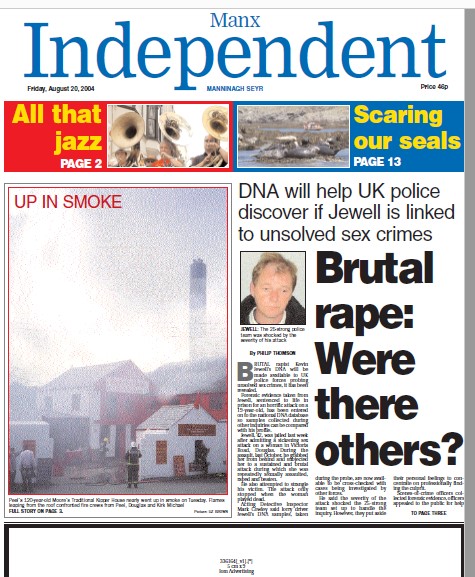 Manx Independent page 1 from August 2004 following conviction of rapist Kevin Jewell
()
He was given a six-year jail term after being convicted of grievous bodily harm and larceny but was let out of prison in March 1981.
Just 17 months later, he attacked a female taxi driver, stabbing her through the hand and chest, after hailing her cab on Douglas promenade and asking to be taken to Blackberry Lane.
He grabbed her around the neck as she drove and ordered her to remove her trousers, pulling the radio wires out of the cab when she tried to call for help. She got out of the car and ran down the road terrified but Jewell caught up with her and stabbed her before driving off in her car.
If she had not raised her hands in self-defence, the weapon could have pierced her more deeply, killing her, the court heard.
Then government advocate, the late Michael Moyle, described the crime as 'one of the most serious ever to come before the courts'.
The court heard that Jewell had been drinking and had been to a cinema to watch a sex film before the attack in the early hours of August 15, 1982.
He denied attempted murder but admitted wounding with intent to cause grievous bodily harm.
Jewell was jailed for life in 1983, only to be freed on licence eight years and five months later.
Then in August 2004 he was handed his second life term after admitting rape and causing grievous bodily harm in relation to the October 2003 attack, Deemster David Doyle telling him: 'You will remain a danger for many years to come.'
Jewell served his life sentence in a number of prisons in the UK, including category A jail HMP Frankland in County Durham which was latterly home to Yorkshire Ripper Peter Sutcliffe and whose current inmates include Soham killer Ian Huntley and Bus Stop Killer Levi Bellfield.
He died at the island's hospice on February 14 and the death was registered in Ramsey on February 20.
His death certificate records his cause of death as carcinomatosis and carcinoma of the left lung.
A retired detective who arrested Jewell following his first attack in 1977 and interviewed him after the Blackberry Lane stabbing said: 'It is always sad for the family when someone dies.
'But he was a serious offender who was a great danger to the public and especially women.'