End of July plan for pier's grand reopening date
Friday 7th May 2021 12:00 pm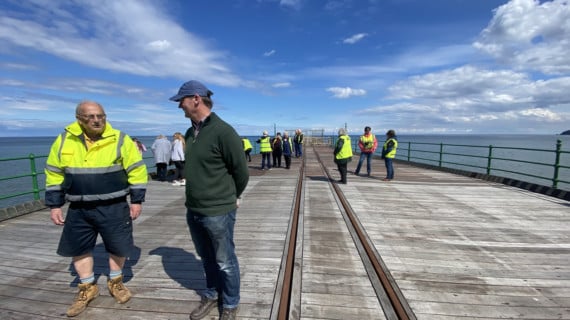 Queen's Pier restoration project manager Stuart McKenzie was on hand as supporters viewed their sponsors' plaques
Subscribe newsletter
Subscribe to our email and get updates right in your inbox.
A grand reopening of the newly-restored first section of Queen's Pier is planned for July.
It will be timed to mark the 135th anniversary of the opening of the Ramsey landmark in 1886.
Supporters of the community-led restoration project were invited at the weekend to come onto the pier in groups of up to 10 to view the dedicated plaques for the decking planks and stanchions they had sponsored. There are 360 plaques fitted at the moment for the planks, railing stanchions and the two refurbished lamp posts.
It's exactly two years since the first replacement steel was craned into position on bay one to replace the corroded iron girders.
Project manager Stuart McKenzie said: 'It was an excellent day because we've completed phase one and all the plaques we can put on are there for people to look at.
'The pier is not open to public yet of course but they were able to come on in groups of up to 10 to find their planks and look at their plaques.'
The pier closed in 1990 and was mothballed for years until the Queen's Pier Restoration Trust signed a five-year lease with the government in July 2017 for work to begin on the first three bays.
Stuart said a date for the grand opening has not been confirmed yet but it was likely to be towards the end of July.
He said work on the pier had been delayed by the global pandemic although during the last lockdown the project was able to continue on a sole-trader basis with one volunteer carrying out tasks on the pier and another watching remotely to ensure their safety.
With bays one to three complete, the focus will now switch to phase two of the restoration which will comprise the next five bays.
Stuart said construction on bays four to eight will be much easier as they are all identical, and of the same width as the narrower bay 3. 'We will hopefully be able to do them in sequence as we go along,' he said.
He said the replacement steel for these bays will be craned in from the beach.
But Stuart said it was all down to money. 'If the money is there we can order all the steel so it's ready. Without the money, nothing happens!'
There are 60 bays in total and eventually all the ironwork along the length of the 2,160ft pier will have to be replaced. It is estimated that each bay will cost about £50,000 to restore.
Comments
To leave a comment you need to create an account. |
All comments 0