Indie-rock band to relive the hits of third album on Manx shores this week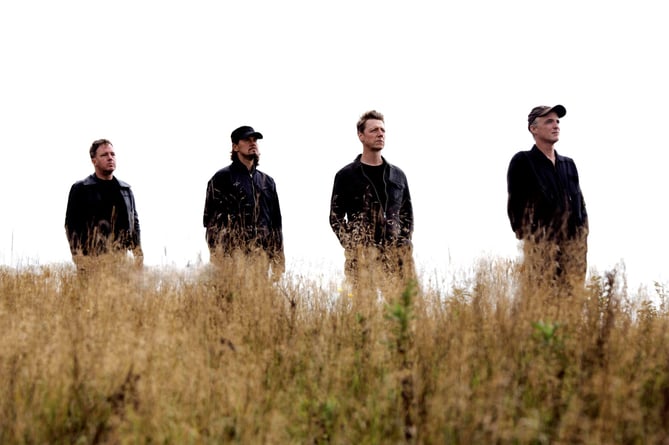 Subscribe newsletter
Subscribe to our email and get updates right in your inbox.
Known the world over for being one of the biggest-selling UK bands of the post-Britpop music scene, indie-rock band Travis are ready to relive the hits of one of their best-selling albums when they come to Manx shores this week.
The Scots, composed of Fran Healy, Dougie Payne, Andy Dunlop and Neil Primrose, are touring their third album 'The Invisible Band' as they celebrate the 2001 chart topper 20 years later, playing it in full to audiences across the UK and Europe.
Frontman Fran Healy was thrilled to be touring again, saying it was 'lovely to be on the road again'.
He said: 'It's really lovely to be getting a chance to come back, especially after Covid and all the craziness. I think every band is really grateful to be able to get on a stage and play to people.'
Having been to the Isle of Man to play once before, Fran recalled it being a 'flying visit'.
'I managed to get down to the water and just had a nice, quiet moment to myself between soundcheck and show,' the singer recollected. 'It was nice, it was a bit of a grey day but that's actually my favourite weather.'
The four-piece will be playing 'The Invisible Band' album front to back, including hits such as 'Sing' and 'Flowers in the Window', but fans can also expect to see them perform other classics in the second half of their show.
Fran added: 'You get the best of both worlds. It's a really, really good show. It's great – it's a really nice set.
'The album flows really well, and it's very theatrical too – we've got this amazing, big backdrop and the lightshow looks fantastic.'
Times and technology have changed dramatically in the past two decades and Fran was very aware of the difference when thinking back to the album's first release.
He said: 'I think that album came at a time when people were listening to albums. It was a huge record when it came out.
'Even for me when we play the songs live, I've lots of very fond memories attached to all of these songs on the album.
'At the moment when I look out into the charts, into the airwaves, there's not an awful lot, in my opinion, to get excited about.
'But there's a whole wave of guitar music coming back again and I like guitar music because there's something different, melodically, about it.
'It's encouraging to see all the younger generations getting into it and moving away from digital and embracing acoustic again.'
Travis have made it no secret they feel the music should come before the artist, a sentiment which Fran has always pushed.
'You only have to watch "Get Back", the Beatles film, because the reason they are the Beatles is because their songs are so powerful,' he said. 'The songs are the things that people carry with them and when the Beatles are all long gone, we'll still have their songs.
'They'll always be as alive as they ever were in their music. They will survive in their songs, so the songs are the most important thing.
'The songs are the things that make us pull our cars over and burst out crying because it's touched us, because maybe we've lost someone we love or we play a song at a wedding – it reminds us of life. That's why music is so important.'
When asked which song from the album Fran had missed playing most, he spoke fondly of the last track, namely 'The Humpty Dumpty Love Song'.
'It means an awful lot to me, even more now because we have a song called "Coming Around" and we made a video for that song,' he said.
'The director of the video was one of my best friends, and I went away after that video and wrote this song in a kind of flurry.
'I always had a soft spot for the song for that reason. Then I lost my friend last year and it was shocking to lose him so soon. Every night when I play it I get a little visit I think.'
l Travis will play the Villa Marina on Tuesday, August 9. Tickets can be purchased at villagaiety.im
Comments
To leave a comment you need to create an account. |
All comments 0