Michael Manning is the eighth Manx Bard.
Each month, Michael will be sharing one of his poems with us, and letting us know some of the thoughts and ideas that inspired it.
This month he writes about interdependence.
We live in an age marked by division and fear.
When faced with such problems it is tempting to seek a measure of control over the small spheres of our individual lives, to lock away the world and its problems.
In contrast to an older understanding of nature as a constant war, 'red in tooth and claw', with all the language of survival of the fittest and the supposedly brutal realities of life there is a growing comprehension that this does a disservice to both nature and ourselves.
Within this distorting framework it is too tempting to value our lives by how 'successful' we are, and to denigrate those who are different or seem to be weaker.
A fundamental reality of life is that we are connected.
Whether it is looking at the astonishing networks of bacteria that enable all of life to flourish or the vast relations within and between ecosystems scientists and scholars see that everything depends on everything else.
Co-operation, not competition, is the mark of successful species and lies far closer to the heart of life.
In the midst of a society focussed on the supremacy of the individual I know that I often need to recall the fact that I depend on so many others for my life: on family, on friendships, on wider society, on the environment.
We are made for one another, we belong to one another, we all of us have a place at every stage of our lives, in all our circumstances, hopes and fears.
The trees in question can be found on the road above Injebreck: a beautiful testament to clinging together and sustaining life.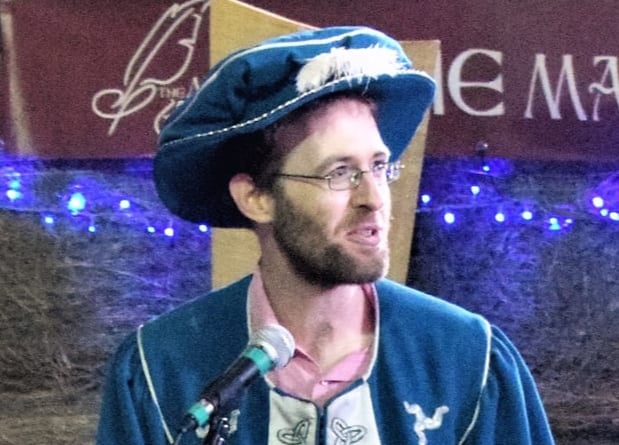 Manx Bard Michael Manning
(None )
The trees up on the moors know.
They know the courage found only on the edge of wildness,
facing what is bleak, anchoring a life
They know the grey, grim days with naught but mist and gloom.
The lucent longing for the light.
When the sour and savage storm rips at your roots
all you can do is hold on, hold on.
At first they feared the bending, twisting wind, the sad deformity.
Then they found each other.
Those that are alone, proud, independent, free, die.
Only together, weak and wounded, season-scarred, they grow.
Inseparable. Each holds the other.
In their united branches new generations shelter, birth and fly.
The truth holds stark against the sky:
to breathe is to be a blessèd burden on this frail earth.