Travel diary is inspired by wildlife encounters
Tuesday 27th September 2022 5:49 am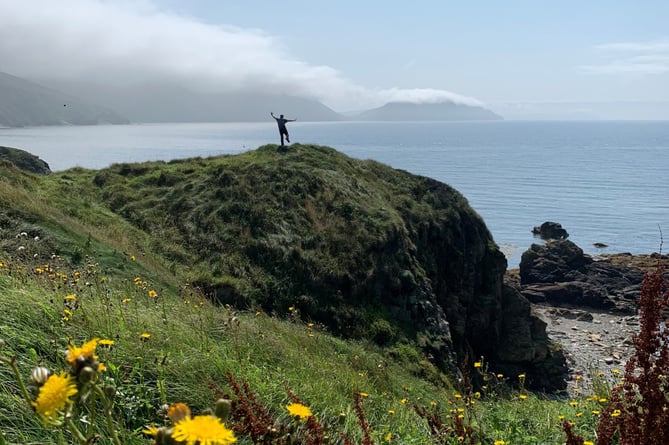 Steve Wright pictured at Niarbyl
Subscribe newsletter
Subscribe to our email and get updates right in your inbox.
Amateur naturalist Steve Wright has written a book which he hopes will inspire people to explore the variety of wildlife that can be found in the British Isles.
Wild Enthusiasm is a travel diary documenting his short trips to all corners of Britain ticking off items on his wildlife wish-list.
It covers his personal encounters with white-tailed eagles, otters, bottlenose dolphins, fulmars, puffins, osprey, sand lizards — and the characters he meets on the way.
Steve told Island Life: 'I think it will surprise many people that we have so much wildlife to enjoy on our doorstep.
'Hopefully this book will inspire others to go out and explore the countryside and learn about our wildlife.
'The more people who appreciate and understand the natural world, the greater chance we have of securing and protecting it for the future.
'People can read the different chapters and perhaps they'll be interested in following in my muddy footsteps and go to Dorset for the snakes, Mull for the eagles or Skye for the whales. People will hopefully also come across to the Isle of Man to try and see our dolphins.'
Steve produced a DVD of Manx wildlife in 2010, Wild Mann, and soon afterwards set up Isle of Man Wildlife Tours, providing guided tours until the first Covid lockdown.
He gained confidence in his writing ability after being awarded a first class honours degree in history and Manx studies in 2018 at University College Isle of Man.
He decided to channel this skill into a book and write about something in which he was deeply interested.
'Initially I thought of combining personal memoirs and my various holidays around the British Isles,' he said.
'After rereading the first draft, I realised the strongest part was the travelling aspect, and decided to rewrite and focus on the safaris.'
The book starts with his first outing to Norfolk in 2006. Since then he has explored all corners of the British Isles, including the Hebrides, Shetland and Orkney.
'In 2006 my knowledge was quite raw, so if the reader is a beginner, the book is perfect, because you can follow my progress and build your experience along the way,' he said.
He described watching wildlife as a relaxing pastime but said it can also be exciting.
'The most memorable experiences were probably for the wrong reasons – such as when I've been attacked by wildlife,' he said. 'I would never intentionally create disturbance, as the hobby is all about respecting and appreciating nature – however when I visited the Farne Islands the Arctic terns were nesting and they objected greatly to all visitors.
'The violent pecks were tolerable, but being strafe bombed by poo was another thing.
'When I got back to my hotel I stank of pungent fish.'
Wild Enthusiasm, published by Merlin Unwin, is available in hardback for £20 from the Manx Wildlife Trust Shop in Peel, Tynwald Gift Shop in Douglas, Bridge Bookshop in Port Erin and Ramsey, and Waterstones in Douglas.
Comments
To leave a comment you need to create an account. |
All comments 0