How drought is affecting our wildlife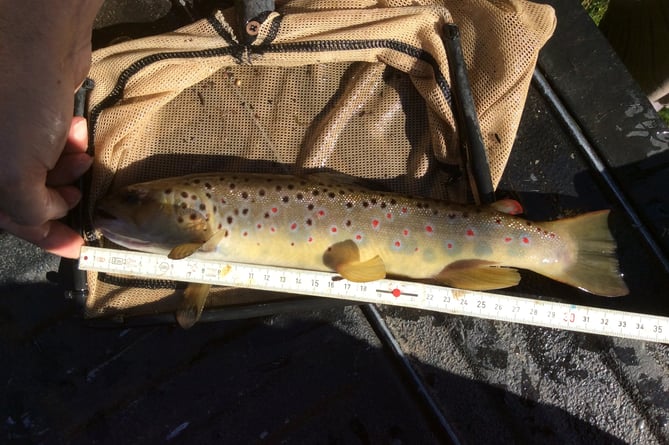 One of the stranded trout DEFA had to rescue
Subscribe newsletter
Subscribe to our email and get updates right in your inbox.
The continuing drought has had an adverse impact on a wide range of the island's wildlife.
One of the most prominent examples is with the fish population, as shown by the Department of Environment, Food and Agriculture having recently rescued 10 brown trout from a pool in Kirk Michael which were stranded due to low water levels.
This month saw an all-time temperature record broken for the island, with the hottest ever August day being recorded on August 13 (Saturday).
A temperature of 27.9C was recorded at around 5pm.
This broke the old record of 27.8C which was measured in 1995.
As for the highest temperature ever recorded here, this was 28.9C in July 1983.
Following this, DEFA fisheries officers have been monitoring water levels in the Sulby river and checking for possible fish strandings and other environmental impacts.
As is standard practice, DEFA has been re-stocking the river with juvenile salmon (around 20,000 fry are produced seasonally in a hatchery).
Officers of the fisheries division within DEFA have been monitoring salmon populations in the island's rivers for a number of years and a report will be published later this year.
Beyond fish, a Manx Wildlife Trust spokesperson told the Independent that other different species are being affected.
In terms of plantlife, peatlands in some areas are 'exceptionally dry', which is bad for nature and climate as dry peat is much more prone to wildfire and emits more carbon when degraded. Sphagnum moss that covers peat is turning white instead of green in many places.
Lots of birds, mammals and insects rely on the mosses being wet.
Wildfires have also broken out across the Isle of Man, as has been happening in the UK.
MWT says that it is aware of 13 countryside fires so far this year, excluding those thought to be caused by the steam railway.
In addition to the island's rivers, ponds, scrapes, and streams are drying up, forcing dragonflies and other insects into smaller bodies of water, which can affect their reproductive potential for next year.
Mammals are struggling for food – for example hedgehogs as worms and slugs retreat with the moisture.
Extended periods of low rainfall are expected to affect the availability of food for wildlife later in the year, with many plants having matured and fruited early.
Soil invertebrates and detritivores (organisms that feed on dead and decomposing organic matter, such as earthworms or fungus) are being driven deeper into the soil, which can contribute to soil erosion in exposed places.
Among birds, chough (which are rare in the UK but prosper in the island) struggle to gather soil invertebrates from baked ground, albeit this is likely being offset by the swarms of flying ants around.
Young herring gulls not yet capable of flight were this week found to be panting in Peel.
Any young in nests (especially nest boxes) at this time of year may overheat and die.
As of this week (starting August 15), Manx Utilities stated that total water stock levels have continued to decrease by 1% and are currently at 66%.
At Sulby reservoir, water stock levels are 65%, down from 67% last week, and -17% down on the average for this time of year.
For Kerrowdhoo reservoir On Onchan, stocks are at 54%, down from 61% last week and 14% down on the yearly average.
In the Clypse reservoir, levels are at 72%, down from 76% last week and -9% down from the yearly average.
And lastly West Baldwin (Injebreck) reservoir is at 69%, from 74% last week, and -14% down from the yearly average.
Rain is forecast from Saturday (August 18) through to Monday.
Comments
To leave a comment you need to create an account. |
All comments 0