Fairtrade trail through Douglas
Sunday 20th February 2022 5:41 am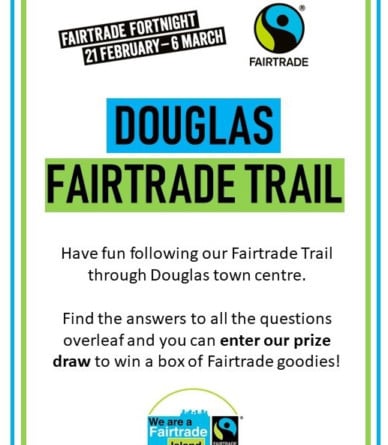 Subscribe newsletter
Subscribe to our email and get updates right in your inbox.
People are being encouraged to think of how the things they buy are made.
It's part of Fairtrade Fortnight, which runs from February 21 to March 6.
This year the Isle of Man Fairtrade Group and the One World Centre have organised a 'Fairtrade Trail' through Douglas town centre.
The trail will link 15 different outlets and organisations who either sell or use Fairtrade items.
'Fairtrade' refers to trade between companies in developed countries and producers in developing countries in which fair prices are paid to the producers.
Each location on the trail will be displaying a Fairtrade fact which trail followers will use to complete a series of questions on the trail leaflet.
Once completed, the participants can enter their answers into a free prize draw with the chance to win a box of Fairtrade items.
Trail leaflets can be downloaded from the Isle of Man Fairtrade Group and One World Centre Facebook pages, the One World Centre website or can be picked up from Douglas Henry Bloom Library, Douglas Town Centre Management office and other outlets in the town.
The aim of the trail is to publicise Fairtrade and the part it plays in ensuring small farmers and producers around the world get a fair deal.
Fairtrade is the only certification that combines a fair minimum price for products and an extra amount of money - called the Fairtrade Premium - for farmers to invest in their communities or in making their businesses more sustainable.
Wendy Shimmin, chair of the Isle of Man Fairtrade Group and coordinator of the One World Centre, said: 'Buying Fairtrade is a simple way to make a difference to the lives of the people who grow things we love.
'By choosing Fairtrade we can all play a role in ensuring farmers in low income countries can benefit from fairer prices and fairer trading practices as well as the resources needed for tackling the climate emergency, which is impacting many of them already.
'Most Fairtrade certified products like coffee, tea, cocoa and bananas cannot be grown in countries like the Isle of Man but by buying Fairtrade we can ensure that those who do produce them are treated fairly.
'Fairtrade also encourages producers to protect the environment by improving soil, planting trees, conserving water and avoiding pesticides, while providing climate academies for farmers to share best practice and training in the latest agricultural methods, such as intercropping and shade-grown coffee to adapt to conditions.
'The Fairtrade Trail is a fun way to remind people of the positive impact they can make with their choices and it's a great family-friendly activity, especially for those at a loose end in half-term.'"
The Fairtrade facts will be on display at the 15 locations for two weeks from February 21 to March 6. Entries for the free prize draw should be sent or dropped off at the One World Centre office and resource centre in Howard Street on March 8.
In addition to the Fairtrade Trail, the Isle of Man Fairtrade Group and the One World Centre will also host a pop up Fairtrade shop in the former Churches Bookshop in Howard Street on Saturday, March 5, from 10am to 4pm. As well as having various Fairtrade items on sale, there will also be Fairtrade activities and a display on how climate change is affecting Fairtrade farmers around the world.
Comments
To leave a comment you need to create an account. |
All comments 0