'I really would be lost without the Live At Home scheme'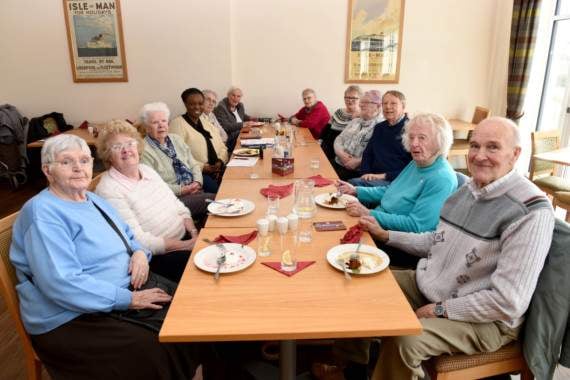 Subscribe newsletter
Subscribe to our email and get updates right in your inbox.
Sometimes it's easy to get caught up in the romantic side of Valentine's Day.
The cards, the roses, the chocolates... although there is nothing wrong whatsoever with showing your appreciation (or even crush) of a particular person, it may pay to remember that there are plenty of people across the island who are facing issues of loneliness and isolation.
A chat over a cup of tea, a visit from a friend, or a shopping trip are all little acts of kindness that can mean a lot to an older person experiencing these feelings.
This is the message from Live At Home, an Isle of Man charity that helps 600 older people across the island to live independently.
As part of its work, regular outings are arranged for elderly people to get out of their homes and catch up with friends - or even make new ones.
'We're having a lovely time, a lovely meal, a lovely everything,' said Thylis Griffin, from Braddan, at the event yesterday (Wednesday).
'The Live At Home scheme couldn't be any more supportive. They come and check up on us at home and take us out like today.'
Jean Armstrong, from Braddan, said: 'I don't know what I'd do without it [Live At Home]. It gets us out of the house - I really would be lost without it.'
Jean, who is a widow, explained that it's her wedding anniversary this week.
'I will be on my own,' she said. 'But I do have children and grandchildren. On our anniversaries we would have gone away, across somewhere.'
She added that she has a 'very good' neighbour who she often pops in to see and enjoy a coffee with.
'It's good to have people around us when we're feeling a bit down,' she added.
Clarice Gray, who lives at sheltered housing in Onchan, loves being able to get out and about with the Live At Home charity. 'If you're not driving anymore you possibly haven't seen an area in the island for a while,' she said. 'Then you can catch up with each other's news.'
She added that having lunches was also helpful. 'Saves me from cooking at night,' she said cheerfully.
'Once we've been widowed it's not as easy to go along to other groups. It's an easier social life with Live at Home and it's nice if you're living in a bungalow or apartment alone because the charity gives you an opportunity to mix with like-minded people.'
Clarice, who has been widowed for about five years, said she is 'very fortunate' to also belong to a couple of ladies groups near her home.
'It's not particularly around Valentine's Day, but I do notice I might feel a bit low around Christmas or Easter time,' she continued.
She said she understood that people's busy schedules involving work and raising families may prevent the public from meeting up with people who are feeling lonely or isolated from the community.
That is why she appreciates the volunteers and staff at Live At Home, who she describes as 'so pleasant'.
Not only do the staff organise the social events, but they also collect members from their homes using a minibus.
Antony Hamilton, from Douglas, drove the members to Ramsey specially for the lunch outing.
'I've been driving the mini-bus for more than 10 years for Live At Home,' he said.
The former chairman of the Douglas branch of Live At Home is now working as a volunteer for the charity overall.
'It's about supporting the elderly in the Isle of Man because the days are long if you're on your own and most of our members are alone,' he continued.
'It's a very worthwhile charity. We support more elderly people in the island than any other local charity.
'They look forward so much to their outings. When I take them home tonight they will all be saying "where are we going next time"?
'We're always looking for volunteers, we cannot get enough of them. I think the volunteers get as much out of the experience as the members do.'
Essie Montgomery, an assistant manager at the charity who was present at the event, said: 'The joy that it brings people to get out of their homes... the Live at Home charity gives them the opportunity to get out of the house, make friends, eat lunch and catch up.
'It raises their well-being. When we have bad weather and have to cancel you know they are so down because they are looking forward to it.It's not just a little outing. It helps them feel a part of the community.'
This month the charity has launched a 'Let's Beat Loneliness' campaign encouraging everyone in the community to do more to tackle what is a growing social issue.
Anyone can get involved by sharing their support via social media using the hashtags #beatloneliness, #keeptalking, #keeplistening, #keepvisiting and #keepsharing or can actively support the charity as a fundraiser or volunteer, or simply calling in on an elderly neighbour living alone.
Jackie Bridson, chief executive of Live At Home, said: 'Loneliness and isolation are growing concerns both here and in the UK where the government now has a ministerial lead on loneliness.
'Life expectancy is increasing, so it's inevitable that most of us will experience feelings of loneliness and isolation at some point.
'It can happen for many reasons: losing a partner, an illness making it difficult to get out and about, or simply losing touch with friends.
'There is now strong evidence that shows the impact loneliness can have on physical and mental health. Research in England shows that 76% of GPs report that one to five patients a day come to their surgery because they are lonely.
'Our experience indicates that the scale of the problem among older people here on the island is on a similar level.'
If you want more information about Live At Home, phone 616571 or email [email protected]
Comments
To leave a comment you need to create an account. |
All comments 0