In the shops now: Isle of Man Examiner reports on Steam Packet's retort to union claim of discrimination against lesbians
Wednesday 6th November 2019 7:00 am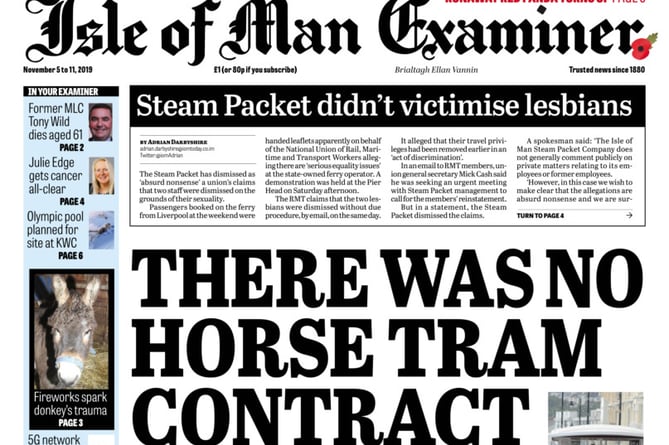 Isle of Man Examiner, November 5, 2019
Subscribe newsletter
Subscribe to our email and get updates right in your inbox.
In this week's Isle of Man Examiner, we ask the Steam Packet about allegations made by a union of discrimination against two lesbians.
The company is forthright in its response.
The paper is in the shops now.
The main story on page one concerns the promenade again.
We were told a few times that the horse trams had to run for contractual reasons. What contract, we wondered. So we asked and asked again. Read more about our investigation in the paper.
On page 2, we report on the death of Tony Wild MLC.
We also include a court story about a man who hid drugs in a Kinder egg.
The owner of a donkey, which she says was traumatised by fireworks, tells of her experience and what she thinks should be done to protect animals.
Chief Minister Howard Quayle gets something right. To find out what, see a story on page 3.
There's some good news for an MHK who's been fighting cancer.
Plans for an Olympic-sized swimming pool.
The runaway red panda is found.
Dandara's plans for more houses in the west of the island.
No more kerbside recycling collection in Malew.
Where should the eastern tip be sited?
The High Bailiff has ordered repairs to be carried out to two dangerous retaining walls in Douglas, which are at risk of collapse.
Where the Remembrance services will be held.
A cannabis user was arrested by police after a neighbour reported smelling the drug.
A man who originally told police his 'missus' was driving has been in court for drink-driving.
A 23-year-old has been sentenced after punching unconscious in Douglas.
In our street interviews, we ask about the idea of electing an MP for Westminster.
A group is to walk from Peel to Douglas in the dark to highlight homelessness in the island.
Some residents in the south could see a tenfold increase in their domestic rates under a proposed system.
Manx National Heritage has responded to criticism about it care of attractions in Castletown.
A woman, whose father was a prominent band leader at the Villa Marina during the 1930s, returned to the island for the first time in 82 years. We catch up with her and find out what she thinks of the island now.
A two-page feature about the history of woollen mills in the island.
Why there will be a special yoga session just for men soon.
And there are two pages of photos from the wrestling event at the Villa Marina.
Plus there is lots of coverage of sport in our Final Whistle section, 10 pages of business news, your letters, Terry Cringle's Times Past, the property sales column and lots of community news.
You don't have to go to a shop to buy a copy.
You can also read it online if you buy the digital edition.
To find out how to buy it, go to the 'Digital Editions' section of the website on the grey line near the top of this site.
http://www.iomtoday.co.im/subscribe.cfm
And we also now have a podcast. Visit https://audioboom.com/channel/iomnewspodcast to find out more or look us up at @iomnewspodcast on Twitter or Instagram.
Comments
To leave a comment you need to create an account. |
All comments 0