In this week's Isle of Man Examiner: Offender had 'harrowing' indecent images
Tuesday 22nd September 2020 5:00 am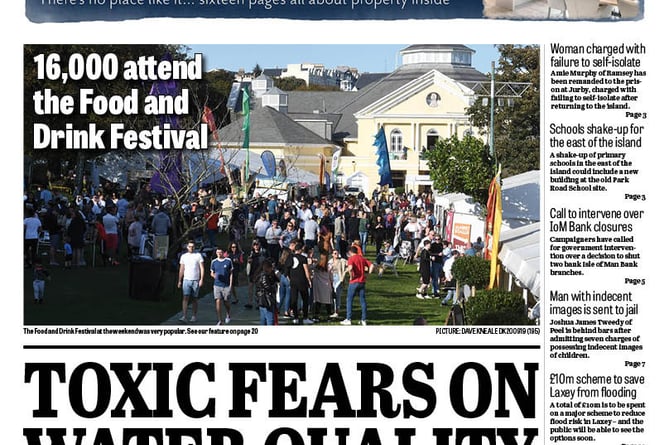 Isle of Man Examiner, September 22, 2020
()
Subscribe newsletter
Subscribe to our email and get updates right in your inbox.
This week's Isle of Man Examiner covers the sentencing of a man found with indecent images of children.
A senior policeman involved in the investigation described what he saw as harrowing.
The lead story this week is about water quality standards.
A former government environmental protection officer contacted the Isle of Man Examiner because he was concerned about recommended standards being too low.
We hear what he says and ask for the government's response.
Two pages about the weekend's successful Food and Drink Festival.
Transport bosses respond to the bus drivers' union which last week accused management of acting unlawfully.
There could be a shake-up of primary schools in the east of the island - and some new buildings.
More than 140 fish have died in a pollution incident.
A woman from Ramsey is currently in custody after she was accused of breaching isolation rules.
We cover the protests against the Isle of Man Bank's plan to shut branches in Castletown and Peel.
But we also talk to people in the street about how they use banks. There's a big difference in attitudes.
A prisoner has been in court after he threw a cup of urine in the face of the deputy governor.
Over the summer three Isle of Man students remotely took part in NASA's United Space School instead of going to Houston. Reporter Paul Hardman finds out how they got on.
An uncle and nephew who carried out a 'vigilante' act by vandalising a man's car are now behind bars.
Two Peel-built vehicles have returned to the island as part of an exhibition.
Roy Higgins, whose life was saved by NSC lifeguards and paramedics, says he is eternally grateful.
A total of £10m is to be spent over two years on a major scheme to reduce flood risk in Laxey.
A 20-year-old Ramsey man has been sentenced after admitting having sex with two 15-year-old girls and indecently assaulting one of them.
Our Buildings at Risk feature looks at the fascinating history of lifeboat houses in the Isle of Man.
A gaming company has paid £100,000 to buy oxygen making equipment for Noble's Hospital.
Gambling businessman Bill Mummery has been added to a hall of fame for services to the betting industry.
Plus there's lots of sports action, there is a 16-page special on homes and property, we take a look at the front page of the island's sports newspaper, the Green Final, from 1960, property prices, your letters, lots more sport, business news, our popular crossword and plenty of community news.
The paper is in shops now.
You don't have to go to a shop to buy a copy.
You can also read it online if you buy the digital edition.
To find out how to buy it, go to the 'Digital Editions' section of the website on the grey line near the top of this site and watch the video below.
http://www.iomtoday.co.im/subscribe.cfm
And we also now have a podcast in which some of our staff discuss the island's news.
Visit https://audioboom.com/channel/iomnewspodcast to find out more or look us up at @iomnewspodcast on Twitter or Instagram.