Is this the island's friendliest cat?
Thursday 6th January 2022 6:43 am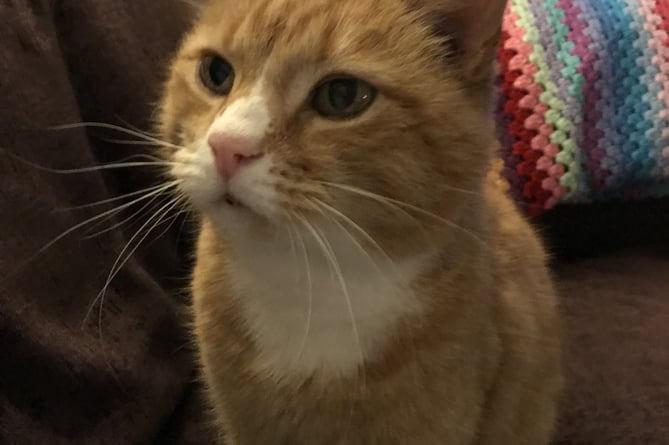 Tigger the cat Photo: Michelle Clark
Subscribe newsletter
Subscribe to our email and get updates right in your inbox.
A 14-year-old cat has become a celebrity in Onchan, but could this be the island's friendliest cat?
Tigger, a ginger Manx cat, has been getting a lot of attention on social media recently as he has become one of the village's most well-known faces.
Michelle Clark, Tigger's owner, says he started to gain popularity when he started 'hanging around Shoprite'.
The 58-year-old said: 'He's been hanging around that car park for years now and everybody knows him.
'All these posts started appearing on Facebook, even Rob Callister, the MHK, put something online.
'I get people saying "I go and take my kids to Shoprite so they can see him". He's quite well known there now because he spends so much time there.'
Mrs Clark was 'thrilled' to see Tigger making so many people happy in such challenging times.
She added: 'It's just surreal really, it's a lot just for a cat but it's amazing. Obviously he's a ginger Manx cat so I think that's why he gets a bit more attention too.
'It's lovely reading things people have said like "he's such a little joy" and "he's such a friendly cat" and "we always stop and have a little chat"- it's nice to hear things like that when they're just going about their daily shopping.
'I'm so glad he's making people happy.'
Mrs Clark said he had been previously described as 'the most stroked cat in Onchan'.
'I see pictures of people stroking him a lot online which is lovely,' she said. 'A couple of years ago I picked up a Gallery magazine and they have a page the public send their own photos in to and I had to look twice - I thought "that's my cat!"
'He was in the car park just sitting there.'
Tigger spends most of his time outside but these days does come home more often.
Mrs Clark said: 'He likes a bit of a sleep - then of course he goes back out to the adoring public again.
'He'll come in for something to eat and I'll shut the door to keep him in and he'll just go mad and eventually leave.'
She explained he 'knows exactly what he's doing' in getting people's attention.
'He's so cute and he's such a flirt and he'll often get up on his back legs and turn around, so they give in instantly and say "We'll give him a treat",' the Onchan resident said.
People often give Tigger treats or assume he's lost so Mrs Clark has had to put up posters in Shoprite and Arg Beiyn, the vets in Onchan.
She said: 'That's probably why he keeps going back there as well but on the serious side he's actually got a heart murmur and he hasn't been coming back to eat his food which we put medication in.
'The vets have put one up at Arg Beiyn in Onchan because a man had taken him in there thinking he might have been lost. People see him drinking from puddles and they get worried he's dehydrated but he's on water tablets so it will make him more thirsty - he'll just drink from anything.'
She has two cats, the other being Mia, who is two years younger than Tigger and much more domesticated.
Mrs Clark added: 'She's quite a nervous cat and she likes being inside. They don't get on so Tigger's quite happy to ignore her.' If you have a friendly pet, get in touch at [email protected]